Updated — July 24, 8 p.m. ET:
Arizona Dept. of Corrections' Director Charles Ryan issued a statement saying that there was no evidence so far to prove that the execution was botched.
Ryan said that the record showed the inmate "was fully and deeply sedated" three minutes after he was injected with the drugs and until he was declared dead nearly two hours later. The medical examiner told the department that the IVs were "perfectly placed" in Joseph Wood's arms and that there was "no leakage of any kind."
Acting on Governor Jan Brewer's orders, Ryan said he was "committed to a thorough, transparent and comprehensive review process" regarding the length of time it took for the execution to be completed.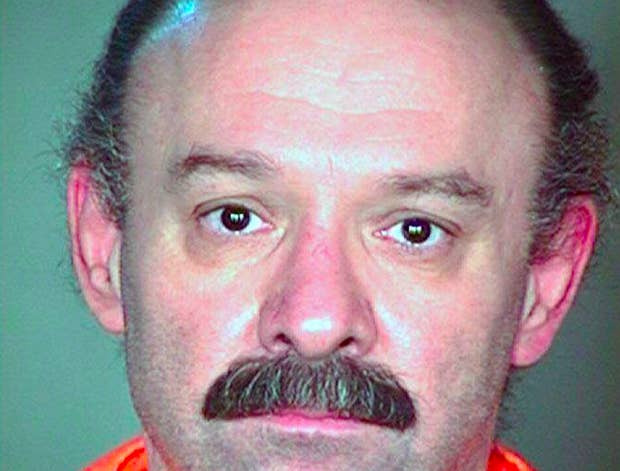 An Arizona Republic reporter who witnessed Wednesday's execution of Joseph Rudolph Wood said the inmate "gasped" hundreds of times during the execution process.
The execution lasted nearly two hours:
In a request to Supreme Court Justice Anthony Kennedy made while the execution was in progress, the lawyers for Wood wrote that he was "gasping and snorting for more than an hour":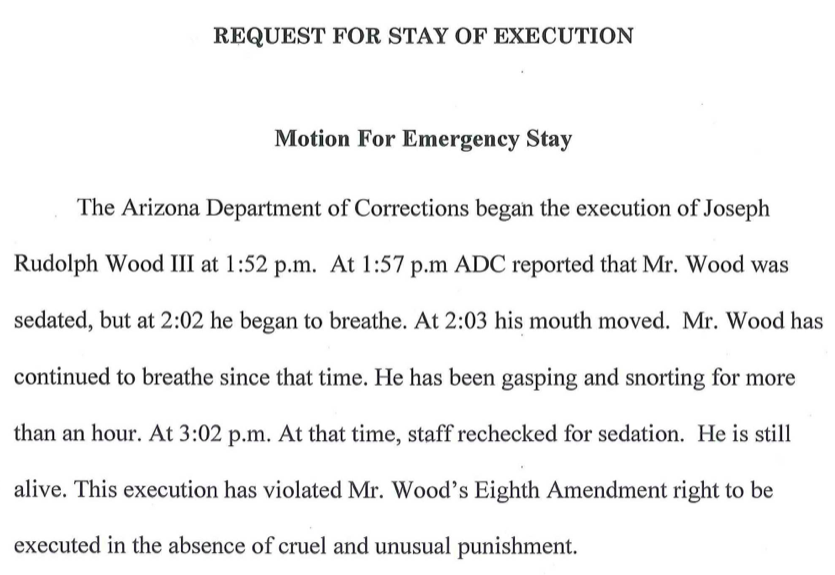 Despite that, Arizona Attorney General Tom Horne's press secretary, Stephanie Grisham, wrote to BuzzFeed, "I witnessed the execution thought [sic] and he DID NOT gasp for air. I encourage you to look at video from the families who were interviewed."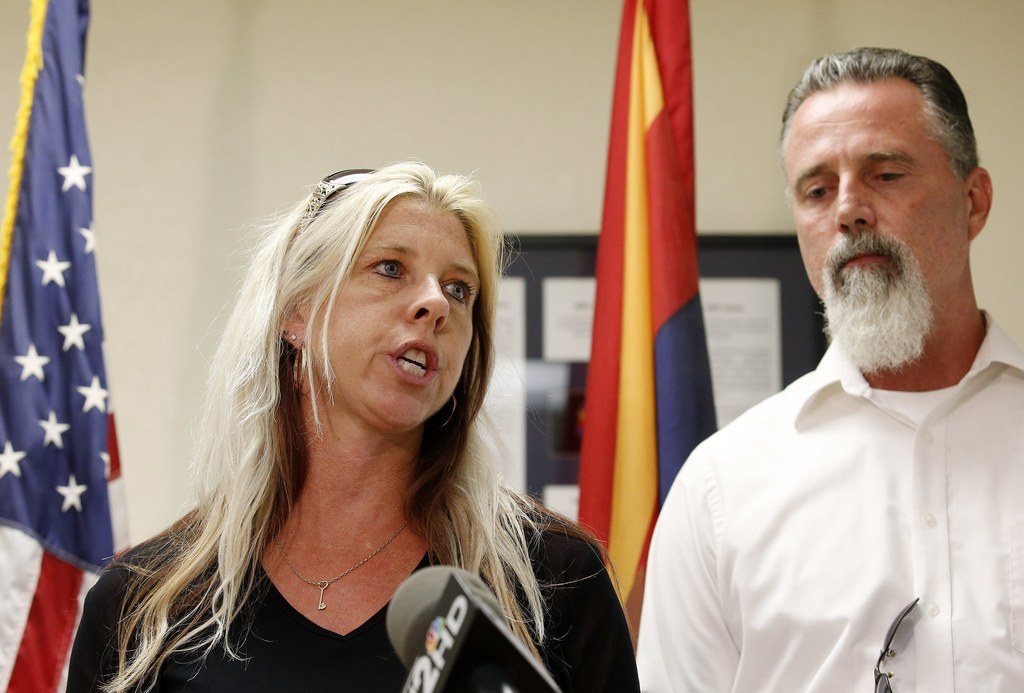 The sister of one of Wood's victims told reporters after the execution, "I don't believe he was gasping for air."
Jeane Brown, sister of victim Debbie Dietz, said Wood's potential suffering was nothing compared to her family's suffering, ABC 15 Arizona reported.
"This was nothing," Brown said during a press conference following the execution. "I don't believe he was gasping for air. I don't believe he was suffering. This man deserved it."
Following up, Grisham later wrote to BuzzFeed that it was "[j]ust reporters and defense attorneys ... saying that [there was gasping]. I encourage people to ask the family of the victims. I was also a witness and there was absolutely no gasping for air."
Arizona Gov. Jan Brewer said the time the execution took "concerned" her and said that she has ordered a review of the process — although she added that it was "certain" he "did not suffer":

The Arizona Supreme Court has ordered that the state "preserve any drug labels and unused drugs pertaining to the execution of Mr. Wood."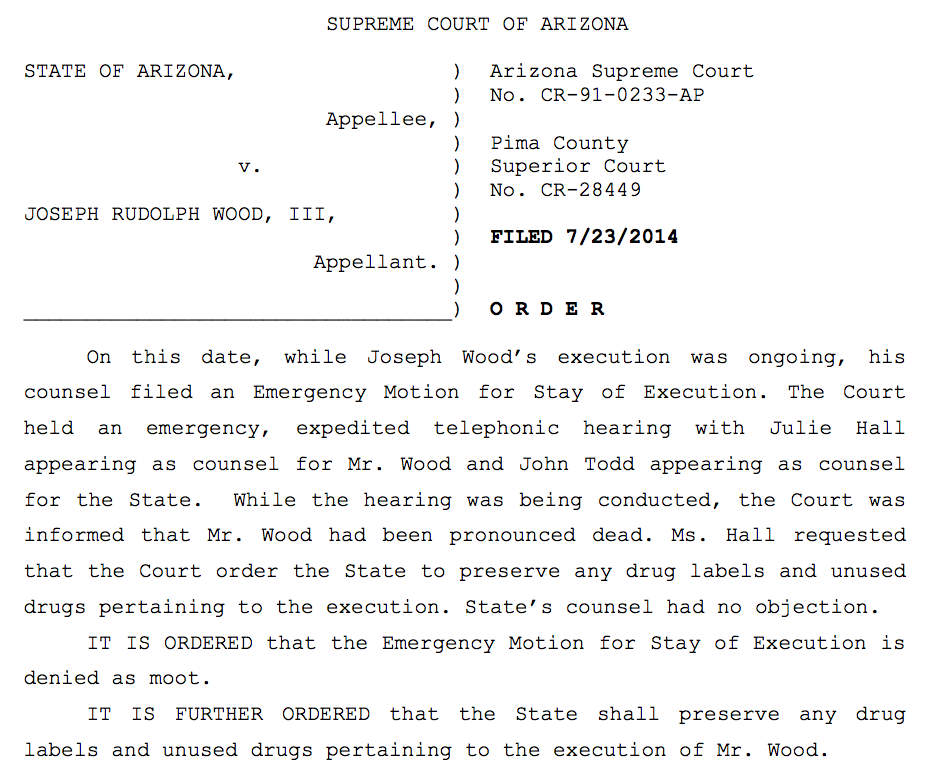 Dale Baich, attorney for Joseph Wood, issued a statement at 10:30 p.m. ET July 23 calling for an "independent investigation."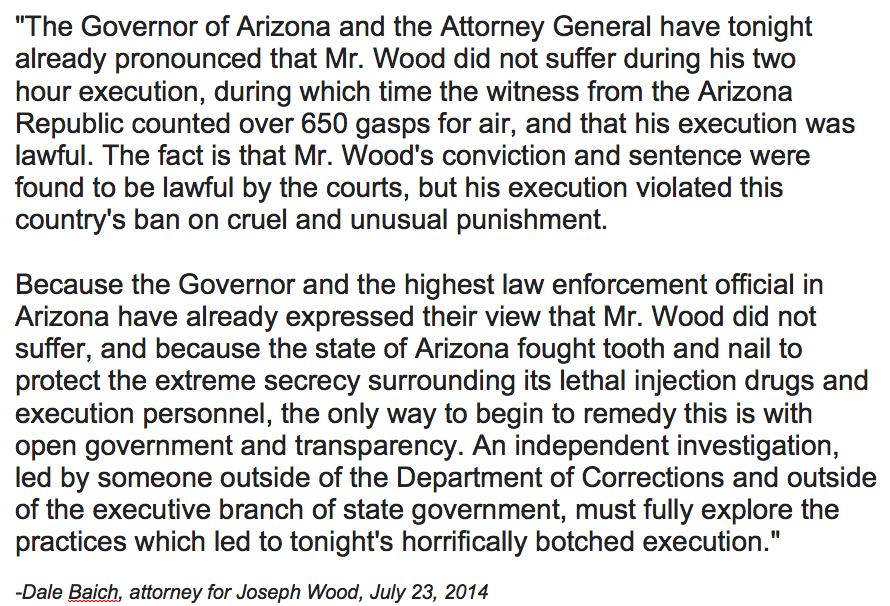 Update — 2 a.m. ET: An Associated Press reporter, also witness to the execution, corroborated the other reporter's account: