Appeals Court Schedules, Then Cancels Indiana, Wisconsin Same-Sex Marriage Arguments
The August 13 arguments in the 7th Circuit Court of Appeals would be the fourth federal appeals court to hear arguments on the question. [Update on July 16: The 7th Circuit cancels the arguments with no reason given.]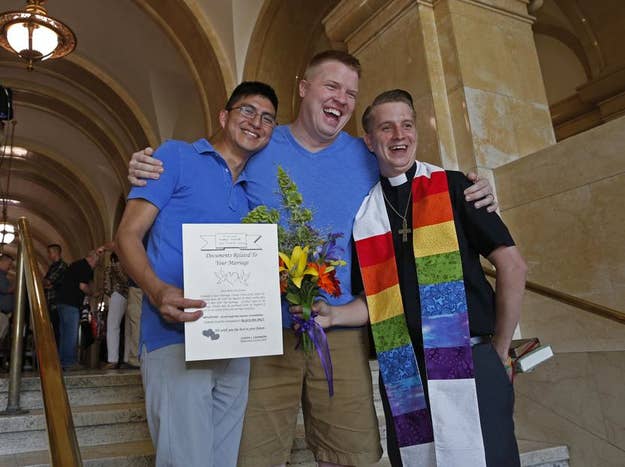 WASHINGTON — Indiana and Wisconsin officials will make the case for the constitutionality of their states' bans on same-sex couples' marriages on Aug. 13.
In an order from the 7th Circuit Court of Appeals on Monday, the court announced it has scheduled arguments in the various cases challenging the Indiana and Wisconsin bans for 9:30 a.m. Central Time on August 13.
The scheduled arguments will come a week after the scheduled arguments in the 6th Circuit Court of Appeals, where bans in Kentucky, Michigan, Ohio, and Tennessee are being challenged.
The 10th Circuit Court of Appeals already ruled that Utah's ban on same-sex couples' marriages is unconstitutional, and Utah officials said last week that the state will be asking the Supreme Court to review the case. The 4th Circuit Court of Appeals heard a challenge to Virginia's marriage ban in May but has not yet ruled on the matter.
The 9th Circuit Court of Appeals is slated to hear appeals of challenges from Hawaii, Idaho, and Nevada in September. The 5th Circuit Court of Appeals also has a challenge to Texas's marriage ban pending, but no arguments are scheduled.


The 7th Circuit canceled the arguments and will reschedule them at a later date, per a Wednesday order from the court.