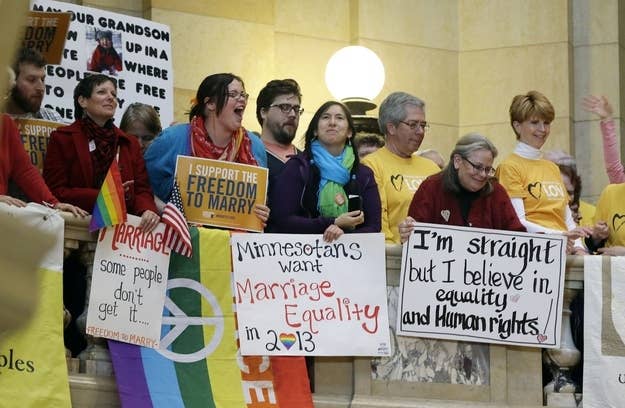 WASHINGTON — The Associated Press stated Thursday that "husband" and "wife" are "acceptable in all references" to same-sex married couples, reversing an internal style guidance initially publicized by Jim Romenesko this past week.
In a news release Thursday, the AP states, "The following entry was added today to the AP Stylebook Online and also will appear in the new print edition and Stylebook Mobile, published in the spring." This is the new entry:
husband, wife: Regardless of sexual orientation, husband or wife is acceptable in all references to individuals in any legally recognized marriage. Spouse or partner may be used if requested.
The style guidance issued this past week had said the terms "husband" or "wife" could only be used with same-sex married couples "if those involved have regularly used those terms ... or in quotes attributed to them." Instead, the guidance continued, "Generally AP uses couples or partners to describe people in civil unions or same-sex marriages."
Initially, AP spokesman Paul Colford told BuzzFeed the guidance only "reaffirmed AP's existing practice," but activists and LGBT organizations criticized the move as treating same-sex couples' marriages differently than opposite-sex couples' marriages.
David Crary, an AP reporter who covers LGBT issues among others, had expressed previously that he would not be following the guidance in his reporting.
Of Thursday's new Stylebook entry, Crary said in an email to journalist Rex Wockner that Crary stated could be made public, "I'm pleased that the AP has added a formal entry in its Stylebook regarding terminology for married couples. After a style guidance memo on the topic was distributed in-house on Feb. 11, it raised concerns among some members of the news staff and became the subject of internal discussions. The resulting Stylebook entry reflects an even-handed approach which many of my colleagues and I have been following and look forward to following in the future."