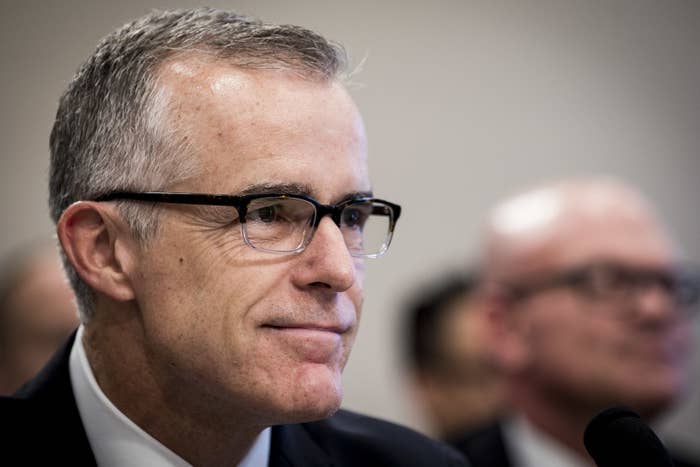 Andrew McCabe, the fired former deputy director of the FBI, kept personal memos detailing his interactions with President Donald Trump, as well as what happened during the time period when the president fired former FBI director James Comey, a source familiar with the situation told BuzzFeed News.
McCabe no longer has the memos, the source noted, detailing that they are the same kind of memos that were kept by Comey.
Both CNN and the Wall Street Journal reported on Saturday that special counsel Robert Mueller had the memos. A spokesperson for the Special Counsel's Office declined to comment on the issue, and a Justice Department spokesperson told BuzzFeed News that she did not know whether Mueller's office had the memos.
The Associated Press first reported the existence of the McCabe memos on Saturday afternoon, following Attorney General Jeff Sessions decision on Friday night to fire McCabe due what he wrote was an "unauthorized disclosure" to the media and a lack of candor with investigators.
Shortly after the AP broke the news of the memos, Trump continued his attacks on Comey, McCabe, and the broader government he has now run for nearly 14 months, lashing out about "tremendous leaking, lying and corruption at the highest levels of the FBI, Justice & State" and, specifically, about the response of the "Fake News" to McCabe being "caught, called out and fired."
Trump continued his attacks on Sunday morning, claiming Comey "lied" under oath about having been an anonymous source, stating that he didn't believe McCabe created the memos "except to help his own agenda," and once again calling the neutrality of the Mueller investigation into question.
McCabe, who was about 26 hours away from his retirement when the Justice Department announced his firing, had worked at the FBI since 1996. After being promoted to deputy director by Comey in 2016, he served as acting director for about three months after Trump fired Comey. McCabe told CNN that he had four interactions with Trump during that time.

Prior to his promotion, McCabe's wife, Jill, had run for a state Senate seat in Virginia in 2015. Trump and outside conservatives have criticized financial support for her campaign that came from then–Virginia Gov. Terry McAuliffe's political action committee and the Virginia Democratic Party. The campaign, which she lost, was over before McCabe was promoted to deputy director.
Nonetheless, Trump often has suggested that McCabe was influenced by that campaign support, and McCabe told CNN Trump "brought up my wife every time I ever spoke to him."

McCabe's memos of those interactions and of what happened during Comey's firing could provide backup for claims made by Comey about his treatment by Trump and the reasons for his firing — topics that have reportedly been part of Mueller's investigation.
The Comey memos have been a subject of keen interest — both in litigation to try to have them released to the public and as a key reference point in Comey's Hill testimony in June 2017.
In the testimony, Comey said outright that he made the detailed memos because he was afraid Trump would "lie" about their private conversations.

"I knew there might come a day where I might need a record to defend not just myself but the FBI, and our integrity," Comey said.