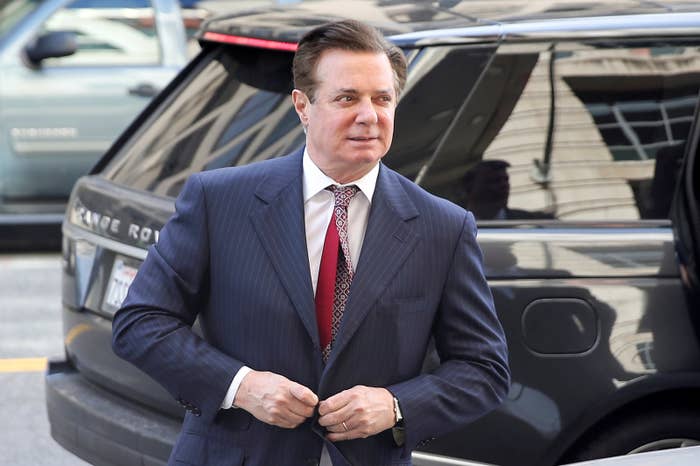 As Paul Manafort's criminal trial began in Virginia on Tuesday, a federal appeals court in Washington upheld a lower court's order detaining Manafort until his second criminal trial takes place.
US District Judge Amy Berman Jackson's July ruling in Washington sent President Donald Trump's former campaign chair to jail until trial there, after special counsel Robert Mueller's office accused Manafort of attempting to tamper with potential witnesses in his criminal trial.
The accusations — which included calls and messages sent on WhatsApp to a potential witness in his case — led to further charges against Manafort in his DC case, and they also led the special counsel's office to ask Jackson to revoke Manafort's bond and keep him detained pending trial.
Jackson did so, following a hearing, but Manafort then appealed the ruling to the US Court of Appeals from the DC Circuit. The appeals court upheld Jackson's ruling on Tuesday.
On behalf of the unanimous three-judge panel, Judge Robert Wilkins wrote, "[W]e find no clear error in the District Court's finding that [Manafort] is unlikely to abide by any conditions of release."
Manafort "had been warned about 'skating close to the line' with respect to the potential violation of the Gag Order" in the DC case that he not make media or other public statements in the case, "and yet [he] failed to heed those warnings and went right past the line with the alleged witness tampering," the DC Circuit held.
The appeals court did hold that the district court in DC was wrong to have found that Manafort violated another order, in his Eastern District of Virginia case, that he refrain from contacting potential witnesses in that case when he allegedly attempted to contact witnesses in the DC case. Nonetheless, it found that there was no clear error in Jackson's ultimate ruling that no conditions other than detention would guarantee that Manafort would not attempt to commit other crimes while released.
"The District Court's treatment of the EDVA Stay-Away Order was merely part of the icing; the cake had already been baked," the appeals court ruled.