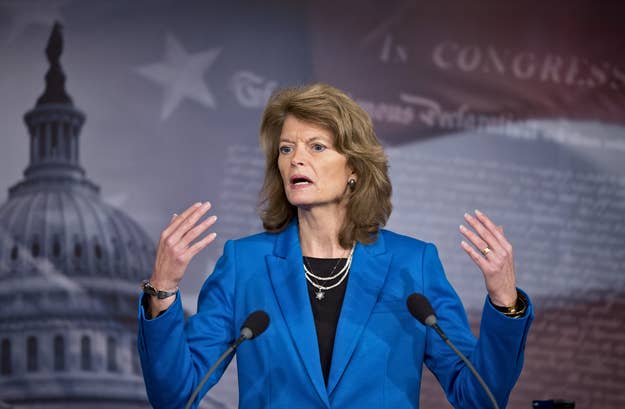 WASHINGTON — Sen. Lisa Murkowski became the third sitting Republican senator to endorse marriage equality in an interview with KTUU, Anchorage's NBC affiliate, Wednesday morning.
"This is a hard issue ... because marriage is such a deeply personal issue. There may be some that when they hear the position that I hold that are deeply disappointed. There may be some who embrace the decision that I have made. I recognize that it is an area that, as a Republican, I will be criticized for," she said in the KTUU interview.
As recently as March, Murkowski said her views on the issue were "evolving." Her fellow Alaska senator, Sen. Mark Begich, is a Democrat and had previously announced his support for marriage equality.
The Human Rights Campaign was promoting the news early Wednesday morning in D.C., as the group — and the country — wait for news from the Supreme Court on two marriage cases before it.
"Senator Murkowski's courageous and principled announcement today sends a clear message that marriage equality must come to all 50 states in this country. As the Supreme Court prepares to rule in two landmark marriage cases this month, a growing bipartisan coalition is standing up for the right of all couples to marry — and there is no turning back that tide," HRC President Chad Griffin said. "We hope other fair-minded conservatives like Senator Murkowski stand up and join her. Alaska may be nicknamed 'the Last Frontier,' but we've got to make sure that LGBT Alaskans don't have to wait to find justice."
Murkowski joins Republican Sens. Rob Portman of Ohio and Mark Kirk of Illinois in supporting marriage equality.
Update: Murkowski's office posted a lengthy statement from the senator about her support:
Not too long ago, I had the honor of nominating an Alaskan family as "Angels in Adoption," a celebration of the selflessness shown by foster care families and those who adopt children. They arrived in Washington, DC, a military family who had opened their doors to not one child but four siblings to make sure that these sisters and brother had the simplest gift you can give a child: a home together. We had lunch together, and they shared their stories with me. All the while, the children politely ate lunch and giggled as content youngsters do. Given my daily hectic Senate schedule, it's not often that I get to sit down with such a happy family during a workday – and I think of them often, as everything our nation should encourage.

I bring them up because the partners were two women who had first made the decision to open their home to provide foster care to the eldest child in 2007. Years later – and after a deployment abroad with the Alaska National Guard for one of them – they embraced the joy and sacrifice of four adopted children living under the same roof, with smiles, laughter, movie nights, parent-teacher conferences and runny noses.

Yet despite signing up and volunteering to give themselves fully to these four adorable children, our government does not meet this family halfway and allow them to be legally recognized as spouses. After their years of sleepless nights, after-school pickups and birthday cakes, if one of them gets sick or injured and needs critical care, the other would not be allowed to visit them in the emergency room – and the children could possibly be taken away from the healthy partner. They do not get considered for household health care benefit coverage like spouses nationwide. This first-class Alaskan family still lives a second-class existence.

The Supreme Court is set to make a pair of decisions on the topic of marriage equality shortly, and the national conversation on this issue is picking back up. This is a significant moment for our nation when it comes to rethinking our society's priorities and the role of government in Americans' private lives and decisions, so I want to be absolutely clear with Alaskans. I am a life-long Republican because I believe in promoting freedom and limiting the reach of government. When government does act, I believe it should encourage family values. I support the right of all Americans to marry the person they love and choose because I believe doing so promotes both values: it keeps politicians out of the most private and personal aspects of peoples' lives – while also encouraging more families to form and more adults to make a lifetime commitment to one another. While my support for same sex civil marriage is something I believe in, I am equally committed to guaranteeing that religious freedoms remain inviolate, so that churches and other religious institutions can continue to determine and practice their own definition of marriage.

With the notion of marriage – an exclusive, emotional, binding 'til death do you part' tie – becoming more and more an exception to the rule given a rise in cohabitation and high rates of divorce, why should the federal government be telling adults who love one another that they cannot get married, simply because they happen to be gay? I believe when there are so many forces pulling our society apart, we need more commitment to marriage, not less.

This thinking is consistent with what I hear from more and more Alaskans especially our younger generations. Like the majority of Alaskans, I supported a constitutional amendment in 1998 defining marriage as only between a man and a woman, but my thinking has evolved as America has witnessed a clear cultural shift. Fifteen years after that vote, I find that when one looks closer at the issue, you quickly realize that same sex unions or civil marriages are consistent with the independent mindset of our state – and they deserve a hands-off approach from our federal policies.

First, this is a personal liberty issue and has to do with the most important personal decision that any human makes. I believe that, as Americans, our freedoms come from God and not government, and include the rights enumerated in the Declaration of Independence: life, liberty and the pursuit of happiness. What could be more important to the pursuit of happiness than the right to choose your spouse without asking a Washington politician for permission? If there is one belief that unifies most Alaskans – our true north – it is less government and more freedom. We don't want the government in our pockets or our bedrooms; we certainly don't need it in our families.

Secondly, civil marriage also touches the foundation of our national culture: safe, healthy families and robust community life. In so many ways, sound families are the foundation of our society. Any efforts or opportunity to expand the civil bonds and rights to anyone that wants to build a stable, happy household should be promoted.

Thirdly, by focusing on civil marriage -- but also reserving to religious institutions the right to define marriage as they see fit -- this approach respects religious liberty by stopping at the church door. As a Catholic, I see marriage as a valued sacrament that exists exclusively between a man and a woman. Other faiths and belief systems feel differently about this issue – and they have every right to. Churches must be allowed to define marriage and conduct ceremonies according to their rules, but the government should not tell people who they have a right to marry through a civil ceremony.

I recently read an interview where Ronald Reagan's daughter said that she believes he would have supported same-sex marriage, that he would think "What difference does it make to anybody else's life? I also think because he wanted government out of peoples' lives, he would not understand the intrusion of government banning such a thing. This is not what he would have thought government should be doing."

Like Reagan, Alaskans believe that government works best when it gets out of the way. Countless Alaskans and Americans want to give themselves to one another and create a home together. I support marriage equality and support the government getting out of the way to let that happen.
Update at 12:50p: Log Cabin Republicans executive director Gregory Angelo said of the news, "This is courage. Senator Murkowski could have waited for the pending Supreme Court rulings on the landmark cases being decided this month, but instead chose to stand up for what's right without wasting another day."
Marc Solomon, national campaign director of Freedom to Marry, said in statement, "Senator Murkowski joins the majority of US senators taking a stand for equal treatment under the law on one of the most important bonds in our society: marriage. And as the third GOP senator to announce support for marriage this year, she shows that the conservative tenets of freedom and family are perfectly in line with the freedom to marry."