Alabama Probate Judge Faces Conflicting Commands In Same-Sex Marriage Cases
A federal judge refuses to put an order striking down the state's ban on same-sex marriages on hold. Mobile County Probate Judge Don Davis now faces a federal declaration that the ban is unconstitutional — and an Alabama Supreme Court order that his office not issue marriage licenses to same-sex couples.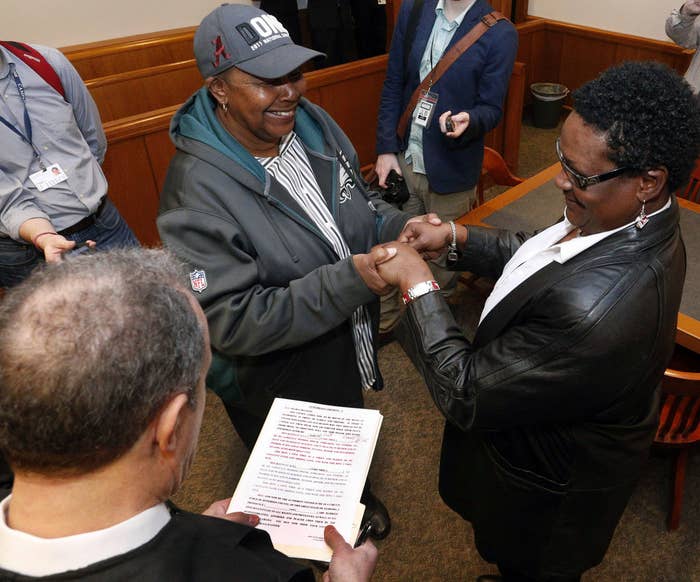 The sparring over the validity of Alabama's ban on same-sex couples' marriages took another turn on Monday, putting Mobile County Probate Judge Don Davis squarely in the middle of the dispute between state and federal judges.
U.S. District Court Judge Callie Granade on Monday refused to put her injunction against Davis on hold in the federal case challenging the ban — a decision that means her Feb. 12 order declaring the ban unconstitutional remains in effect and that he remains is bound by it.
"Although the court would agree that the developments in these same-sex marriage cases has at times seemed dizzying, the court finds that Judge Davis has not shown that a stay is warranted," Granade wrote in Monday's order.
Just last week, however, the Alabama Supreme Court ordered Davis not to issue any more marriage licenses to same-sex couples in a decision that interpreted Granade's Feb. 12 order as only applying to the specific same-sex couples who filed the lawsuit.
If the marriage license division in Mobile County is open Tuesday — which is by no means certain — and if a same-sex couple seeks a marriage license, Davis will need to decide what controls his response: the Alabama Supreme Court's order, or Granade's declaration that the marriage ban is unconstitutional.
Monday's move by Granade is the latest in the tug-of-war between the Alabama Supreme Court and Granade over the application of her January rulings that the state's bans on same-sex marriages, and on recognizing those that have been performed elsewhere, are unconstitutional.
It is, however, the first move that results in directly contrasting commands to a specific official.
After Granade struck down the bans — initially in a marriage recognition ruling on Jan. 23 and in the marriage case now involving Davis on Jan. 26 — state officials asked the federal appeals court and then the U.S. Supreme Court to keep the rulings on hold during their appeal. As that process was playing out, though, Alabama Chief Justice Roy Moore told probate judges across the state that they were not bound by Granade's order since they were not named as a party to those lawsuits and that, accordingly, they were still bound by the amendment.
The U.S. Supreme Court denied the state's stay request on Feb. 9, when Granade's injunctions went into effect. Some counties began allowing same-sex couples to marry, but many, including Mobile County, did not.
A few days later, following a request from the plaintiffs in the marriage case, Granade expanded her initial order, applying the injunction specifically to Mobile County Probate Judge Don Davis, who was not initially named as a defendant in that case. Following Granade's Feb. 12 order regarding Davis, Mobile County began issuing licenses to same-sex couples, as did several other counties in the days that followed.
Less than a month later, however, the Alabama Supreme Court — with Moore not participating — issued a lengthy decision on March 3 ordering the probate judges to stop issuing marriage licenses.
Davis, initially, was excluded from the ruling because of his concerns regarding the "potentially conflicting federal court order" from Granade, but the Alabama Supreme Court — with Moore again not participating — ended that exclusion on March 10, ruling that "we find Judge Davis's concern to be without merit."
Specifically, the Alabama justices found that Davis could be ordered to stop granting marriage licenses to same-sex couples because, the justices reasoned, Granade's injunction only applied to the named plaintiffs in the case before Granade's court and did not require Davis to issue marriage licenses to other same-sex couples.
The inclusion of Davis in the order to stop issuing marriage licenses for same-sex couples "is necessary and appropriate to the end of achieving order and uniformity in the application of Alabama's marriage laws," the justices also ruled.
On Monday, Granade moved forward on her end, refusing to put her preliminary injunction order on hold, writing:
"This court has found that Alabama's marriage sanctity laws violate the Plaintiffs' rights under the Due Process Clause and Equal Protection Clause of the Fourteenth Amendment to the United States Constitution.

This court's conclusion agrees with the overwhelming consensus of courts across the country that have addressed the constitutionality of similar state laws since the Supreme Court's ruling in United States v. Windsor.

Judge Davis has offered no reason why this court should now conclude that judgment in this case is likely to be in favor of Judge Davis.
While Granade did not state specifically that Davis was barred from denying licenses to same-sex couples who apply for them going forward, she did state that the preliminary injunction order — which includes a declaration that the marriage ban and any related laws are unconstitutional — remains in effect and that he is bound by that order.
Additionally, Granade noted that she was continuing to consider whether to allow the complaint in the case to be amended, as requested recently by several legal groups, to turn the case into a class-action lawsuit that would cover all same-sex couples seeking marriage licenses in Alabama, as well as all probate judges responsible for accepting or denying the licenses.
After the March 3 order from the Alabama Supreme Court, the Mobile County Probate Office's marriage license division was closed the next day to all couples. A lawyer familiar with the case said it has yet to reopen. It was not immediately clear whether the office would be open on Tuesday.
The person who answered the phone at the marriage license division of the Mobile County Probate Office on Tuesday said they are not issuing any marriage licenses — either to opposite-sex or same-sex couples — "at this time."
Asked if there was any plan for when they would re-open, she said, "No, there is not."