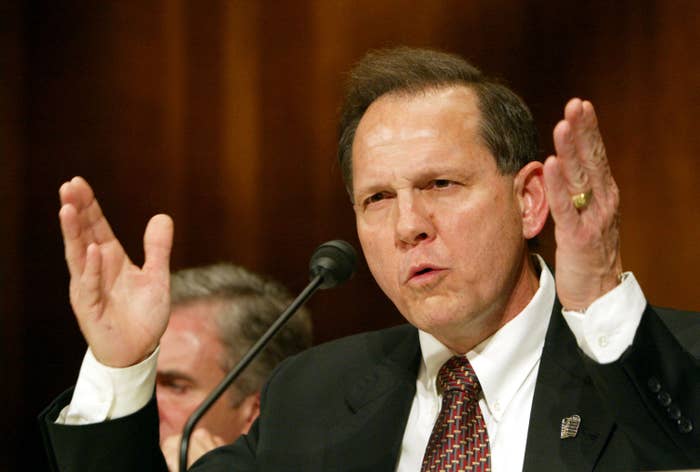 Alabama Chief Justice Roy Moore, in an administrative order issued on Wednesday morning, announced that a ban on granting same-sex couples' marriages remains in effect in Alabama until a specific court order is issued to end the ban.
Specifically, Moore wrote that a prior order of the Alabama Supreme Court that barred probate judges from issuing marriage licenses to same-sex couples remains in effect.
Moore's order, however, makes no mention of a contradictory federal court injunction issued this past year.
The U.S. Supreme Court decision from this past June in Obergefell v. Hodges, Moore wrote, only specifically struck down the marriage bans in Kentucky, Michigan, Ohio, and Tennessee. While it is precedent that would be applicable to other states' bans, he wrote, it is not a specific order that would end Alabama's ban.
"[A]n order issued by a court with jurisdiction over the subject matter and person must be obeyed by the parties until it is reversed by orderly and proper proceedings," he explained.
Moore concluded: "Until further decision by the Alabama Supreme Court, the existing orders of the Alabama Supreme Court that Alabama probate judges have a ministerial duty not to issue any marriage license contrary to the Alabama Sanctity of Marriage Amendment or the Alabama Marriage Protection Act remain in full force and effect."
Moore stated that he issued the order as the head of the Unified Judicial System of Alabama and under his authority "to correct or alleviate any condition or situation adversely affecting the administration of justice within the state" or take other action "necessary for the orderly administration of justice within the state."
There was no mention in Moore's order of the federal case overseen by U.S. District Court Judge Callie Granade that has challenged the Alabama ban. In that case, Granade in May 2015 issued a preliminary injunction striking down the amendment and act referenced by Moore in his administrative order. The order applied to all probate judges in the state because it was the result of a class action lawsuit that included all probate judges as the defendant class but was put on hold pending the outcome of the Supreme Court's Obergefell case.
After the Obergefell decision was issued, Granade issued a clarification order on July 1, 2015, noting that "the preliminary injunction is now in effect and binding on all members of the Defendant Class."
An attempt by one probate judge to appeal Granade's ruling was dismissed as moot by the 11th Circuit Court of Appeals on Oct. 20, 2015, because, the court wrote "the Alabama Supreme Court's order was abrogated by the Supreme Court's decision in Obergefell v. Hodges.
The Southern Poverty Law Center, which has been counsel in the marriage litigation in the state, condemned Moore's order in a statement.
"In no way does [Moore's] administrative order supersede Judge Granade's federal injunction prohibiting probate judges from enforcing discriminatory Alabama marriage laws," SPLC senior staff attorney Scott McCoy said in the statement. "If probate judges violate the injunction, they can be held in contempt. This is Moore yet again confusing his role as chief justice with his personal anti-LGBT agenda."

Nonetheless, Moore's move has stopped marriage licenses in at least one county. Mobile County Probate Judge Don Davis — who had been caught between the conflicting state and federal court orders last year — stopped issuing marriage licenses altogether on Wednesday afternoon.
"Well, we have closed," Russell Davidson, a supervisor of the court's division that handles marriage licenses, told BuzzFeed News. "At this time, we are not issuing any licenses until further notice."
A notice posted on the probate judge's website on Wednesday afternoon read, "In order to comply with the administrative order of Alabama Chief Justice Roy S. Moore dated January 6, 2016 and rulings of the United States District Court for the Southern District of Alabama, the court is not issuing marriage licenses to any applicants until further notice. This action is necessary to ensure full compliance with all court rulings that apply to the court and to Mobile County Judge of Probate Don Davis. We regret any inconvenience encountered."
But it was a different story Wednesday afternoon at the Montgomery County Probate Court, where an employee who asked not to be named said workers "are issuing licenses until further notice. Our marriage department is open." Probate Judge Steven Reed could not be reached directly for comment, but he did tweet about Wednesday's developments.
UPDATE
On Wednesday evening, the Southern Poverty Law Center announced that it had updated its pending ethics complaint against Alabama Chief Justice Roy Moore to include Wednesday's developments.
In the supplemental filing, the organization stated, "The Chief Justice continues to flout and violate the Alabama Canons of Judicial Ethics."
BuzzFeed News reporter Dominic Holden contributed to this report.