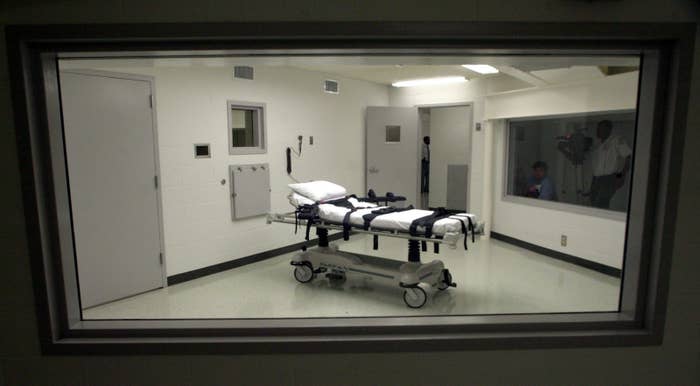 WASHINGTON — An Alabama appeals court on Friday upheld the validity of the state's death-sentencing law despite a January decision of the U.S. Supreme Court that struck down a similar law in Florida.
The Alabama Court of Criminal Appeals ordered a trial court to allow prosecutors to proceed with death penalty trials against four black men facing charges of capital murder: Kenneth Eugene Billups, Stanley Brent Chapman, Terrell Corey McMullin, and Benjamin Todd Acton.
The trial court judge, Jefferson County Circuit Judge Tracie Todd, had found the state's death penalty statute unconstitutional in March and, as such, barred prosecutors from seeking the death penalty in four men's murder trials.
On Friday, however, the Alabama Court of Criminal Appeals ordered Todd to vacate that decision and allow prosecutors to proceed.
The question raised to the appeals court in the four men's cases — as well as in a handful of other cases that have been sent back down to the Court of Criminal Appeals from the U.S. Supreme Court — is what the effect of the high court's January decision in Hurst v. Florida is on Alabama's death-sentencing statute.
In Hurst, the Supreme Court struck down Florida's death-sentencing law as unconstitutional because a judge, not a jury, made the findings that enabled a person to be sentenced to death.
Florida and Alabama's systems have many similarities, although they are not precisely the same. Criminal defense lawyers in the state have argued that Justice Sonia Sotomayor's decision in Hurst clearly throws Alabama's law into question because an Alabama jury can recommend a sentence of life without parole that a judge can override and instead sentence a person to death.
State lawyers responded that in Alabama, unlike Florida, the jury must either at the guilt or sentencing phase unanimously vote to find the existence of the aggravating circumstance which makes a person eligible for death. The state lawyers also argued that Hurst did nothing to expand prior Supreme Court rulings on related questions — particularly Ring v. Arizona, a 2002 decision tossing out Arizona's death-sentencing law because a judge, not a jury, made the sentencing decision in murder trials — and that courts have previously held the state's death-sentencing law to be constitutional under Ring.
On Friday, the Alabama Court of Criminal Appeals unanimously sided with the state.
"The Court in Hurst did not hold, as the respondents argue, that judicial override of a jury's capital-sentencing recommendation is unconstitutional," Judge J. Elizabeth Kellum wrote, adding that the U.S. Supreme Court did not, in the appeals court's view, rule "that it is unconstitutional to allow a trial court, in determining the appropriate sentence in a capital case, to consider evidence that was not presented to the jury."
Reading the Hurst decision narrowly, the Alabama court instead ruled, "The Court in Hurst did nothing more than apply its previous holdings ... to Florida's capital-sentencing scheme. ... As the State correctly argues, 'Hurst did not add anything of substance to Ring.'"
Specifially, the appeals court ruled, "[O]nce the jury unanimously finds the fact or facts that expose a defendant to imposition of the death penalty, Ring and Hurst have no further application, and a trial court may then exercise discretion" — as to whether to impose a sentence of death.
Although all five judges agreed with the court's result, Judge J. Michael Joiner questioned part of the court's decision stating that a trial court can find additional aggravating circumstances beyond those found by the jury when making a death-sentence determination.

"Although not required by Alabama's capital-sentencing scheme or by an express holding of the United States Supreme Court (yet), the better practice for a sentencing court imposing the death penalty would be to rely on only those aggravating circumstances a jury has unanimously found to exist," Joiner wrote.
The question of Hurst's effect on Alabama's death-sentencing law, however, likely will not end with Friday's decision. Review in either this or another case eventually will be sought in the Alabama Supreme Court and, likely, the U.S. Supreme Court.