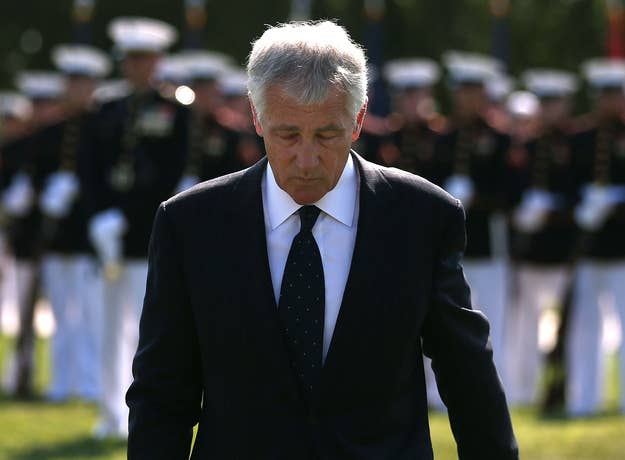 WASHINGTON — Although the military's ban on out lesbian, gay and bisexual service ended without much fuss in 2011, the secondary issues of running a military that treats those service members and their partners equally has proven a more difficult task.
From states and countries that bar recognition of same-sex couples' marriages to military chaplains whose beliefs, they say, prevent them from including same-sex couples in couples' retreats, to treatment of LGB cadets at a military academy, the recent talk about "gays in the military" has focused more on the few problem areas that have arisen.
Particularly since June's Supreme Court decision ending the ban on the federal government recognizing married same-sex couples, the Pentagon is finding pockets of difficulty in advancing its new policy — enunciated by Defense Secretary Chuck Hagel in an August memo — that "[i]t is now the Department's policy to treat all married military personnel equally."
Several states — including Georgia, Louisiana, Mississippi, Oklahoma, South Carolina and Texas — remain unwilling to process military ID cards for same-sex spouses of National Guard members at state facilities, citing state constitutional bans on recognizing same-sex couples' marriages. This comes even after Hagel said at the end of October that all states "will be expected" to treat all married service members equally.
Although Oklahoma Gov. Mary Fallin has gotten the most attention for announcing that it will no longer process ID cards for any spouses — same-sex or opposite-sex — it is those states continuing to treat same-sex spouses differently after a Dec. 1 deadline for compliance that will be most likely to face a response from the Pentagon.
What that will be, though, is not yet clear. A defense official told BuzzFeed on Friday that Hagel had directed the head of the National Guard Bureau, Gen. Frank Grass, "to resolve this issue" with the state heads of the National Guard units. "We're not going to speculate on further options at this time. These are federal ID cards paid for with federal funding to provide federally-mandated benefits," the official stated. "These states' refusal to comply with federal policy not only hurts members of the National Guard but also active and reserve military members and retirees that are seeking an ID card for their same-sex spouse at National Guard facilities."
In California, another problem was highlighted this past week: the treatment of same-sex couples by chaplains, many of whom are Southern Baptist or Roman Catholic and are barred by their faith leaders from counseling to same-sex couples.
The American Military Partner Association announced on Nov. 20 that a married same-sex couple were denied participation in an Army marriage enrichment "Strong Bonds" program run by the chaplains at Fort Irwin in San Bernardino County. Although the military later stated that it would make "alternative arrangements" to provide the services to the couple, Shakera Leigh Halford, the wife of the service member, said, "Why can't we just be another couple at the retreat, like everyone else? Why do we have to have special arrangements?"
Most of the attention this past week, however, was focused on Colorado Springs, Colo., where the Air Force Academy is located. Questions about the academy's environment for lesbian, gay and bisexual cadets — including its employment of a person with a long history of involvement in anti-LGBT organizations — reached such a level that the academy held a conference call with reporters on Friday afternoon to address the issues.
The questions began on Nov. 19, when AmericaBlog's John Aravosis reported that Dr. Mike Rosebush — who has a long history of involvement with "ex-gay" counseling aiming to help people in "coming out of homosexuality" and involvement with Focus on the Family, NARTH (National Association for Research & Therapy of Homosexuality) and Exodus International — oversaw "character and leadership coaching" at the academy.
The academy's public affairs office said Aravosis overstated Rosebush's role, stating that he is "Operations Research Analyst for the Academy's Center of Character and Leadership Development," that he took on that role in 2011 and was hired in 2009 as an analyst in the "Academy's Plans and Programs office." Even that, though, was not a junior-level office; its full name is the "Directorate of Strategic Plans and Programs, Requirements, Assessments and Analyses" and its purpose is to "support[] commanders by developing institutional policy, plans and assessment strategies to enhance mission success."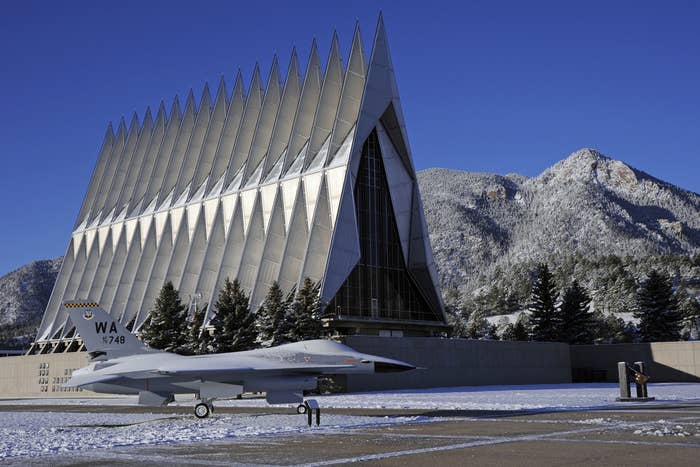 In a later statement, the academy's superintendent, Lt. Gen. Michelle Johnson, added that while Rosebush does not run the center, he does evaluate the academy's "character coaching" program and "help[s] ensure the quality of coaches who conduct the coaching of cadets."
The academy public affairs office also stated that Johnson and others in the leadership at the academy met with members of Spectrum, the academy's affinity group for LGBQ cadets. (Out trans cadets would not be eligible for military service under current military guidelines and were not a part of the academy's consideration of these issues.) The public affairs office stated that "the cadets expressed to Academy leaders that they are proud to be in the Air Force and do not feel like the Air Force Academy culture inhibits them in any way."
According to a report from The Huffington Post's Lila Shapiro, the claim prompted a closeted cadet to rail against the academy's "self serving press release today about how 'happy' all the gay cadets are here," saying, " it would be devastating for our cadet and future Air Force careers" if many closeted cadets came out at the Air Force Academy.
The developments prompted the Friday media call, which featured three out LGB cadets who are members of Spectrum; the active-duty service member who acts as the group's adviser, Air Force Capt. Michelle L. Reinstatler; and the academy's public affairs officers. No last names were given for the cadets — Carol, Stephanie and William — all of whom spoke well of the environment, at least among the non-cadet people at the academy — for LGBQ students.
After much back and forth, the cadets and Reinstatler did acknowledge, however, that two cadets at the earlier meeting with Johnson described issues, since addressed, that the cadets had with other cadets relating to their sexual orientation.
Although the academy's control of communications regarding the environment for cadets makes it difficult to assess the current atmosphere, the questions about Rosebush that started the week's coverage of issues there remain — and the academy thus far has supported him.
Academy superintendent Johnson stated in a release, "[T]here are no complaints against Dr. Rosebush since he arrived in 2009 and he has effectively performed the duties required by his position for the Academy." The same statement, though, suggested the academy could change course, adding that academy leaders "are reviewing the hiring process ultimately bringing Dr. Rosebush aboard in 2009."
The Human Rights Campaign and American Military Partner Association both weighed in with statements Friday announcing views that more must be done to address the concerns about Rosebush and the larger questions about the environment for LGBQ cadets. The AMPA called for "an independent and transparent investigation" into Rosebush's hiring and the broader climate question, while an HRC spokesman criticized the academy for "continuing to defend the hiring of conversion therapy advocate Dr. Mike Rosebush."