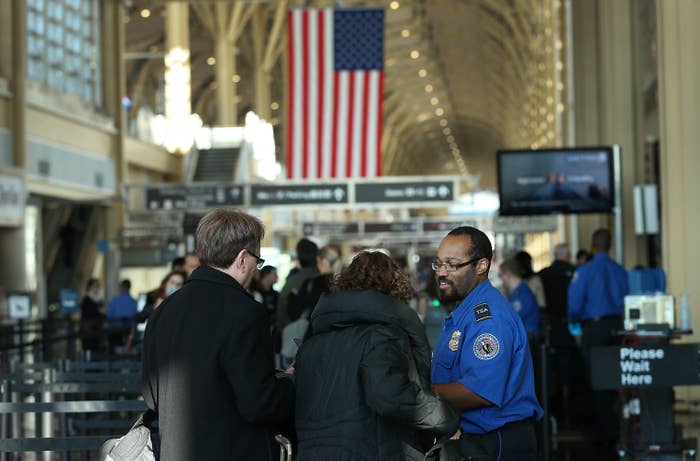 WASHINGTON — The American Civil Liberties Union is taking no position on legislation that would bar people from buying guns if they are on the federal government's no-fly list — a list that the ACLU has spent the past five years arguing is unconstitutional.
In recent weeks, legislation to prevent people on the no-fly list from buying guns has been backed by President Obama and largely supported by congressional Democrats. But the ACLU isn't taking a position.
"We don't have a position on the legislation in question, but ... have many criticisms of the overall watchlisting system as it currently operates," ACLU's media strategist Josh Bell told BuzzFeed News.
"There is no constitutional bar to reasonable regulation of guns, and the No Fly List could serve as one tool for it, but only with major reform," said Hina Shamsi, the director of the ACLU National Security Project.

Shamsi made the comment despite the group's ongoing lawsuit against the list — which she argued can have a "devastating" effect on those who find themselves on it.
"The government puts people on the No Fly List using vague and overbroad standards," she said, adding that "it is wrongly blacklisting innocents without giving them a fair process to correct government error."

A hearing on the ACLU's case is scheduled for 9 a.m. Wednesday in federal court in Oregon.
"Our No Fly List lawsuit seeks to establish a meaningful opportunity for our clients to challenge their placement on the list, which is error-prone and has had a devastating impact on their lives," Shamsi stated.

The lawsuit was filed in 2010 and has included significant victories for the ACLU's arguments against the list.
Notably, in 2010, the ACLU testified against "the use of terror watch lists to screen gun purchases," writing that the "deeply flawed" terror watch list process led the group to conclude, "Given these problems, we do not believe that anyone should be deprived of the right to purchase a gun, or the right to fly, or any other benefit of membership in civil society based solely on placement on a terror watch list."
In June 2014, U.S. District Court Judge Anna Brown found in a partial ruling in the lawsuit that the procedural protections provided by the no-fly list "fall far short of satisfying the requirements of due process."
Wednesday's hearing will cover whether the revised procedures put in place since then still render the protections unconstitutional.
The ACLU argued in filings and will argue in court that the program remains unconstitutional.
ACLU's 2010 statement: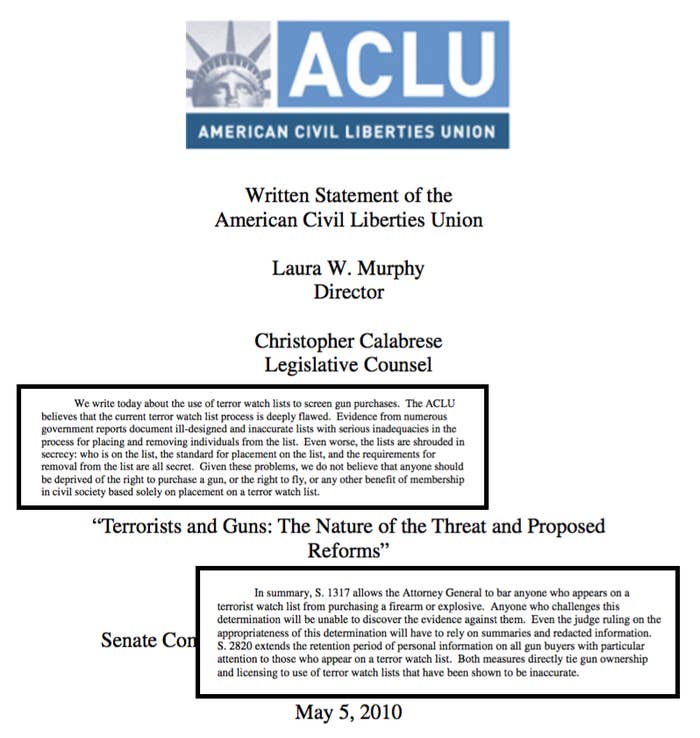 UPDATE
This report was updated to include information about the ACLU's legislative position on similar legislation in 2010. (h/t Almaqah)
UPDATE
The ACLU, in a blog post — and subsequent tweet from the ACLU's Hina Shamsi — came closer to opposing the current legislation on Monday night.