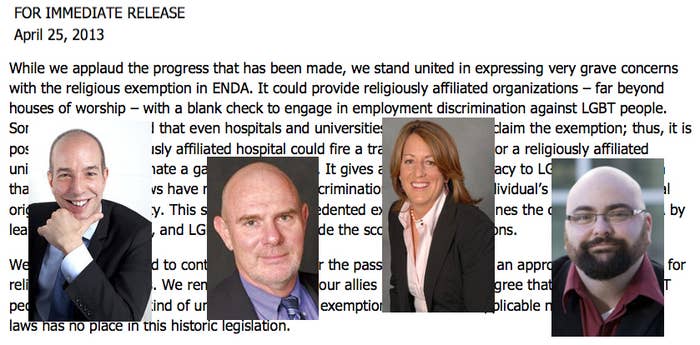 WASHINGTON — The American Civil Liberties Union and several LGBT legal organizations said Thursday that a key religious exemption in new legislation banning anti-LGBT job discrimination "undermines the core goal" of the bill and should be removed.
In a statement released Thursday morning, the ACLU, Lambda Legal, National Center for Lesbian Rights, and Transgender Law Center state they "stand united in expressing very grave concerns with the religious exemption" to the bill, the Employment Non-Discrimination Act.
Although the groups say they strongly support the underlying legislation, their decision to release a statement warning of "very grave concerns" with the religious exemption on the day of ENDA's reintroduction in the House and Senate certainly puts a damper on efforts to ramp up early support for the bill.
In the past, it's primarily been religious groups criticizing the religious exemption language, and the language has been made more broad over time in order to blunt opposition to the bill from religious groups. Now, it appears, some on the left are ready to fight back.
Lambda Legal attorney Greg Nevins, who has litigated some of the group's employment discrimination cases in the past, talked with BuzzFeed about the religious exemption.
"In Title VII, there's an exemption for certain religious-affiliated entities that says that they can basically engage in religious discrimination but they cannot engage in race, color, sex, or national origin discrimination. The words [religious-affiliated entities] have been sometimes interpreted very broadly," Nevins explained, noting, "For instance, a Presbyterian hospital might in some jurisdictions be considered to qualify, which is decidedly different than saying a church or a convent can do these things."
The religious exemption in ENDA "would say that sexual orientation and gender identity discrimination are not actionable against those entities as defined in Title VII," he added.
"It would be setting up a two-tiered system saying that race, color, sex, and national origin discrimination cannot be engaged in by one of these entities, but sexual orientation and gender identity discrimination can," Nevins said.
In the statement, the groups warn the religious exemption "gives a stamp of legitimacy to LGBT discrimination that our civil rights laws have never given to discrimination based on an individual's race, sex, national origin, age, or disability."
For some time now, the ACLU has expressed concerns that the religious exemptions in legislation to ban LGBT job discrimination were too broad, but this is the first time they've laid down a marker on such concerns so early in the legislative process. It also is the first time they've been joined early in the process by several LGBT legal groups — Lambda Legal, National Center for Lesbian Rights and Transgender Law Center — in raising the concerns. Those LGBT organizations — along with Gay & Lesbian Advocates & Defenders — had described their concerns with the provision in October 2007.
Although the ACLU and LGBT legal groups are pressing for a more narrow religious exemption, religiously affiliated organizations have raised their own concerns about the impact of passage of ENDA on religious liberty.
The National Religious Broadcasters warned in 2012 that ENDA "would assault the constitutional rights of faith-based organizations and lead to a 'chilling effect' in religious communities." The group's senior vice president and general counsel, Craig Parshall, testified against the bill before the Senate Health, Education, Labor and Pensions Committee in June 2012.
Peter Sprigg from the Family Research Council went further, recently writing that there might not be a religious exemption broad enough to meet with his approval. Writing for CNN, Sprigg stated, "Although ENDA contains a limited 'religious exemption,' there remain serious questions as to whether any exemption would be adequate to meet the concerns of people with religious and moral scruples against homosexual conduct."
[Update: The article was updated to include prior comments from the LGBT legal groups expressing concerns about the religious exemption. 4/25/13.]
The ACLU & LGBT Legal Groups' Statement: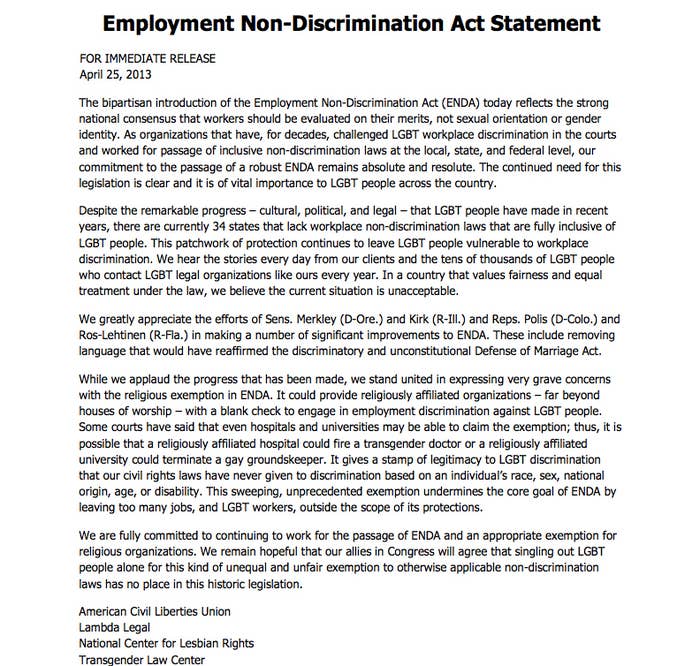 UPDATE: ENDA, As Introduced In The Senate: