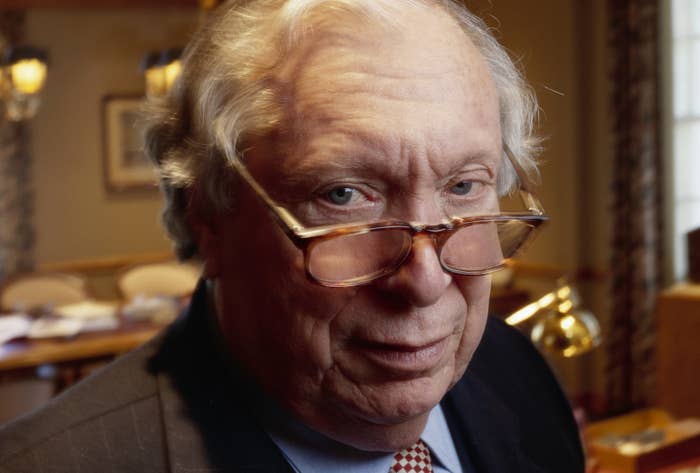 Judge Stephen Reinhardt of the US Court of Appeals for the 9th Circuit has died, a court spokesperson confirmed Thursday. He was 87.
Reinhardt, a liberal champion who was appointed to the bench by President Carter in 1980, died of a heart attack, a family spokesperson confirmed. He was at a dermatologist's office Thursday when he died, the court spokesperson told BuzzFeed News. His death, two days after his 87th birthday, was unexpected.
"All of us here at the Ninth Circuit are shocked and deeply saddened by Judge Reinhardt's death," Judge Sidney R. Thomas, the chief judge of the 9th Circuit, said in a statement. "We have lost a great friend and colleague. As a judge, he was deeply principled, fiercely passionate about the law and fearless in his decisions. He will be remembered as one of the giants of the federal bench. He had a great life that ended much too soon."
Reinhardt authored key liberal court opinions on hot-button topics ranging from abortion and marriage equality to assisted suicide and immigration. He also took aim at the criminal justice system, from criminal defendants' rights to prison conditions to the death penalty.
At the same time, the opinions made him a target of criticism from conservative corners — and of regular reversal from the Supreme Court. He had ruled the inclusion of "under God" in the Pledge of Allegiance was unconstitutional under the First Amendment and that the Second Amendment's right to bear arms was a collective, not an individual, right — two rulings that the Supreme Court ultimately overruled.

The 9th Circuit, which has prompted President Trump's outrage for its liberal rulings, covers a wide swath of the western states: Alaska, Arizona, California, Guam, Hawaii, Idaho, Montana, Nevada, the Northern Mariana Islands, Oregon, and Washington state.
The loss to the liberal legal world was summed up by another liberal champion, Harvard Law professor Larry Tribe, who called Reinhardt's death "a devastating loss."
"His intellectual rigor was matched only by his progressive instincts and compassion," Tribe added. "The world is a darker place."
Reinhardt's former clerks — recent law school graduates who work closely with a judge in considering cases and crafting opinions — spoke out about his liberal legacy.
Back in 2010, in honor of his having served on the bench for 30 years, the Yale Law Journal published reflections on the "unique legacy" of Reinhardt — a Yale Law School graduate — including one from Heather Gerken, a former clerk for Reinhardt and retired Justice David Souter who is now the dean at Yale Law School.
"Judge Reinhardt's reputation has taken on heroic proportions in some
circles and made him the bête noire in others," Gerken wrote in her essay. "There is a simple reason for this:
the Judge has devoted his life to doing justice."
Michael Dorf, an early Reinhardt clerk who went on to clerk for Justice Anthony Kennedy and now teaches at Cornell Law School, pointed to Reinhardt's effort to continue on in the path set by the Supreme Court under then-Chief Justice Earl Warren, behind groundbreaking decisions like Brown v. Board of Education — declaring segregated schools to be unconstitutional.
"[Reinhardt] never gave up on the vision of the Warren Court. To him, that was the correct approach for courts to take to the law," Dorf said. "He understood that for much of our history the law had been used as a tool of the powerful interests, but he saw an opportunity to help and protect the vulnerable."
Calling Reinhardt "a man who felt the law down to his fingertips," Joshua Matz — who clerked for Reinhardt and then Kennedy about three decades after Dorf — told BuzzFeed News that the late justice "genuinely believed that the law could be used to make the world better for everyone," while also "fulfill[ing] the values of the Constitution."
"You read a judge's opinions and you get a sense of who they are," Matz said. Spending time with a judge as a clerk, though, "you get to know them in a very different way, and Judge Reinhardt was a profoundly good and passionate and brilliant man who loved the law and loved his clerks."
Brian Goldman, who clerked for Reinhardt and then Justice Sonia Sotomayor, tweeted about his "one of a kind" boss.
Reinhardt is survived by his wife, Ramona Ripston, and three adult children: Mark, Justin, and Dana. His family has asked that, in lieu of flowers, donations in Reinhardt's memory may be made to the ACLU.
His death creates a new vacancy on the 9th Circuit, which President Trump now will be able to fill with his own nominee.

Sixteen of the remaining 22 active-service judges on the court were appointed either by former presidents Clinton or Obama. The remaining six were appointed by former President George W. Bush.
So far, Trump has nominated two judges for seats on the western appeals court and — prior to Reinhardt's death — has been considering several potential names for two other vacancies.