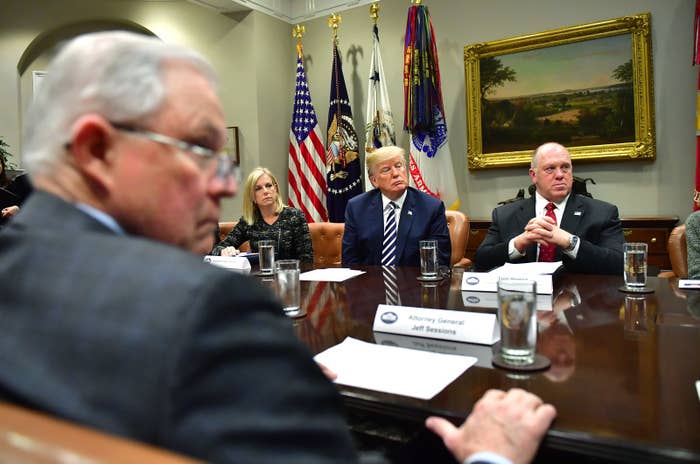 A federal judge said Friday that the Trump administration must reinstate the Deferred Action for Childhood Arrivals (DACA) program in its entirety — because the Department of Homeland Security failed to "give a rational explanation for its decision" to end it.
US District Judge John D. Bates — who has been hearing the challenge brought by the NAACP and others to the administration's decision to end DACA — put his decision on hold for 20 days "to permit the government to determine whether it intends to appeal the Court's decision and, if so, to seek a stay pending appeal."
Bates initially ruled against the administration in April but put his ruling on hold to give the government a chance to provide a rationale for its decision.
In Friday's ruling, Bates found that "the Court sees no reason to change its earlier determination that DACA's rescission was arbitrary and capricious."

In response to Bates' initial ruling, DHS Secretary Kirstjen Nielsen issued a memorandum in June that aimed at providing "amplification" of the government's decision to end DACA last year — as had been explained in a memo issued by then-DHS secretary Elaine Duke.
Bates found on Friday, first, that the administration's decision to end DACA was reviewable — a point on which the Department of Justice had fought the challengers — because, the judge ruled, DHS's explanation for the rescission of DACA is an issue of law, not policy.
As to the substantive question of whether the Nielsen memo showed that the decision to end DACA was not "arbitrary and capricious," Bates wrote, "Most glaringly, the Nielsen Memo provides almost no meaningful elaboration on the Duke Memo's assertion that DACA is unlawful."
Bates added that, even if one of the reasons provided by the government to justify ending DACA was sufficient, the Nielsen memo "fails to engage meaningfully with the reliance interests and other countervailing factors that weigh against ending the program."
In his conclusion, Bates appeared to make an effort to preempt criticism from President Donald Trump, Attorney General Jeff Sessions, and Trump's supporters.
"The Court did not hold in its prior opinion, and it does not hold today, that DHS lacks the statutory or constitutional authority to rescind the DACA program. Rather, the Court simply holds that if DHS wishes to rescind the program — or to take any other action, for that matter — it must give a rational explanation for its decision," he wrote. "A conclusory assertion that a prior policy is illegal, accompanied by a hodgepodge of illogical or post hoc policy assertions, simply will not do."
Justice Department spokesperson Devin O'Malley told BuzzFeed News that the court's order does not mean the DOJ will be backing off its position that DACA "was an unlawful circumvention of Congress" and "was susceptible to the same legal challenges that effectively ended [Deferred Action for Parents of Americans and Lawful Permanent Residents (DAPA)]."

As for next steps, O'Malley added, "The Justice Department will continue to vigorously defend this position, and looks forward to vindicating its position in further litigation."