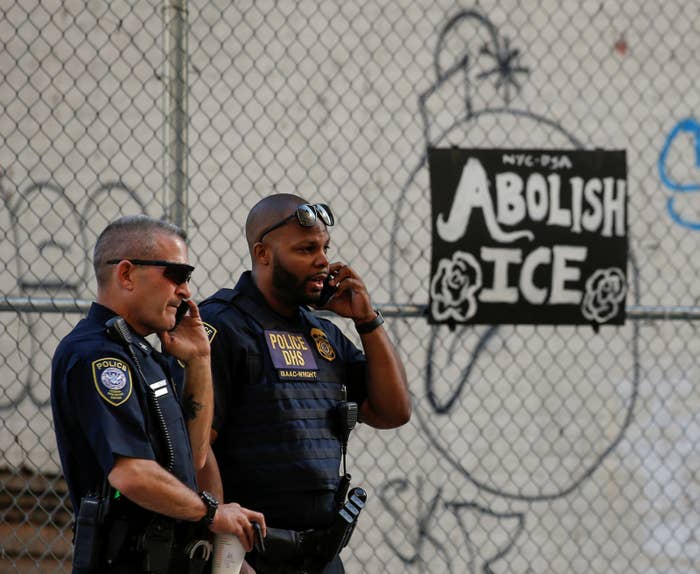 A federal judge has ordered the Trump administration to end separations for most migrant families at the border and to reunify parents and children who were already separated within the next month, with limited exceptions.
In a ruling late Tuesday, US District Judge Dana Sabraw wrote that the federal government had adopted a practice of separating families without "any effective system or procedure" for tracking children, for allowing parents and children to communicate while they were apart, or for reuniting families once a parent's criminal case was over. He called it a "startling reality."

"The facts set forth before the Court portray reactive governance — responses to address a chaotic circumstance of the Government's own making," Sabraw wrote. "They belie measured and ordered governance, which is central to the concept of due process enshrined in our Constitution."
Sabraw authorized the case, brought by the American Civil Liberties Union in federal court in San Diego, to proceed as a class action. The lawsuit now covers all adults in immigration custody who have a child they have been separated from and whose child has been placed into government custody. This includes both parents who entered the US at an official port of entry as well as those who did not.
Under Sabraw's order, the federal government is now blocked from separating families while a parent is in immigration detention, absent evidence that a parent is unfit or poses a danger to the child, or that the parent has waived being held together. He also ordered the government to reunite all class members with their children within 30 days, or 14 days if a child was younger than 5 years old, and to allow parents to contact separated children within 10 days.
"This ruling is an enormous victory for parents and children who thought they may never see each other again. Tears will be flowing in detention centers across the country when the families learn they will be reunited," Lee Gelernt, deputy director of the ACLU's Immigrants' Rights Project, said in a statement.
A Justice Department spokesperson said in a statement that Sabraw's decision "makes it even more imperative that Congress finally act to give federal law enforcement the ability to simultaneously enforce the law and keep families together." There was no immediate comment on whether the government would appeal the decision.
In concluding that the plaintiffs would suffer irreparable harm without action from the court, Sabraw quoted statements filed by parents describing their experiences of separation from their children. The record, Sabraw wrote, showed that "the separations at issue have been agonizing for the parents who have endured them."
The two lead plaintiffs in the case are referred to only as "Ms. L." and "Ms. C." According to the lawsuit, Ms. L. is a citizen of the Democratic Republic of the Congo, who entered the United States with her then–6-year-old daughter in November 2017 through a port of entry at the US–Mexico border in California. Ms. L. sought asylum on religious persecution grounds. After several days of being detained together, she and her daughter were separated for several months until Ms. L. was released pending a decision on her asylum application. Federal officials returned Ms. L.'s daughter to her after confirming their relationship via a DNA test.
Ms. C. is a Brazilian citizen and entered the United States "between ports of entry" with her son, who was 14 years old at the time, according to court papers. They were separated while she was charged and convicted of entering the country illegally, and were not reunited until after Ms. C. had served her sentence and been released on bond from immigration detention.
Though Sabraw's order is not limited to parents seeking asylum, he had harsh words for the government about allegations that families had been separated after presenting at a US port of entry with an asylum claim.
"We are a country of laws, and of compassion. We have plainly stated our intent to treat refugees with an ordered process, and benevolence, by codifying principles of asylum," the judge wrote. "The Government's treatment of Ms. L. and other similarly situated class members does not meet this standard, and it is unlikely to pass constitutional muster."

The order came a week after President Donald Trump signed an executive order that addressed the separation of families at the border. The executive order stated that the administration's preference was to house families together, and ordered the US Department of Defense and other federal agencies to find additional detention space for the US Department of Homeland Security to do so.
The order also directed Attorney General Jeff Sessions to have the Justice Department ask a judge to amend a 1997 settlement agreement that restricts how long children can stay in immigration detention. Government lawyers filed those papers on June 21.

The ACLU's lawsuit does not challenge the separation of families when a parent is in jail for a criminal offense, including illegal entry into the United States. Rather, the ACLU is challenging the separation of families when parents and children are both being held in immigration detention facilities — which can happen while a parent is facing criminal prosecution — and federal officials have not shown that a parent is unfit to be with their child or would put the child in danger.
US Customs and Border Protection announced this week that it had temporarily stopped referring illegal entry cases involving migrants parents who arrived with a child to the Justice Department for criminal prosecution.

The ACLU argued for a nationwide injunction prohibiting the federal government from separating families in immigration detention without a clear finding of parental unfitness or danger. There are hundreds of detained individuals who would be covered by the lawsuit, according to the ACLU's filings.
"The government has offered no legitimate basis for taking Plaintiffs' children away. The government provided no evidence that Ms. L. or Ms. C. abused or neglected their children, or that they are unfit parents, to justify their separation from their children for four and five months, respectively. And for other class members, by definition, the government has not demonstrated abuse, neglect, or other unfitness in any kind of hearing," the ACLU argued in its March motion for a preliminary injunction.
Tuesday's orders followed a hearing on June 22 in which the government's lawyer had few concrete answers for a wide range of questions. Sabraw had agreed to delay a decision on the injunction request, to give both sides a few more days to submit additional information about how Trump's executive order applied to the case.
The Justice Department argued that as the court weighed whether to enter an injunction, the balance should tip in favor of "the government's and public's interests to protect the safety and welfare of children from exploitation by smugglers and human traffickers."
But Sabraw rejected the argument that Trump's order and the Homeland Security guidance that followed made a court order unnecessary. Trump's order included "various qualifications" to reunification that still gave the government discretion to separate families, the judge wrote, and the DHS guidance didn't address the process for reunifying families after a parent's criminal case was over but before they were deported.
"Placing the burden on the parents to find and request reunification with their children under the circumstances presented here is backwards," Sabraw wrote. "When children are separated from their parents under these circumstances, the Government has an affirmative obligation to track and promptly reunify these family members."
Earlier this month, Sabraw had denied the Justice Department's motion to dismiss the case. He found that the court had jurisdiction to consider the plaintiffs' constitutional challenge to family separation, which he wrote was separate from a challenge to the government's decision about whether to detain people in the first place.
Sabraw concluded that the constitutional right to "family integrity" would cover the types of situations alleged in the lawsuit, in which a parent and child who arrived together were separated while they were detained pending the outcome of immigration proceedings. The judge found that the allegations also met the "shocks the conscience" standard that courts apply in weighing certain due process claims.
"Such conduct, if true, as it is assumed to be on the present motion, is brutal, offensive, and fails to comport with traditional notions of fair play and decency. At a minimum, the facts alleged are sufficient to show the government conduct at issue 'shocks the conscience' and violates Plaintiffs' constitutional right to family integrity," Sabraw wrote.
UPDATE
Updated with comment from a Justice Department spokesperson.