WASHINGTON — The fate of Utah's nearly 1,400 legally married same-sex couples is still unclear as the state challenges a ruling that overturned Utah's ban on marriage between same-sex couples.
It's been less than 20 days since U.S. District Court Judge Robert Shelby declared Utah's 2004 ban to be unconstitutional. The Supreme Court on Monday stopped Shelby's order from going into effect while Utah appeals the case to the 10th Circuit Court of Appeals; the state's first brief is due by Jan. 27.
Shelby's order had been in effect for two weeks, though, and now questions abound over the status of the same-sex couples who married in Utah while it was legal from Dec. 20, 2013, through Monday.
The Supreme Court action ended new marriages from taking place for the time being. But Utah Gov. Gary Herbert and Attorney General Sean Reyes on Wednesday went further, saying the 1,360 couples' marriages were "on hold," per a statement from Herbert's office, and would not be recognized by the state while the Supreme Court stay is in effect.
This is not an altogether surprising decision by the officials. Utah's marriage amendment does not only ban same-sex couples from marrying in the state; it also bans the state from recognizing such marriages. Because the Supreme Court stay effectively puts the marriage amendment back on the books, it prevents recognition of the very marriages the state granted over the past weeks.
Nonetheless, several questions remain unanswered and some have been made more confusing by the very statements of Herbert and Reyes.
Both officials made clear in their statements that they were not invalidating or nullifying the marriages at this time. Herbert's office, in a letter from his chief of staff, stated that "this position is not intended to comment on the legal status of those same-sex marriages – that is for the courts to decide." Reyes said in his statement, "We are unable to reach a legal conclusion as to the ultimate validity of marriage between persons of the same sex who completed their marriage ceremony in Utah between Dec. 20, 2013 and Jan. 6, 2014. That question remains unanswered and the answer will depend on the result of the appeal process."
The couples, in other words, are in a legal limbo: They have marriages that were legal when they entered into them that are not invalid now but also are not recognized by the state that granted them.
This raises three significant questions: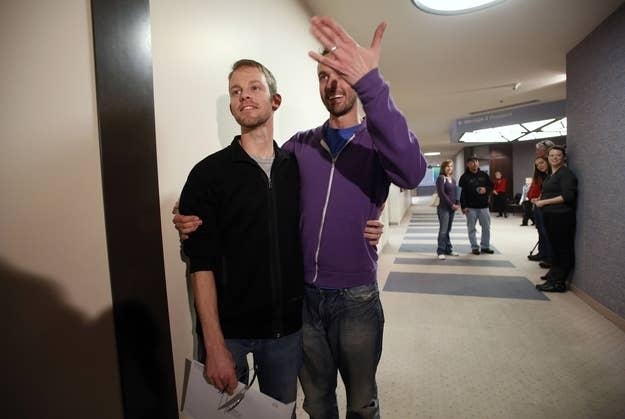 1. How will the state treat these marriages?
Despite Utah's attempt to answer this definitively, even Herbert's chief of staff noted that "if a same-sex married couple previously changed their names on new drivers licenses, those licenses should not be revoked." That may be a slight crack in the door, but it is sure to be emblematic of other situations moving forward. There is some recognition of those couples' marriages, and more will arise as days of this "limbo" status turn into weeks and months — a fact acknowledged in the chief of staff to the governor's letter, which noted, "We recognize that different state agencies have specific questions and circumstances that will need to be worked through."
The state, thus far, has not given much guidance. The statement from Reyes was only four paragraphs, and, asked whether the governor was given anything else in writing from the attorney general's office, a spokesman for Reyes told BuzzFeed, "No, there is no written opinion being given to the governor." The chief of staff to the governor's letter, meanwhile, was six paragraphs, and urged agencies to consult with the attorney general's office and the governor's chief counsel on those "circumstances" that are going to arise in coming weeks and months.
What's more, the American Civil Liberties Union of Utah already has announced that it is looking for plaintiffs to challenge the governor and attorney general's overall decision not to recognize the marriages while the appeal is pending. In a letter sent to Reyes, the ACLU of Utah's legal director warned that, in the organization's view, "refusing to recognize their marriages would put the state in conflict with the couples' due process rights."
Update at 5:00 p.m. Jan. 9: On Thursday, the Utah Attorney General's Office began addressing one such issue, first reported by Fox 13's Ben Winslow. The following directive was sent from Reyes to county clerks: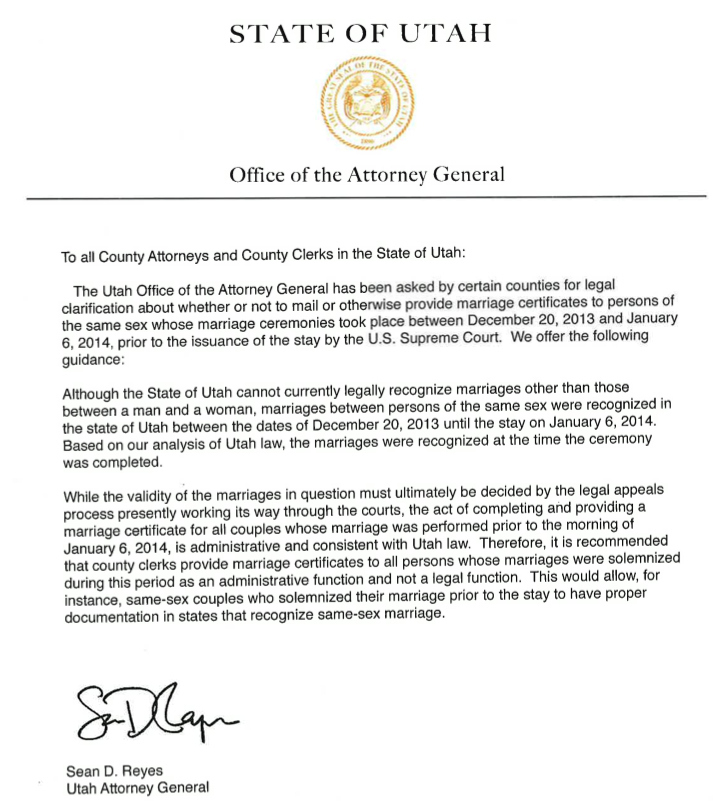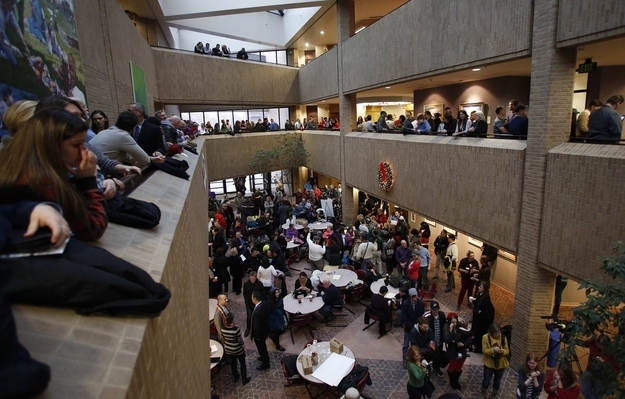 2. How will the federal government treat these marriages?
Posed the question, Justice Department spokeswoman Dena Iverson told BuzzFeed Wednesday afternoon, "The department is reviewing the governor's decision." Officials with the Office of Personnel Management (OPM) and Internal Revenue Service likewise did not immediately respond to requests for information about whether those agencies would recognize the marriages.
Last year, before such a scenario had been raised, however, an IRS ruling suggested that they might not be recognized. The ruling states that the IRS would treat a same-sex couple as married "as long as they were married in a state whose laws authorize the marriage of two individuals of the same sex." Utah's laws authorized those marriages for two weeks, but they do not authorize those marriages currently. An OPM official, meanwhile, told BuzzFeed last year that its benefits would be available to anyone with "a valid marriage license" — something that state officials in Utah say is up in the air currently.
The primary question before federal officials when expanding recognition of same-sex couples' marriages after the Supreme Court struck down part of the Defense of Marriage Act in June 2013 was whether the marriages of same-sex couples would be recognized based on whether the marriage was valid where the couple lives (technically, is domiciled) or whether it was valid in the state where the marriage license was granted (referred to as the place of celebration). Officials' comments and rulings suggest they were not focused on the timing element when issuing its rules or, if they had, issued rules weighing against recognition of marriages in this situation.
Update at 1 p.m. Friday, Jan. 10: The Obama administration will recognize same-sex couples' marriages from Utah.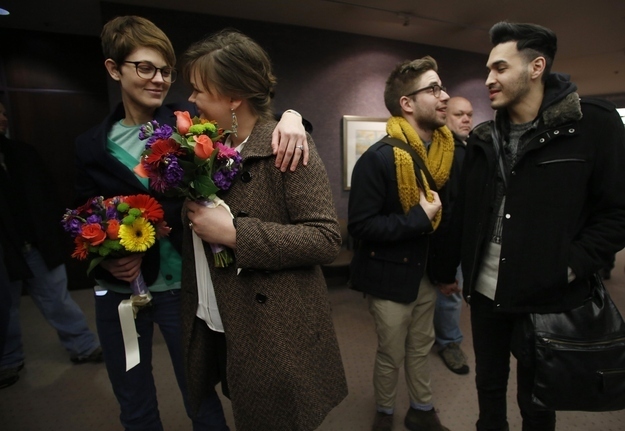 3. How will other states treat these marriages?
Finally, Utah's Attorney General Reyes told Fox 13's Ben Winslow on Wednesday that the marriages could be recognized in other states, including the 17 states that allow same-sex couples to marry. "It's not invalidating it in the same way that if they went to Hawaii, they could potentially apply for benefits there based on the marriage that took place," Reyes said.
This suggests Reyes believes other states could recognize such out-of-state marriages in a situation like this, where the marriage was valid in another state when the couple was granted the marriage license but is of questionable validity currently according to that state's officials. This, though, would have to be worked out state by state — and wouldn't necessarily always result in recognition, as is suggested by the federal questions.
These three questions are just some of the immediate questions that will be facing Utah, federal and other states' officials as the marriage case proceeds through the 10th Circuit. These, moreover, don't even begin to touch on the questions that will need to be addressed — and likely fought out in court — should Utah eventually succeed in upholding the marriage amendment and attempt to then argue that these 1,360 marriages should be invalidated.