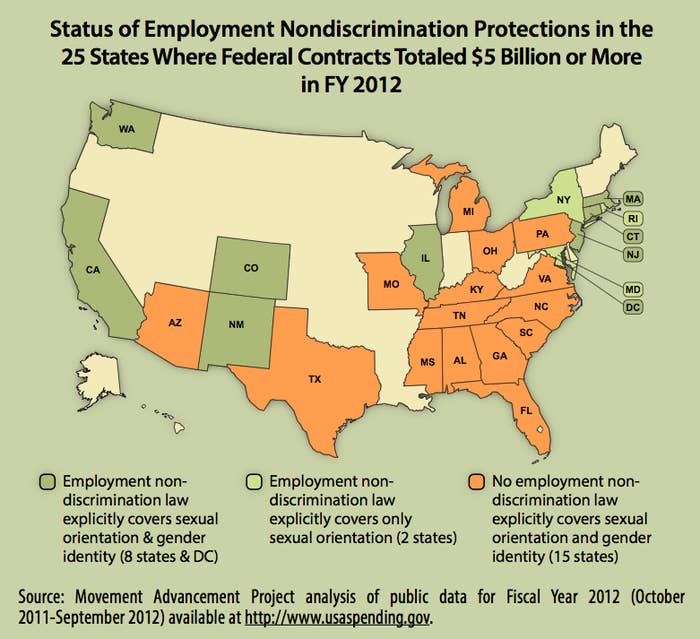 WASHINGTON — Nearly $250 billion in federal contracts given out in the last fiscal year went to contractors operating in states where the companies could fire a worker solely because the person is gay, lesbian or bisexual, a new report has found.
A group of organizations that have been urging President Obama to sign an executive order banning federal contractors from discriminating against LGBT workers will be releasing the new report Tuesday as a step in increasing pressure on the president to act during tax time.
The report, a copy of which was provided to BuzzFeed Monday night, also has found that nearly $300 billion in federal contracts were given out in states that have no specific state-level protections against anti-transgender discrimination.
Although federal government employees are protected from anti-LGBT discrimination based on sexual orientation and gender identity, there is currently no protection for employees of federal contractors against sexual orientation discrimination and protections against gender identity discrimination are unclear. And while most of the top federal contractors have policies against LGBT discrimination, the report aims to draw attention to the limits employees would have in states without legal protections.
"An executive order requiring federal contractors to adopt policies barring discrimination against LGBT workers would help ensure employment protections for the majority of the American workforce," the report by the Movement Advancement Project, Human Rights Campaign, Center for American Progress, Freedom to Work and Out & Equal concludes.
Such an executive order "would cover more than 20% of American civilian workforce — including extending protections to an additional 16 million workers," the report has found.
In 2008, moreover, then-Sen. Obama told the Houston GLBT Political Caucus that he would support a federal nondiscrimination policy based on sexual orientation or gender identity for federal contractors as president, as reported by Metro Weekly.
Thus far, however, the White House has rebuffed activists' requests, with White House officials saying repeatedly that the president is focused on a legislative solution to workplace discrimination against LGBT employees.
Freedom to Work president Tico Almeida has been strongly critical of that response and told BuzzFeed on Monday night, "As Americans are filling out their tax forms this week, this report provides another reason why President Obama should fulfill this campaign promise right away."
LGBT advocates have sought passage of the Employment Non-Discrimination Act, legislation that would would ban most private employers from discriminating against LGBT workers, but the lack of support from the House Republican leadership makes the bill's passage very unlikely in this Congress. The executive order — modeled after an existing executive order barring contractors from discriminating on the basis of race, color, religion, sex, or national origin — is seen as providing some interim relief.
"With no federal employment protections, too many LGBT workers are at risk of losing their jobs and their livelihoods," said HRC President Chad Griffin in a statement. "The permanent solution is to pass an inclusive ENDA. In the meantime, we hope President Obama will issue an executive order prohibiting federal contractors from discriminating against LGBT Americans."
The transgender protections of the proposed executive order already could be covered under a 2012 decision of the Equal Employment Opportunity Commission that explicitly banned anti-transgender discrimination against federal employees under the sex discrimination ban in Title VII of the Civil Rights Act of 1964. Because that decision arguably applies to the Department of Labor, which administers the existing executive order that bars federal contractors from discriminating based on sex, anti-transgender discrimination already could be prohibited. Labor officials, however, have made no public announcement that it is applying the EEOC ruling to contractors.