On Tuesday, lesbian, gay, bisexual, and transgender Americans will be focused on the presidential race like everyone else — but other elections across the country may also give LGBT people cause for celebration or frustration.
Voters in Wisconsin will be deciding whether to send the first out LGBT person to the Senate in Rep. Tammy Baldwin's race against former Gov. Tommy Thompson. In the House, voters could be sending an unprecedented number of out LGBT people to Congress — including Richard Tisei, who would be the first LGBT Republican to have been elected as an out official from his first term. Then there are the ballot measures on marriage equality issues and more.
Here are just a few of the key races:
1.
President: Obama vs. Romney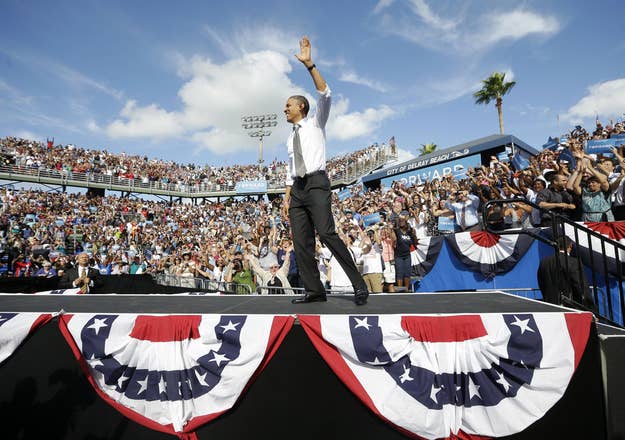 President Obama personally supports marriage equality, he announced in May and discussed in an MTV interview this past week. WIth the prominent place the issue has played in the debate over gay rights, the May move stood as a marker in the long-fought battle — and helped cement the support of many LGBT voters and, perhaps more importantly, big-money donors. In addition to that evolution, which took longer than many of those backers would have liked, Obama this past week formally announced he was backing this week's marriage equality ballot measures.
Supporters, including the Human Rights Campaign and National Stonewall Democrats, also point to the September 2011 end of "Don't Ask, Don't Tell," which followed the 2010 congressional passage and presidential bill-signing of the legislation to repeal the 1993 law. In what is likely to be seen as the most important move Obama took to advance the rights of gay couples — even more than his personal support for marriage equality — Obama also reached the conclusion in February 2011 that the federal definition of "marriage" contained in the Defense of Marriage Act, which prohibits the federal government from recognizing gay couples, was unconstitutional. Since then, the Justice Department has been arguing in court against the law, and the cases are awaiting Supreme Court action.
The biggest question for LGBT voters deciding to back Obama is that it is not clear what efforts Obama has planned on LGBT rights in his second term, and — assuming continued Republican control of the House — how he intends to accomplish them.
Asked two weeks ago what Obama's second-term plan for LGBT Americans is, campaign spokeswoman Clo Ewing pointed to Obama's record, saying, "LGBT voters will overwhelmingly support the president's reelection because he's been a strong advocate for the LGBT community and because he has a concrete and specific second-term plan to continue restoring economic security to the middle class."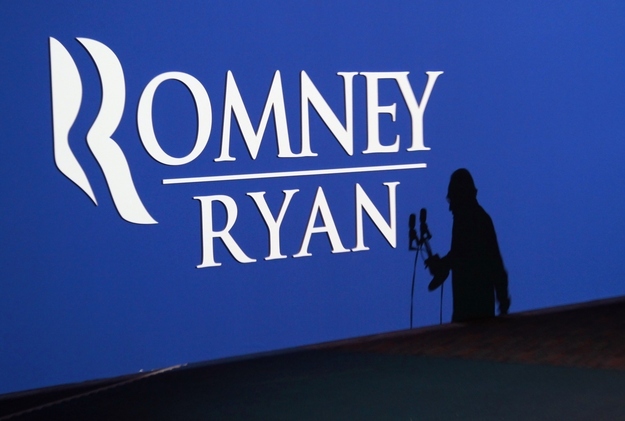 Although Log Cabin Republicans say that Romney has discussed "actual tangibles" in terms of pro-LGBT positions in announcing their endorsement of Romney and though GOProud already had endorsed the Republican earlier this year, the biggest question facing LGBT voters in deciding whether to vote for Romney is if the candidate LCR and GOProud describe will be running the country or if the candidate who the National Organization for Marriage's Brian Brown said "was strong the whole way through" the marriage fight in Massachusetts will be running the show.
Although Romney spent much of his grueling primary campaign convincing the right that he was one of them, he's avoided almost all talk of marriage during the general election campaign save for a question at the Univision forum in September. The only real marriage news from his campaign came later, when a campaign adviser told BuzzFeed that Romney does still back the proposed Federal Marriage Amendment, which would bar states from recognizing same-sex couples' marriages.
2.
Senate — Wisconsin: Baldwin vs. Thompson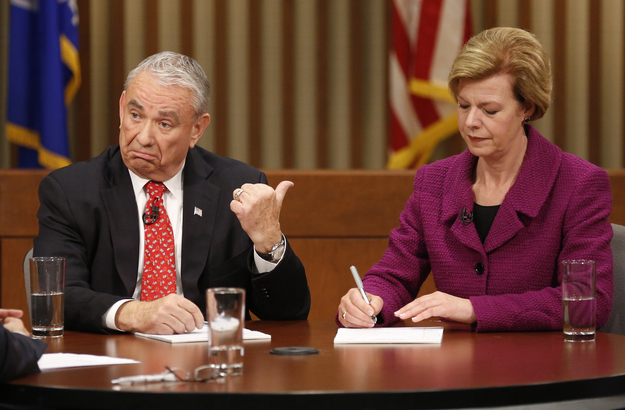 In one of the closest Senate races in the nation, Democratic Wisconsin Rep. Tammy Baldwin is running against Republican Tommy Thompson, the state's former governor, to take the retiring Sen. Herb Kohl's seat in the Senate. Baldwin and Thompson are locked in a race that is closer than many expected, following a surge from Baldwin that has since tracked back to a dead heat, according to recent polling.
Baldwin would be the first out LGBT person in the U.S. Senate, a historic role that has led to substantial attention — and resources — being spent on her race from within the LGBT community. Not everyone in the LGBT world is backing her, though, as GOProud endorsed Thompson's run.
The Gay & Lesbian Victory Fund backs out LGBT candidates and has been strongly behind Baldwin's run since the day of Kohl's retirement announcement. In explaining why Baldwin's win would matter, the group's head, Chuck Wolfe, told BuzzFeed on Monday, "This would be one of those glass ceiling moments. Tammy's victory would make her one of the most powerful LGBT Americans in history, and it would demonstrate our community's true potential. But more importantly it would be a signal to LGBT youth that they can live authentic lives and succeed."
SEVEN OTHER SENATE CONTESTS BEING WATCHED CLOSELY BY LGBT ADVOCATES:
Connecticut: Linda McMahon (R) vs. Chris Murphy (D)
Hawaii: Mazie Hirono (D) vs. Linda Lingle (R)
Massachusetts: Sen. Scott Brown (R) vs. Elizabeth Warren (D)
Nebraska: Deb Fischer (R) vs. Bob Kerrey (D)
Nevada: Sen. Dean Heller (R) vs. Shelley Berkley (D)
Ohio: Sen. Sherrod Brown (D) vs. Josh Mandel (R)
Virginia: George Allen (R) vs. Tim Kaine (D)
3.
House — Colorado: Polis vs. Lundberg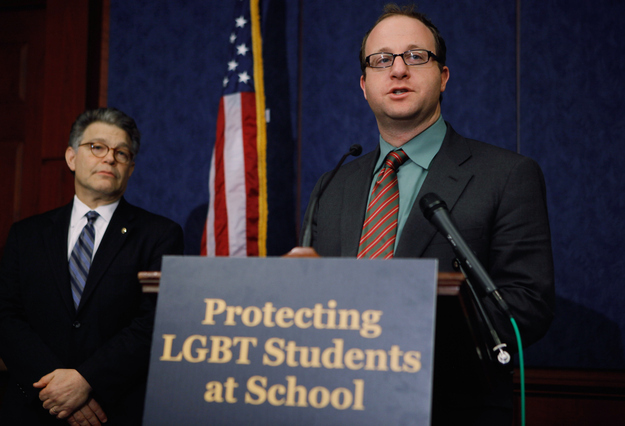 Although Rep. Jared Polis doesn't face a tough reelection fight from Republican Kevin Lundberg, he does face a daunting task: Come January, Polis — first elected to Congress just in 2008 — will be the longest-serving out LGBT member of the House. The change is coming about due not only to Baldwin's Senate run but also because of the retirement of Rep. Barney Frank.
In his first two terms, Polis already has taken the lead on one LGBT issue: He is the lead sponsor of the Student Non-Discrimination Act, which would prohibit discrimination based on sexual orientation and gender identity and is modeled after Title IX.
4.
House — Rhode Island: Cicilline vs. Doherty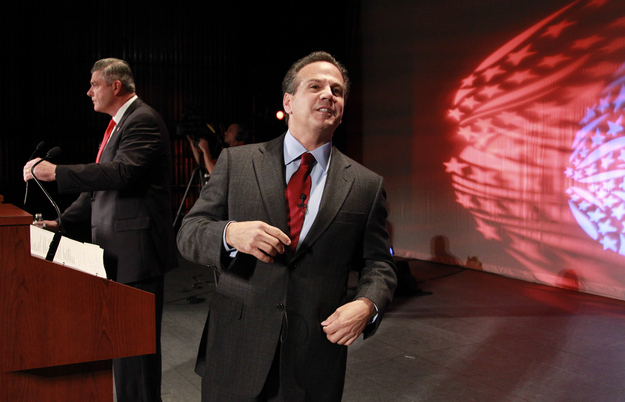 Rep. David Cicilline, the out gay former mayor of Providence, Rhode Island, has had a tough first term in Congress, facing ongoing fallout from his time as mayor. After staving off a Democratic primary, Cicilline now faces an ever closer race from his general election challenger, Republican Brendan Doherty.
5.
House — New York: Hayworth vs. Maloney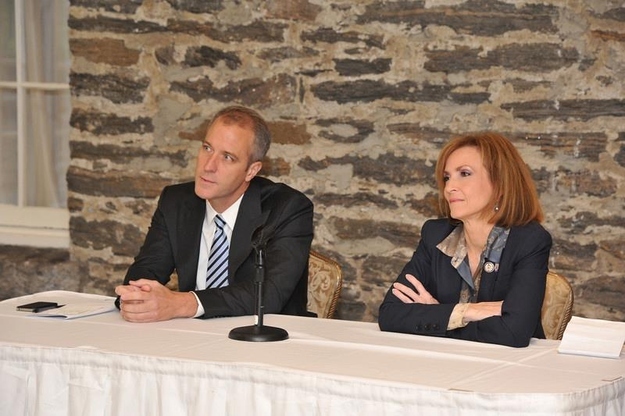 With President Bill Clinton in his corner, Sean Patrick Maloney, who is gay, is doing everything he can to defeat Rep. Nan Hayworth, who has been supportive of some LGBT issues — including saying that she "respect[s]" the decision to pass marriage equality in New York. She also has gotten the support of everyone on the gay right: GOProud, Log Cabin Republicans, and the American Unity PAC.
6.
House — Arizona: Parker vs. Sinema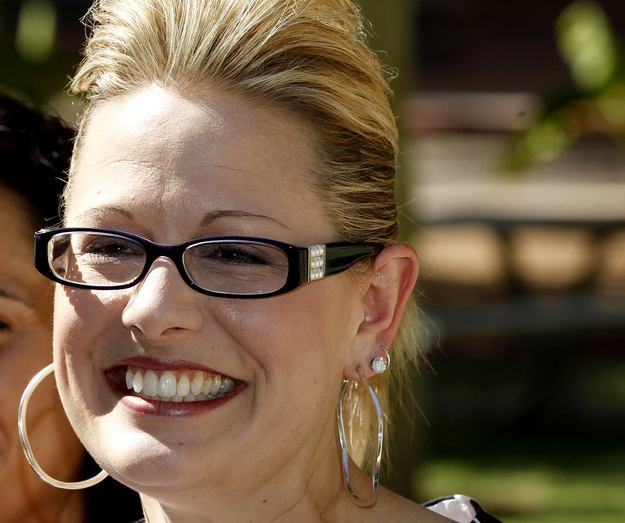 Democratic House candidate Kyrsten Sinema, a state senator, is facing off against Republican Vernon Parker in Arizona. A Sinema win would make her the first out bi member of Congress — and the only out LGBT woman in the House in the 113th Congress.
7.
House — Massachusetts: Tierney vs. Tisei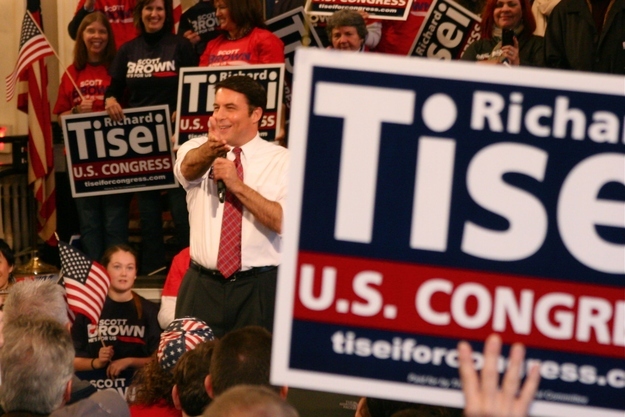 The race between Rep. John Tierney and Richard Tisei, the former minority leader in the Massachusetts Senate, has been nasty at times. Tierney's family has been under fire, with his brother-in-law currently a fugitive and his wife having been implicated for her "willful blindness" regarding her brother's wrongdoing. If Tisei unseats the incumbent Democrat, though, he will be the first gay Republican who has been out to his constituents from the first time he was elected to Congress. Former Reps. Steve Gunderson and Jim Kolbe, both Republicans, came out after already having been elected.
8.
House — Wisconsin: Lee vs. Pocan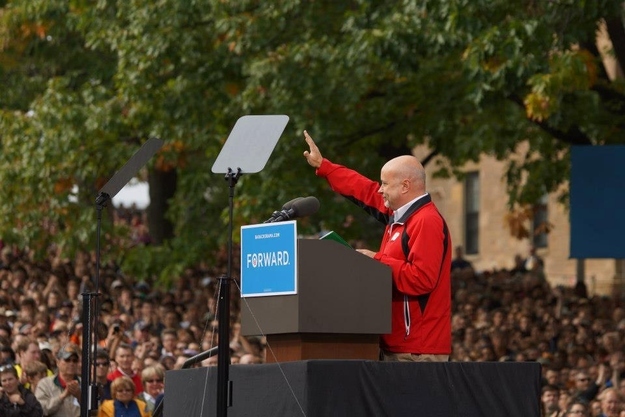 Mark Pocan will be taking the seat currently occupied by Rep. Tammy Baldwin so long as he defeats Chad Lee on Tuesday. Pocan is expected to win in the strongly Democratic district, and a win would make this race the first time an out member of Congress is replaced by another out member of Congress.
9.
House — California: Takano vs. Tavaglione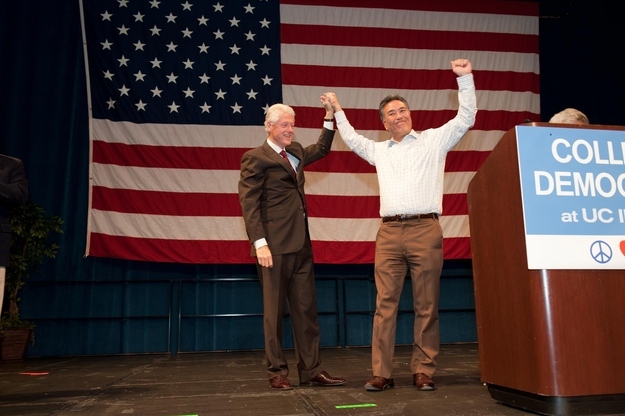 Democrat Mark Takano, a high school teacher, is facing off against Republican John Tavaglione, a GOP official in Riverside County. Takano is slightly favored in the race, and a win would make him the first out LGBT person of color in Congress.
SEVEN OTHER HOUSE CONTESTS BEING WATCHED CLOSELY BY LGBT ADVOCATES:
California: Rep. Mary Bono Mack (R) vs. Raul Ruiz (D)
Illinois: Rep. Judy Biggert (R) vs. Bill Foster (D)
Illinois: Rep. Joe Walsh (R) vs. Tammy Duckworth (D)
Minnesota: Rep. Michele Bachmann vs. Jim Graves (D)
New Hampshire: Rep. Charles Bass (R) vs. Anne McLane Kuster (D)
New York: Rep. Richard Hanna (R) vs. Dan Lamb (D)
Wisconsin: Rep. Paul Ryan (R) vs. Rob Zerban (D)
10.
Ballot Measure: Washington Referendum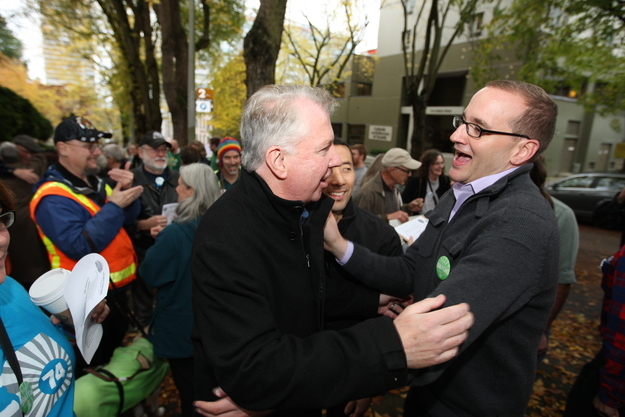 Washington voters will choose whether to keep the marriage equality legislation passed by the legislature and signed by Gov. Chris Gregoire earlier this year. The law, in the most recent polling, is being supported 52-42.
In a memo from the campaign working to approve the law, however, campaign manager Zach Silk wrote, "It is highly probable that we will not know the outcome of Referendum 74 on Election Night. ... Washington is an all vote-by-mail state and ballots are counted if they are post-marked Nov. 6th rather than received by Election Day. That means ballots will continue to arrive and be processed well after Election Day. In close elections, it is common to not know the outcome for as much as a week after the election."
11.
Ballot Measure: Maryland Referendum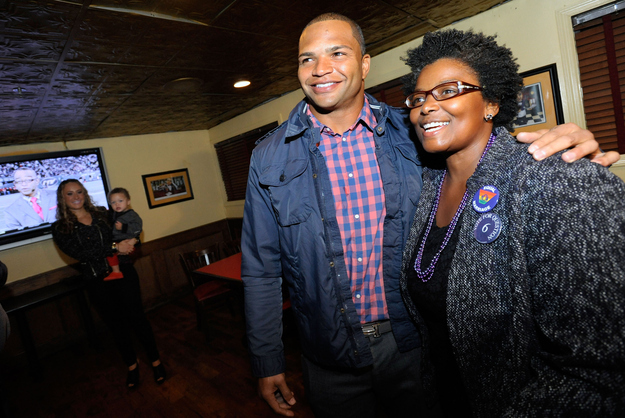 Maryland voters, with Question 6, will decide whether to allow the state's marriage equality law to go into effect. Although the National Organization for Marriage's head, Brian Brown, said he is "confident that we're going to win" in rejecting the law, Democratic Gov. Martin O'Malley has been raising money and putting his political muscle behind the effort to get voters to say yes to the law on Tuesday.
According to recent polling by The Baltimore Sun, opinion is split among likely voters on the referendum, which — judging by past ballot measures on marriage across the country — means that supporters of the law face a tough fight Tuesday.
12.
Ballot Measure: Maine Initiative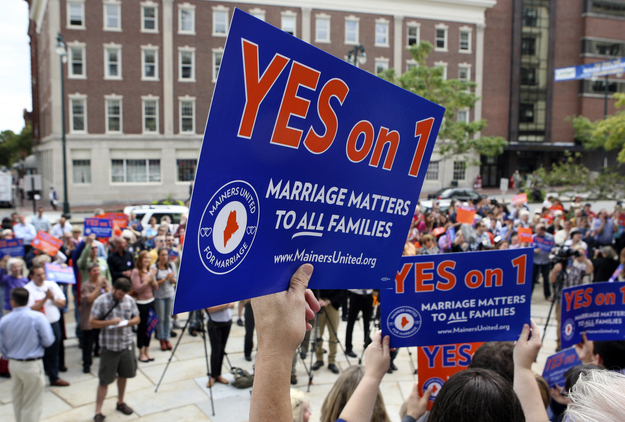 Question 1 in Maine is a marriage equality initiative put on the ballot by Maine voters. The move is the first time pro-marriage equality forces have gone to the ballot, and it comes just three years after Maine voters rejected a marriage equality law in a referendum election.
This time, though, the measure is polling better. Public Policy Polling released its final polls in Maine before Election Day, showing 52% for the measure and 45% opposed. PPP's previous poll in Maine had shown similar results of 52-44 support.
13.
Ballot Measure: Minnesota Amendment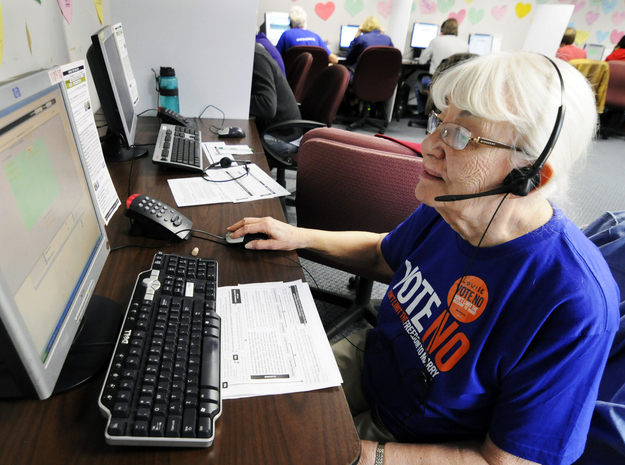 The Minnesotans United for All Families campaign is fighting to get voters there to reject a proposed constitutional amendment that would ban same-sex couples from marrying.
Public Policy Polling, showed 52% of Minnesotans planning to vote against the amendment and 45% planning to vote yes. A SurveyUSA poll placed the measure much closer, with 48% voting no and 47% voting yes. The campaign to pass the amendment must secure a majority of ballots case, so a person who votes in Tuesday's election but does not vote on the amendment will, effectively, count as a vote against the amendment — a peculiarity that opponents of the amendment are closely watching.
14.
Judicial Election — Iowa: Wiggins
Former Republican presidential candidate Rick Santorum is among those who have supported the effort in Iowa to vote Iowa Supreme Court Justice David Wiggins off the bench in a retention election. Wiggins was one of the Iowa Supreme Court justices who unanimously ruled in 2009 that the Iowa Constitution requires same-sex couples be allowed to marry in the state. Three justices from the court lost retention votes in 2010.