Before YouTube pulled the ads from "Ted"'s channel, it was making him tens of thousands of dollars a month.
The father of two, who asked to use a pseudonym for fear of retaliation from YouTube, left a job with a six-figure salary to make YouTube videos of his young kids. These videos feature his children being "scared" by clowns, and adults mock-wrestling and handling a diaper covered in fake poop. As such, they fall into the broad category of "family-friendly" content — that is, home videos featuring children in situations ranging from merely silly to potentially exploitative — which YouTube recently began cracking down on after public outcry and media attention.
According to screenshots from the YouTuber's account reviewed by BuzzFeed News, in the past two months, Ted made more than $100,000 on his videos — after YouTube's 45% cut. Emails obtained by BuzzFeed News also show that twelve videos from the channel — videos that included "suspenseful" scenarios — were manually deemed "suitable for all advertisers" in November. (At least three videos were deemed unsuitable, at least one video was deleted, and another age-restricted.)
And then, suddenly, YouTube pulled advertising on the channel — with what Ted described as "no communication, notification, [or] reason … and no way to appeal or request review" — as part of its effort to remove and/or demonetize (remove ads from) hundreds of thousands of questionable and exploitative kids' videos on the platform.
All told, YouTube has removed more than 270 accounts and over 150,000 videos in recent weeks, in addition to pulling ads on more than 2 million videos and 50,000 channels. And now, many creators are frustrated by what they describe as inconsistent communication, arbitrary enforcement, and unclear guidelines as YouTube attempts to rein in the vast cottage industry of exploitative content it facilitated, incentivized, ran ads against, and ultimately profited from. Many who'd been publicly and privately celebrated by the company just weeks earlier are out of a major income source, and some are beginning to question the company's steadfast reliance on algorithmic promotion and moderation. Meanwhile, thousands of similar videos in question are still up and running ads.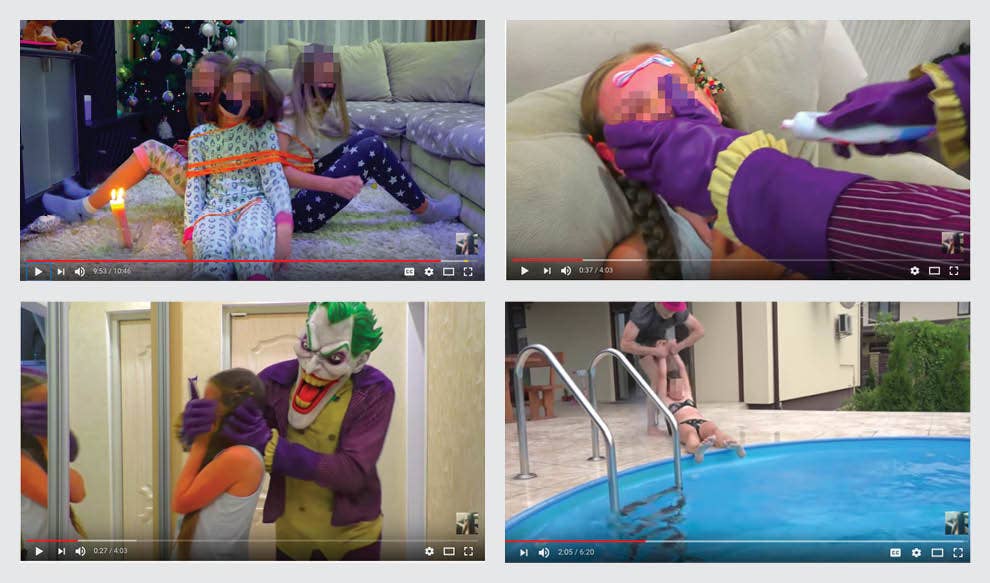 BuzzFeed News spoke to five creators whose videos — which ranged in substance, but all involved children — have been demonetized. Four of the five told BuzzFeed News that before advertising was removed from their videos, they were making more than $10,000 some months and had tens of thousands of subscribers.
YouTube declined to answer a list of specific questions about revenue generated from the offending accounts, the company's correspondence with creators, and emails sent to creators approving videos as "suitable for all advertisers." Instead, YouTubed referred BuzzFeed News to a list of Google blog posts on video monetization and a YouTube support page for creators looking for "tips."
But "family-friendly" creators were among some of YouTube's biggest channels. Toy Freaks — which featured videos of creator Greg Chism's young girls screaming with fear, spitting up, "wetting" themselves, and bathing — had more than 8 million subscribers when it was shut down in November. According to Social Blade, a company that tracks publicly available YouTube stats, Toy Freaks had almost 7 billion video views, 279,443,908 in the month of November alone, making it the 63rd biggest channel on YouTube by view count. According to Social Blade's wide estimate range, the account was likely making somewhere between $69,000 to $1.1 million per month (Chism, via his spokesperson, declined to comment and declined an interview request). Of the revenue generated by this and other channels shut down for potential child endangerment, YouTube, which provides the platform and the advertisers, took a 45% cut.
In September of 2017 and in October of last year, Chism posted videos on Instagram in which he discussed receiving YouTube Gold play buttons for his channels — a creator reward for passing one million subscribers. The button, according to YouTube's website, allows vloggers to "access exclusive events, get your very own partner manager, and claim your spot in the Creator Hall of Fame." "We take child safety extremely seriously and have clear policies against child endangerment," YouTube said in a statement to BuzzFeed News after it shut down the channel.
ToysToSee, which was also taken down for disturbing and exploitative videos, netted 223,104,876 views in its last month. "Using our wide range, this could mean earnings of anywhere between $56,000 and $892,000," Social Blade Operations Manager Danny Fratella told BuzzFeed News. "Although considering their audience and high profile, I'd bet their earnings were closer towards the higher end."
YouTubers' monthly revenue varies greatly depending on the number of views they receive as well as the RPM, or revenue per 1,000 views, which is influenced by the genre and quality of the account, location of viewers, and number of subscribers. For this reason, it's difficult to independently calculate monthly revenue for a given account. At Social Blade, Fratella's wide estimates are based on an industry standard RPM range of $0.25 to $4 per 1,000 views.
John, whose channel has hundreds of thousands of subscribers, told BuzzFeed News he was "planning on [YouTube] being [his] only source of income" before the recent demonetization of many of his videos. He did not want to disclose his surname or the name of his channel, for fear of retaliation from YouTube. His channel features videos of his young daughter in scary situations: In one, she video chats with a clown; in another, she's pretend-chased by a scarecrow.
Like all family YouTubers BuzzFeed News spoke to, John said he didn't find anything wrong with the content he produces. Still, he sent BuzzFeed News a screenshot of a predatory comment left on a video of his child. The text included a threat of rape of his child. But comments like that one don't make him consider leaving the platform: "For every nasty comment, we get 1000 nice comments," he said. He estimated that he made about $15,000 last month. "My best month was $24,000," he said. "I was pretty much hoping to double that in December."
Davey Orgill, who left his job to make superhero parody videos that initially featured his kids, said that his channel "Kids Try," had 2 million subscribers when it was shut down around Thanksgiving.
Orgill refused to reveal his specific monthly YouTube ad revenue, only saying that it was "a lot" "It changed our lives," he said of the income. He stopped making superhero parody skits last year after, he said, the genre evolved into something unsavory.
In one video from Orgill's now-shut-down channel, a Spider-Man character is tied up to a tree; later in the footage, a real baby, along with other "character babies," have their diapers "changed" simultaneously.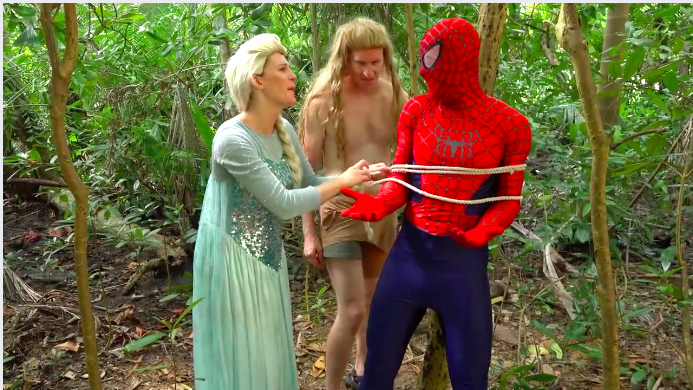 Orgill argues that the platform is responsible for encouraging what he found to be objectionable, sexual, and violent superhero content ostensibly oriented toward children. "YouTube blames it on these people that were doing it, but for a year their algorithm pushed this content," he said. "People were doing it because it was creating millions and millions and millions of views. They created a monster." (He later told BuzzFeed News that he thinks what the platform is doing is "totally understandable," because "there were kids getting taking advantage of on YouTube.)
In emails Orgill provided to BuzzFeed News, twelve videos from his now-suspended channel were deemed "suitable for all advertisers" in the month of November (at least two videos were deemed unsuitable for ads). Two videos were approved for ads as late as Nov. 23, just one day before his account was shut down.
"What YouTube is basically doing is ignoring it until they can't."
According to an email provided to BuzzFeed News, YouTube contacted Orgill early on Nov. 24. "After review we determined that activity in your account violated our Community Guidelines," the email read. "We do not allow the display of minors in situations that could potentially be harmful to them on our site."
Social Blade's Fratella argued that YouTube's sudden about-face suggests that the platform tolerated these videos because they were lucrative and only cracked down after public concern forced it to.
"What YouTube is basically doing is ignoring it until they can't," he said. "I think that once it got enough media traction they kind of had to do something. YouTube has been favoring advertisers over creators recently and the advertisers got nervous and that's the catalyst that drives the platform to take videos down."
Creator Johnny Tanner told BuzzFeed News YouTube never notified him that his account, The Tannerites, was completely demonetized. His account includes videos of his seven children at birthday parties, receiving flu shots, removing their earwax, and crying over dead pets. One video on the channel is titled "Cute SWIMSUIT MODELS in HOT CHOCOLATE!!" and features kids in a baby pool. The channel has more than 560,000 subscribers.
Tanner says he's not sure which videos he's being penalized for. "I can see how a few can be construed as not family friendly but the real problem is that I don't know exactly what it is and so I can't fix it," he said. Despite the money he was making on the platform, Tanner told BuzzFeed News that he had little contact with the company during the account's heyday, save for a few brief check-ins with a YouTube representative to offer guidance on best practices.
"In terms of contact and relationship with YouTube, honestly, the algorithm is the thing we had a relationship with since the beginning. That's what got us out there and popular," Tanner told BuzzFeed News. "We learned to fuel it and do whatever it took to please the algorithm."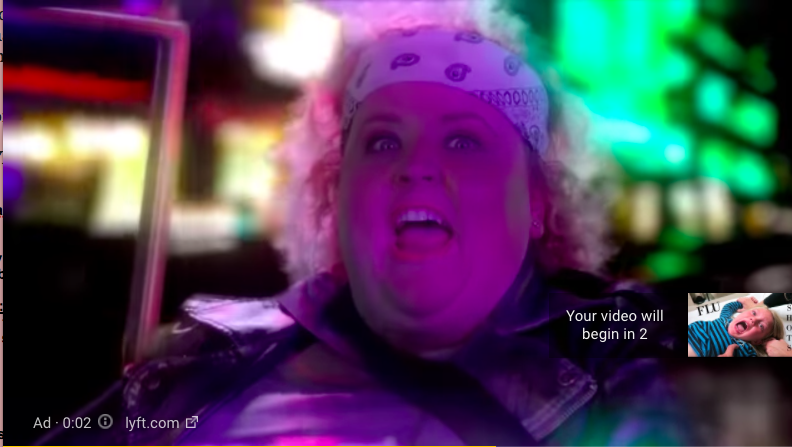 According to multiple creators, this sort of algorithmic pandering is likely responsible for the glut of content around hugely popular children's genres, like one that features kids in medically compromised positions — receiving flu shots or injured in some capacity. The "Shot of The Yeagers" vlog channel, for example, featured a number of videos of young kid's doctor's visits and injures. In a since-deleted video titled "TRAUMATIC FLU SHOTS!!!" uploaded in October of last year, a young girl's hands and arms are held above her head as she screams with her stomach exposed.
"The craziest part [is that] YouTube promoted these channels and videos so rapidly and helped them to achieve success, financially and [in] viewership, in many multiples of our channel."
"We experienced some traumatic little ones' flu shots yesterday," the description reads. "All five little ones get flu shots and they all handle it well, except for one."
The footage has 7.8 million views. When BuzzFeed News viewed it on Dec. 2, an ad for Lyft and an ad for Target played before it. Later in the week, the Yeager's flu shot videos ran a pre-roll ad for Adidas. When BuzzFeed News contacted Lyft, Target, and Adidas about the advertisements, each of the companies said that their ads were inappropriately placed and that the companies were looking into reasons why. Less than an hour after Adidas' initial response, a number of the flu shot videos were taken down.
One family content creator, who wished to remain anonymous, told BuzzFeed News that "many channels" were started "only to capitalize on these trends that YouTube is now saying are unsafe."
"The craziest part [is that] YouTube promoted these channels and videos so rapidly and helped them to achieve success, financially and [in] viewership, in many multiples of our channel," he said.
"We saw channels grow to five to ten times our size in a matter of weeks or several months, all because the algorithm was out of control and irresponsible," he said. "All creators knew this was happening and started trying to integrate trends into their content. How can anyone blame them?" ●