There is bestiality on YouTube, and it's surprisingly easy to find. It's also surprisingly prevalent, but not in videos — in video thumbnails, some of which have racked up millions of views.
Search YouTube for "girl and her horse" and the platform will return more than 12 million results. Among the first 20 results are four videos promoted with thumbnails of women seemingly engaged in sexual acts with horses. The top search return for the query? A video titled "Fantastic Girl and Her Horse in My Village" promoted with a half-blurred thumbnail of a woman being mounted by a horse with an erection. Created by an account called "SC Today," the video has amassed nearly 35,000 views in the four weeks it's been on YouTube.

One such thumbnailed video had amassed 2.3 million views at the time of this writing.
The "Fantastic Girl and Her Horse in My Village" video itself does not feature any bestiality. It's largely footage of a woman bathing and brushing a horse. But clicking on it triggers YouTube's recommendation engine, which promptly serves up dozens more animal videos — many with thumbnails featuring graphic bestiality. One such thumbnailed video, published by a channel called "ALL ANIMAL," had amassed 2.3 million views at the time of this writing.
Most of these bestiality-thumbed videos — which appear to originate in South Asian countries like Cambodia — feature women in sundresses playing with or caring for animals like horses and dogs; some feature upskirt angles and crotch shots of women as they bathe or brush horses and dogs. And there are many. Without needing to search, YouTube's recommendation algorithm pointed BuzzFeed News to dozens of accounts, each with multiple videos featuring explicit bestiality thumbnails.
A senior employee at YouTube tasked with building out the company's intelligence desk (a new unit that seeks to identify controversial and rule-violating content trends on the platform) told BuzzFeed News that these graphic thumbnail videos appear similar to those made by a Cambodian content farm that was kicked off the platform in the fall of 2017. The employee noted that in its previous iteration, the content farm used provocative thumbnails (though none featuring bestiality) to promote titillating videos of women petting snakes.
The employee told BuzzFeed News that the Cambodian accounts were likely trying to spike their view counts in hopes of later monetizing them (the vast majority of the accounts BuzzFeed News discovered had not been monetized at the time they were terminated). The employee explained that YouTube's thumbnail monitoring technology — which, at present, is not as thorough as its video monitoring technology — didn't catch bestiality thumbnails as they don't necessarily have the same characteristics as typical pornography (often those in the videos are mostly clothed and the videos lack certain signifiers like skin). The use of bestiality images highlights how the Cambodian content farm tactics are evolving, the employee added.
"These images are abhorrent to us and have no place on YouTube."
"These images are abhorrent to us and have no place on YouTube," a spokesperson for the company told BuzzFeed News. "We have strict policies against misleading thumbnails, and violative content flagged to us by BuzzFeed has been removed. We're working quickly to do more than ever to tackle abuse on our platform, and that includes developing better tools for detecting inappropriate and misleading metadata and thumbnails so we can take fast action against them."

The bestiality-thumbed videos discovered by BuzzFeed News are largely variations on "A girl and horse" or "Lovely smart girl playing baby cute dogs on rice" and often use similar or identical photos. Some appear realistic; others are obviously photoshopped. All of them appear to point the way to pornographic videos.

Others appear to mix disturbing kids videos with the graphic thumbnail content.
A YouTube account called "SC Daily," which features a number of bestiality thumbnail videos, also includes toy-unboxing videos, "learn colors" videos, fake Peppa Pig clips, and other content intended for children.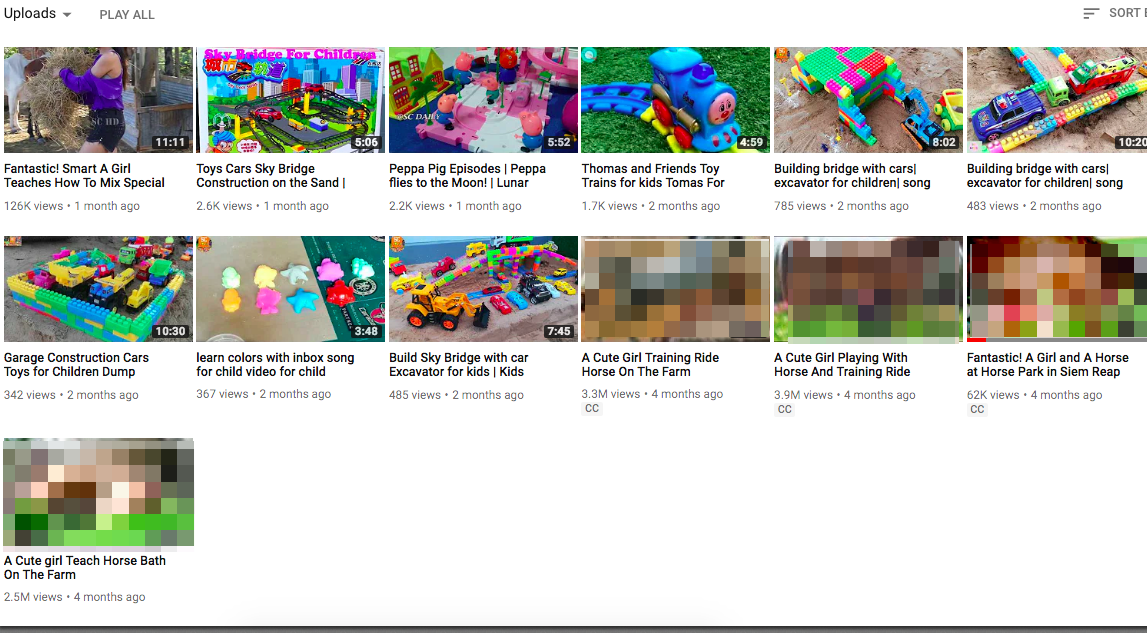 Some of these bestiality-thumbed videos have garnered millions of views in the months they've been on YouTube. They don't appear to have been monetized, which may be part of the reason why they went undetected by YouTube. That said, they were reported to YouTube via its @TeamYouTube Twitter account on Thursday, April 19. The account replied the same day, saying they had "shared this with the right people." On the morning of April 23, many videos with the same thumbnails were easily searchable.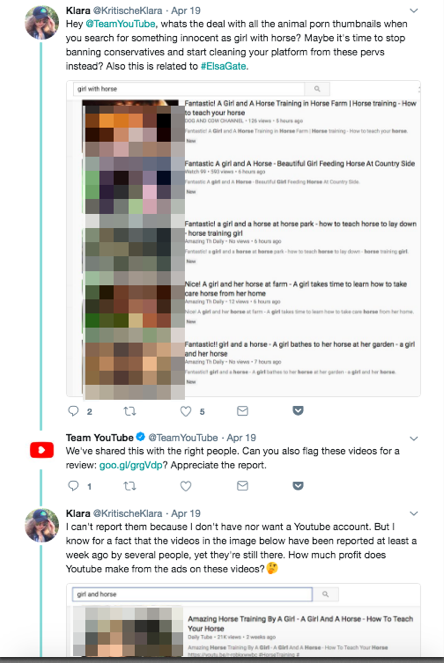 Bestiality thumbnails are the latest in a series of missteps for YouTube, which has had ongoing difficulties policing its platform for content that violates its rules. In November 2017, YouTube faced criticism following reports of unsettling animated videos and bizarre content aimed at children. Weeks later, the company announced it would crack down on child-centric videos after BuzzFeed News reported on dozens of videos — with millions of views — that depicted children in disturbing and abusive situations (many of those videos were monetized, making some of their creators hundreds of thousands of dollars per month). In 2018, YouTube came under fire for unwittingly directing users searching for news to conspiracy videos.

Shortly after being contacted by BuzzFeed News on Monday afternoon, YouTube began deleting the bestiality-thumbed videos on its platform and terminating the accounts that published them. A few hours later, the company proudly announced the success of its latest content policing efforts, telling the New York Times that 80% of the 8.28 million videos the company took down during the fourth quarter of 2017 were flagged by machines.
If you want to read more about YouTube and the internet's daily information wars, subscribe to Infowarzel, a BuzzFeed News newsletter by the author of this piece, Charlie Warzel.