Apple released iOS 8.0.2 Thursday evening to fix the major issues discovered Wednesday by iPhone users who had upgraded to iOS 8.0.1.
The software upgrade reportedly fixes problems with iPhone cellular connectivity, the Touch ID fingerprint sensor, HealthKit and more.
"iOS 8.0.2 is now available for users, it fixes an issue that affected iPhone 6 and iPhone 6 Plus users who downloaded iOS 8.0.1, and includes improvements and bug fixes originally in iOS 8.0.1," the company said in a statement. "We apologize for inconveniencing the iPhone 6 and iPhone 6 Plus users who were impacted by the bug in iOS 8.0.1."
The fix is available as an over-the-air update in the device settings menu.
Apple's release notes for iOS 8.0.2: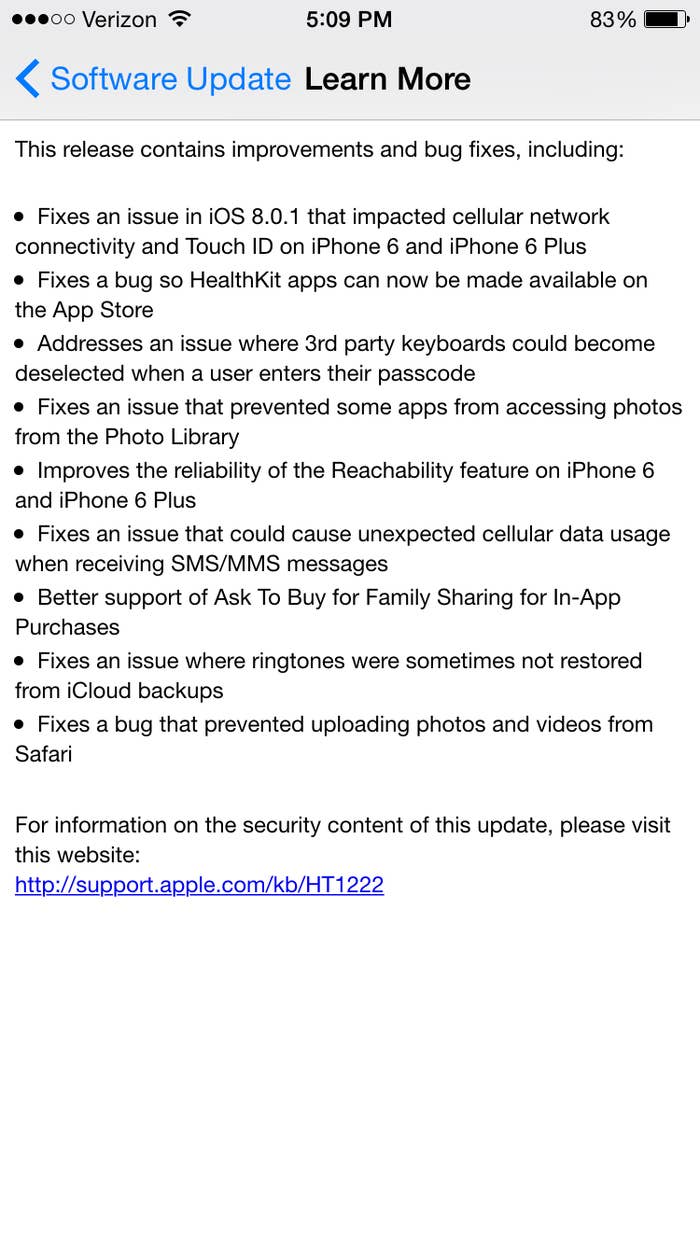 Apple issued an apology Wednesday and provided a temporary workaround for iPhone users who updated to iOS 8.0.1 and lost the ability to use cellular service or the Touch ID fingerprint sensor.
In an article posted to the company's support site Wednesday evening, Apple offered step-by-step instructions showing customers how to restore an iPhone to iOS 8.0 using iTunes.
The company also said it is preparing a fix in iOS 8.0.2 and will release it "as soon as it's ready" in the next few days.
"We apologize for the great inconvenience experienced by users, and are working around the clock to prepare iOS 8.0.2 with a fix for the issue," an Apple spokesperson told Recode.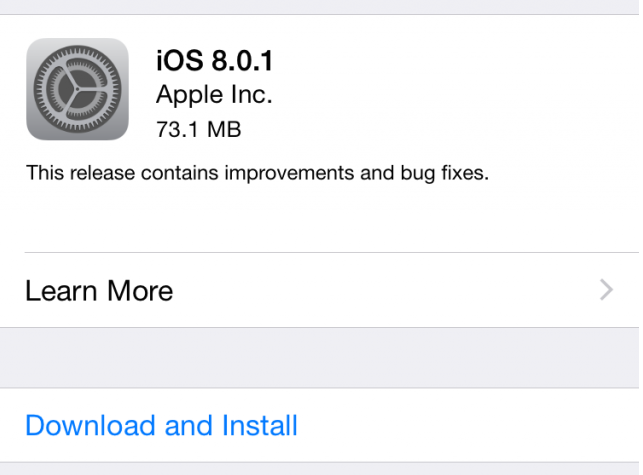 Apple has pulled its 8.0.1 update.
There's a new update out for iOS 8 and it's causing some slight problems for iPhone users — namely, disabling their ability to connect to cellular service.
It seems to be happening to quite a lot of people too:
The early (but unconfirmed by Apple) reports seem to suggest it's an iPhone 6 problem:
But still, you might want to wait for a bit to head over and update your iPhone/iPad/iTouch operating system to the newest iteration of iOS 8.