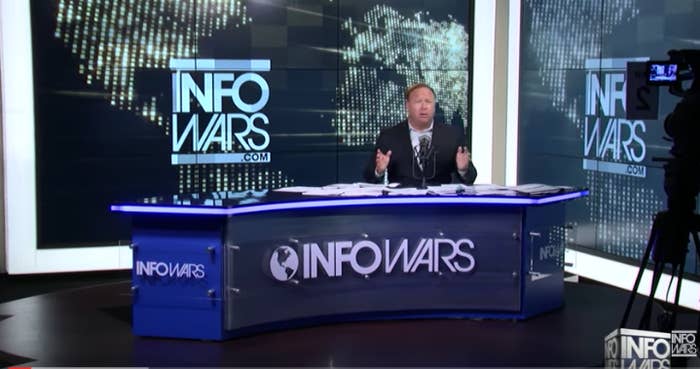 Alex Jones likely won't be attending any upcoming White House press briefings, according to the Trump adminstration's press office.
Yesterday Alex Jones told viewers on his popular YouTube channel that his conspiracy news site, Infowars has been offered White House press credentials by the new administration to cover the Trump White House. But on Thursday White House press officials tell BuzzFeed News that Jones and Infowars have not been offered a spot in the briefing room. "He is not credentialed for the White House," White House Deputy Press Secretary Sarah Sanders said. "The White House Press office has not offered him credentials."
Jones, an ardent Trump supporter has been called "America's leading conspiracy theorist" and is a prominent 9/11 and Sandy Hook truther. His false suggestion that he's been offered White House press credentials comes on the heels of reports that the Trump administration is planning to open the briefing room to alternative outlets. The far right-leaning outlet, Gateway Pundit, for example has also suggested it will receive a spot in the briefing room and has already hired a White House correspondent. Currently though, the administration has only announced it will open up four "virtual press seats" for local press outlets more than 50 miles outside Washington D.C.
Here's Jones' full statement from his YouTube page on the White House credentials, via Media Matters:

Here's the deal, I know I get White House credentials, we've already been offered them, we're going to get them, but I've just got to spend the money to send somebody there. I want to make sure it's even worth it. I don't want to just sit there up there like "I'm in the media, look our people are there." People don't understand this paradigm, we're devolving in a good way, power from the federal government back to the people, back from the centralized MSM [mainstream media] to the people, just like Trump said in his speech.


But there is investigative journalism, or people to interview in DC. Might be good to put a few reporters there, it's just all a money issue. That's why it's important for people who are watching us to know, you are our sponsors. You're the reason we're able to do this. You're the reason we're able to have the crew and do what we do and change the world.