In the minutes before the third and final presidential debate, Donald Trump went live on Facebook in what may have been the inaugural broadcast of a forthcoming Trump News Network.
A little after 8:30 p.m., Trump's official Facebook page posted the link to the live video, offering up an alternative to the mainstream broadcast. The message: "If you're tired of biased, mainstream media reporting (otherwise known as Crooked Hillary's super PAC), tune into my Facebook Live broadcast. Starts at 8:30 EST/5:30 PST -- you won't want to miss it. Enjoy!"
The broadcast quickly ballooned to around 200,000 concurrent viewers but quickly fell off to around 120,000. As of the middle of the debate, the feed was holding steady at around 170,000, trailing only the ABC News debate feed on the platform.
The livestream featured punditry from retired Lieutenant General Michael Flynn and former Arizona Governor Jan Brewer, and in place of commercials, the feed was interspersed with pro-Trump ads and a special message from Ivanka Trump. Looking more like public access than a glitzy cable news offering, the broadcast moved slowly between guests with at least one or two hot-mic off moments where the hosts discussed where the next segment was headed. There were also hints of some surprise programming after the debate ends.
While this isn't Trump's first livestream event — the campaign went live before the second debate during Trump's press conference with Juanita Broaddrick and the Bill Clinton sexual assault accusers — it appears to be the first attempt at some original programming and analysis. The production infrastructure looks to be provided by Right Side Broadcasting, a conservative video-streaming network based out of Auburn, Alabama.
The livestream comes on the heels of news this week that Trump's son-in-law Jared Kushner was in the early phases of shopping a Trump TV network. This morning, in response to post-election Trump TV rumors, Trump campaign CEO Steve Bannon hedged, telling CNN only that "Trump is an entrepreneur."
As for a potential channel name? Plenty of options have been bandied about but judging by Trump's own page, Trump TV might be a safe bet.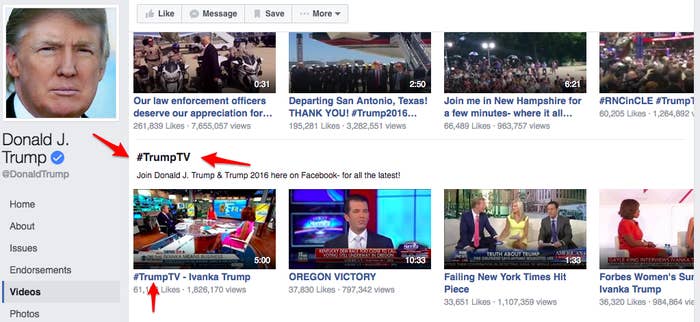 The Trump campaign did not immediately respond to a request for comment.