Here's a thing that's quickly becoming a part of our shared reality: human beings — normal, red-blooded, humans, many of them god-fearing — have embraced a new tool of self-expression, designed to enhance our fragile planet's favorite past-time. It's called the "selfie stick" and people are going absolutely crazy over it.
You've probably noticed a few of these new type of photos popping up in your Instagram feed. Much like a selfie, the composition is generally of one or more people mugging for their phone's front-facing camera, only this time these photos are different, taking on what I can only describe as a more dramatic, almost fish-eye quality. Like crossing a photo trend with a 2-liter bottle of Mountain Dew, the result adds a certain level of X-TREME™ to what is, most likely, an otherwise mundane photo. In some cases, it turns an impressive picture into a stunning image.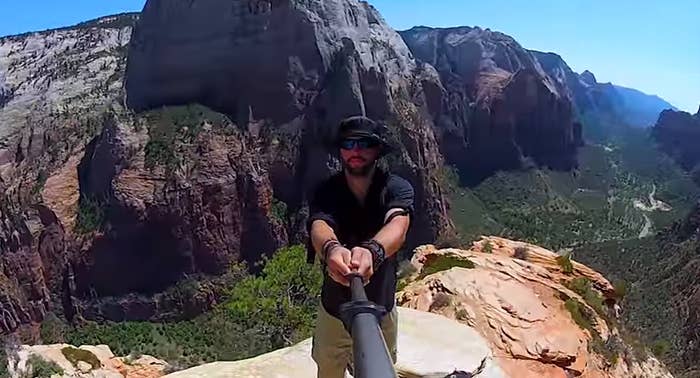 While the selfie stick's origins seem to come from the extreme sports community — mostly Go-Pro users — the trend is quickly spreading to the everyday, smartphone wielding populace. A quick Instagram search for #selfiestick doesn't return sky-divers and base jumpers, but regular people uploading performance-enhanced selfies of everyday activities. "Just hangin' out by the pool!! #selfiestick." In most cases, the appeal seems to be simply fitting more people into the frame.
Regardless of the reason, the trend is very real, according to camera and photo retailers. "It's sold so well we've had trouble keeping it in stock," Darrick Olson, a buyer at National Camera Exchange, told BuzzFeed.
Rich Bright, the Director of Sales for Promaster, the company that decided to build and brand their monopod as the "Selfie Stick" Compact Camera Boom back in February, echoes the statement.
"Our initial shipment was expected to last approximately eight months and we sold out in just three and had to reorder with the factory. We've been able to get an emergency order in but we're already looking at how to speed up given the sales," he said.
Bright said that Promaster, which makes and sells camera equipment, decided to put the stick into production as a response to high customer demand. "People were coming into traditional camera stores and looking for an easier way to take these kinds of pictures. You could have cobbled a selfie stick together from existing products, but it was difficult and, in some cases, expensive." Currently, the Promaster "Selfie Stick" retails for $32.95. But Promaster is just one of many to get into the stick game.
The POV Pole 36" GoPro-Edition telescopic monopod is currently the 49th most popular item in the Amazon camera store (which appears to sell thousands of items). Amazon wouldn't reveal specific numbers but a spokesperson told BuzzFeed that "GoPro is one of the hottest selling items year-round in Amazon's camera store. In addition, we've seen an uptick in sales of selfie sticks over the past few months as customers are spending more time traveling and doing other outdoor activities."
Given the early data, it would appear we're approaching a moment of reckoning for the selfie stick. At one end, it's the (somewhat) logical extension of what's arguably the most rampant cultural phenomenon of the smartphone era; the enhancement of a photo-taking technique that's both beloved and far too new to be sacred. On the other, you've got regular humans carrying around 36-inch telescopic poles in the event that more people show up to brunch than expected.
Debate be damned, they are coming. You've been warned.