What It's Like To Sign Up For Facebook In 2013
Kindly give us your information. All of it, please.

What's it like signing up for Facebook?
You might think you know the answer to this question, but you don't. When did you sign up for Facebook, five years ago? Ten? And look how different the rest of the site is now.
When I signed up for the service in early September 2005, Facebook was a very different place. There were no photos, no News Feed, and barely any diversity: Almost all users were U.S. teens and young adults sandwiched somewhere between the ages of 17 and 23. Roughly 1.5 billion people later, it's now the largest collection of consenting humans' information on the internet — and perhaps in the history of the world. A lot of things have changed; the sign-up process is one of them.
So: This is what it's like for a human being to sign up for a Facebook account as of October 2013. As it turns out, one of the best ways to learn about a service you've used for eight years is to step back and start from scratch.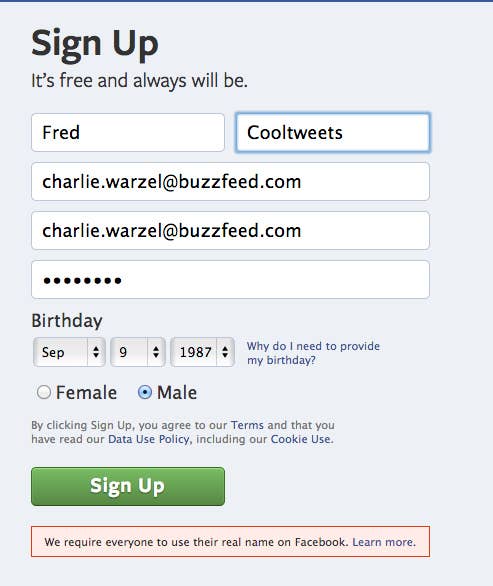 Unlike Twitter, which let me register a new account as "Mr. Cool Cooltweets" (another worthwhile experiment — sign up for Twitter again, and see who it wants you to follow), Facebook saw through my disguise immediately, Forcing me to settle on a more "human" name. Thus, Fred Cooltweets was born.
Once my account was registered, the interrogation began. Facebook's account setup is framed to look like a painless four-step process: Find friends, fill out some information, tell us what you like, and give us a picture. In reality, though, this was the beginning of a process that took far longer and was a little more complicated than I expected.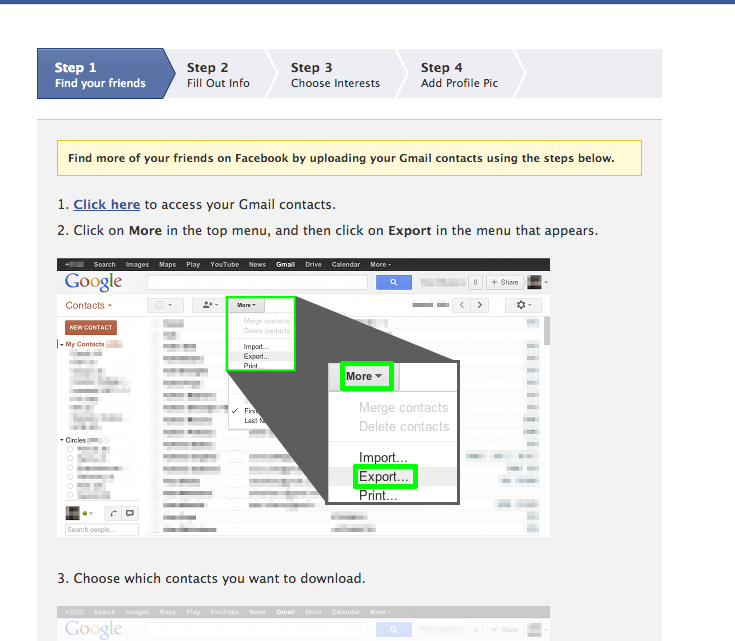 Almost immediately, Facebook asked to gain access to my email in order to scan my contacts list and find me some friends. To do this I had to leave Facebook, open up my personal email, and export my contacts into a .CSV file, which I had to then upload to Facebook. It's not an outrageous thing to ask of a new user, but it wasn't exactly intuitive either. And considering I'd been signed up for only about two minutes, the idea that Facebook could view my email address, view basic information about my account, and manage my contacts felt a little bit invasive.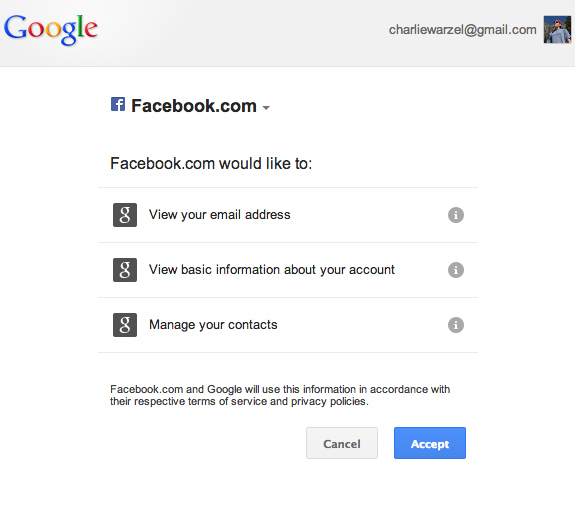 After importing my contacts, Facebook asked me to sort through them, reminding me every step of the way that "Facebook is more fun with friends."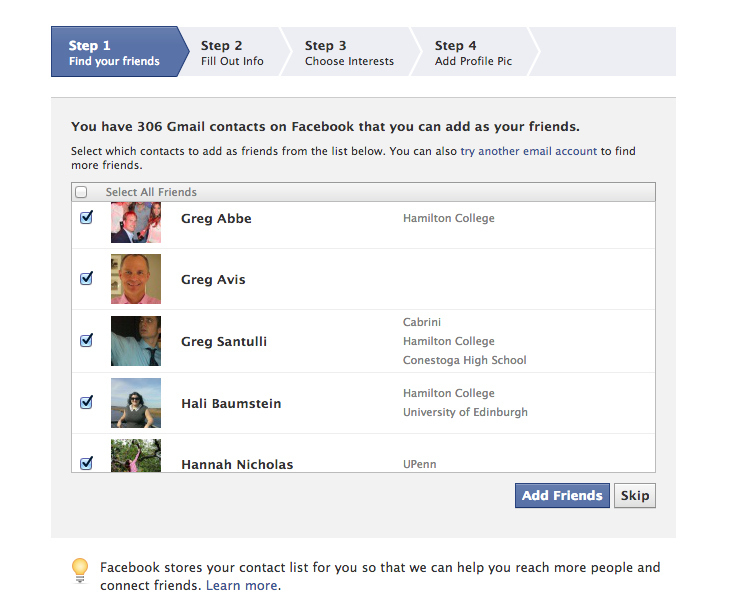 Someone signing up for Facebook in 2013 might feel a little behind the curve and therefore inclined to build out his or her network of friends quickly. Importing contacts from a personal email account might seem like an way to do this. Yet when scrolling through the contacts — from my personal email, no less — I was surprised by just how few of my contacts were what I might call "friend material." Among the names were people I'd pestered for jobs and internships half a decade ago, my college registrar, and a host of people I can't ever imagine corresponding with, as well as some presumably made-up humans like "Playlist Patriotism."
While it's in Facebook's interest to connect you with as many friends, acquaintances, strangers, and fake people as you'll allow, this sort of mass-friending leads to what is one of Facebook's biggest problems among its older users: network fatigue. Much of the blind friend-adding has left a bulk of Facebook's early users with bloated, un-manicured connections. Once these networks are in place, Facebook makes them purposely laborious to prune. The result is a News Feed that doesn't feel very personal or welcoming, and it's a big reason for Facebook malaise. This sign-up process seems like it might foster this malaise from the outset.
Randos everywhere...

After that, Facebook asks you for some basic personal information.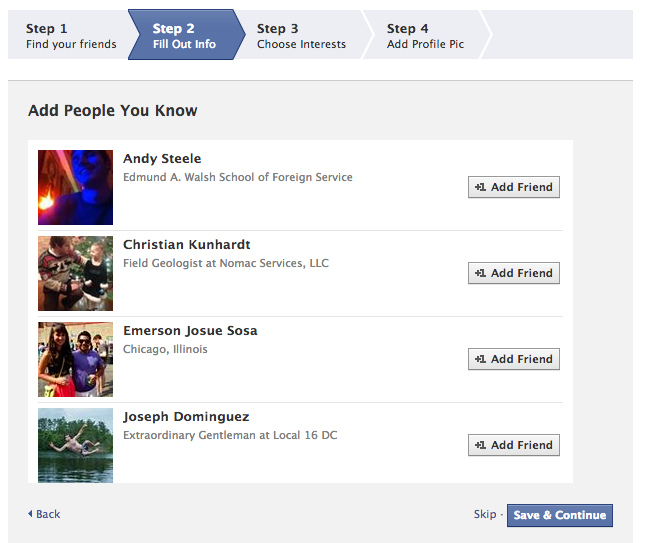 Facebook's algorithms creepily guessed the small town where I was born, even after I put in false information about my high school and college.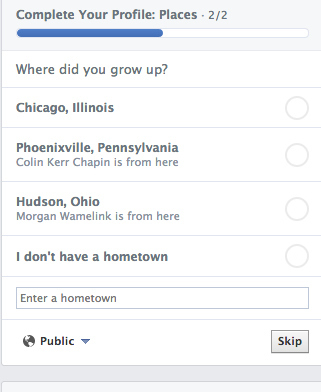 Immediately after filling out my personal details, Facebook suggested a bunch more "people I may know."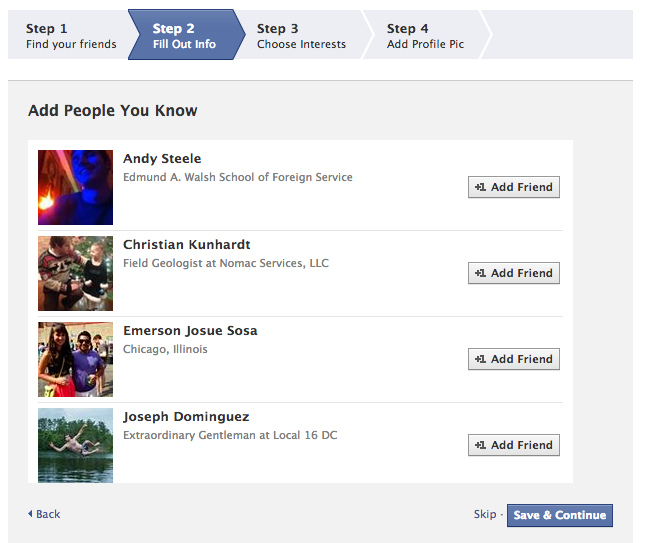 One of the biggest differences between signing up for Facebook in 2013 and signing up in 2005 is the network's attempt to connect users with celebrities and brands. If you've signed up for Twitter recently, you'll notice the process feels very similar. Upon sign-up, users are bombarded with a stream of popular celebrities. While most casual users will see it as nice feature to stay in touch with news they care about, it's also a clear reminder of Facebook's renewed and constant battle with Twitter to be seen as a place where live events and real, meaningful conversations happen between users, organizations, and celebrities.
Facebook's suggested celebrities were not very inspiring:
And its first grouping of suggested "Public Figures" is interesting as well.

Also, LOL to The Onion as a "breaking news source."

In the 35 minutes it took to sign up, every single page I visited included a plea from Facebook to offer up some more information. Each one was different.

Finally, after giving up almost all of my personal information, Facebook suggested I get acquainted with its privacy policy.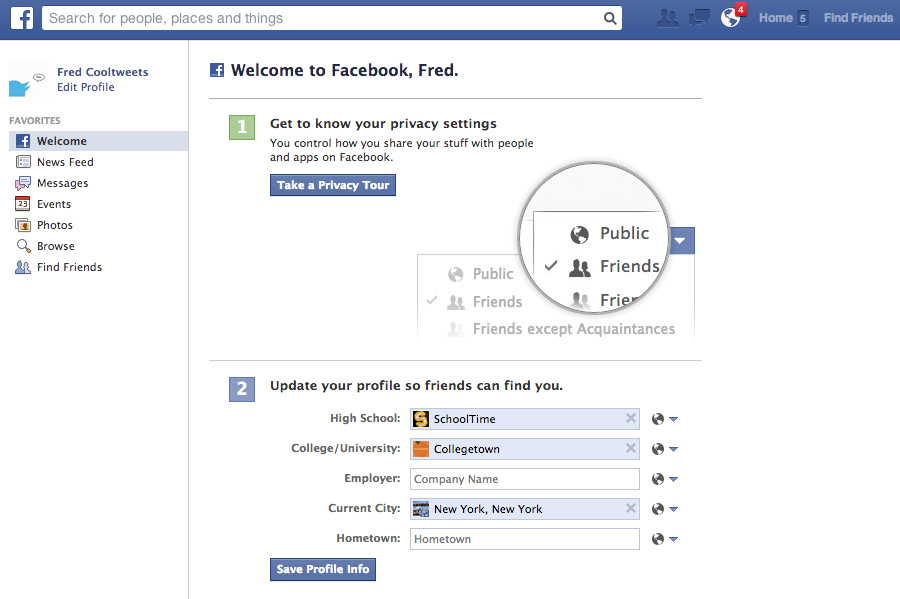 Though it's obvious after everything above, what's most striking about signing up for Facebook now is the sheer amount of data you're expected to cough up in such a short span. Facebook's sign-up took me roughly 35 minutes, in which time I provided the company with the following:
• My full name
• My birthday
• My religious views
• My political views
• Languages I speak
• My screen name (lol)
• My cell phone number
• My favorite quotations
• Access to all the contacts inside my personal email account (which has been active for nearly a decade)
• My picture, personal photo albums
• My high school
• My hometown
• My college
• My employer
• Past employers
• Important life events
• My current location
• My exact residence
• Any personal website I've made
• Any past and present relationships
• My family members
• Movies I've watched
• Movies I'd like to watch
• TV shows I've watched
• TV shows I'd like to watch
• Books I'd like to read
• Books I've read
• Places I've visited
• My favorite: public figures, actors/directors, bands/musicians, TV shows, books, movies, news sources, inspirational people, restaurants, foods, websites, athletes, sports teams, clothing, interests, and activities.
• And my favorite: "Write About Yourself." After all of that.
That's a lot of information! The 35-minute process felt wildly invasive and left me somewhat drained.
More striking, though, is the notion that this information is pretty standard for most of the site's 1.2 billion users. If you've been on Facebook for a bit, you've probably provided the company with most of this information in one way or another, but probably not all at once. If you've been on Facebook for nearly a decade, most of this probably feels like it happened without your knowing. You signed up with no idea that Facebook would become one of the biggest and most important companies of the internet age. Maybe you signed up to stay in touch with high school friends or to meet your classmates before heading off to college — whatever the case, adding a bunch of personal information felt informal and innocuous.
As the site grew, new features would pop up and you'd give them a shot. Maybe you checked in at a bar or restaurant a few times when Facebook Places debuted, just to see what it was all about. At the time, you probably didn't think twice.
But it adds up. It's not until I repeated the process that I realized how much I'd offered up. And that's not counting the eight years and nearly two months of photos, status updates, connections, clicks on links, errant clicks on ads, and searches for friends, brands, and places that I've managed to throw into Facebook's data combine.
The drain I felt while signing up again may also have something to do with the widely reported Facebook fatigue among young people. The sense that there are other, fresher groups of my friends on the internet, somewhere, extends all the way to the sign-up level. Compared with Facebook, both Instagram and Twitter's sign-ups are far faster and less intrusive. Snapchat's? A total breeze.