What It's Like To Live In Justin Bieber's Twitter Account
Walk a mile in someone else's feed.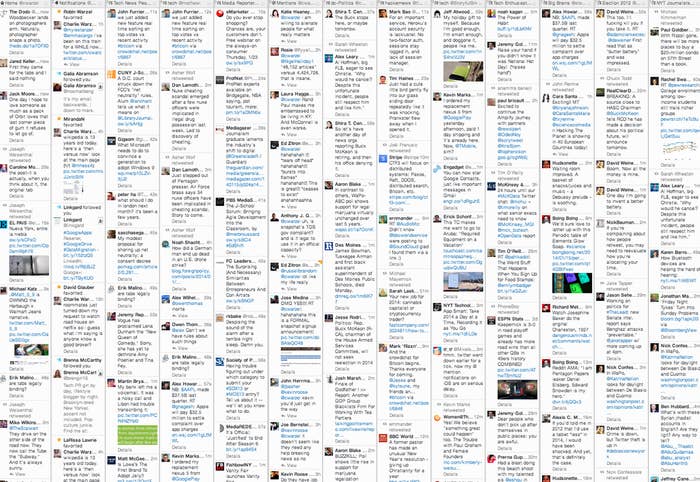 Here's something you might not have known about Twitter: You can open, and experience, any other public users' timelines. You can get inside their feeds.
If you're a Tweetdeck user, all you need to know is the desired user's handle. In roughly 30 seconds you'll have full access to someone else's primary feed and all the voyeuristic pleasures that come with it.
There are practical reasons to walk a mile or two in someone else's feed — it was, for example, an invaluable tool for me while rebuilding my Twitter feed — but it's also a great way to do some good old-fashioned snooping without actually invading someone's privacy.
If you use Twitter a lot, it becomes your primary internet vantage point — the filter through which you see the world, online. So we loaded up a few notable feeds — celebrities, media people, tech people, a popular bot — to try to see what they see.
Kanye West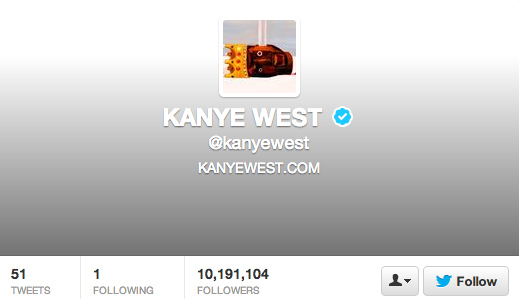 Small sample:
Much like his work, Kanye's feed is a controversial, somewhat polarizing topic. Depending on your views on Twitter, his strategy here is either a work of genius or a byproduct of a deeply ingrained narcissism. Kanye follows only one person — his fiancée, Kim Kardashian — and since you can't unfollow yourself, his feed comprises only the power couple's musings. Kim's Twitter feed is horrid collection of blind links to her Instagram account and the occasional hollow status update ("Skiiing LOL"), but we're inclined to see Kanye's feed as a work of art. He's drowned out the noise and surrounded himself with the two people he (ostensibly) loves: Kim and himself.
Grade: B+
Dick Costolo, Twitter CEO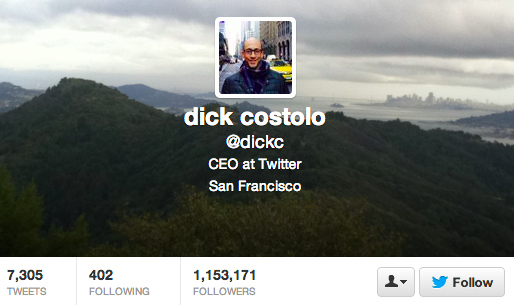 Small sample: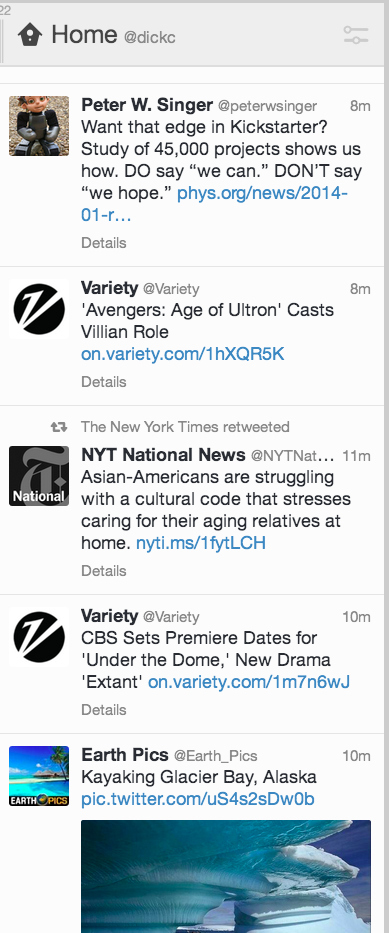 As Twitter's CEO, Dick Costolo has enormous influence over the newly public company's direction and product. So, naturally, I was curious to take a look inside his feed.
By all accounts, it's pretty generic — the type of account you'd expect your internet-savvy uncle to put together. It's a bit heavy on tech, but with a healthy smattering of entertainment, and sports news. The real problem here is the preponderance of official brand accounts. For example, Costolo follows Grantland, The New York Times, and Variety, but few journalists; of the human accounts, a lot his follows are highly controlled celebrity accounts. Costolo's feed feels like what you'd get if you followed Twitter's on-boarding process to the letter. And it's kind of boring!
Grade: B-
Ben Smith, BuzzFeed Editor-in-Chief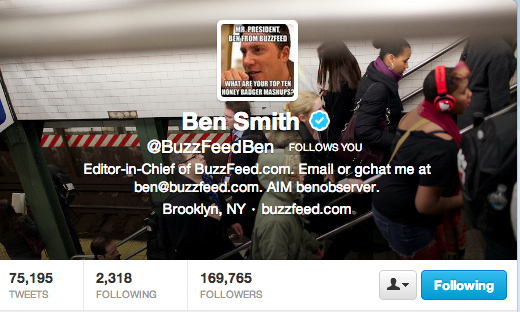 Small sample: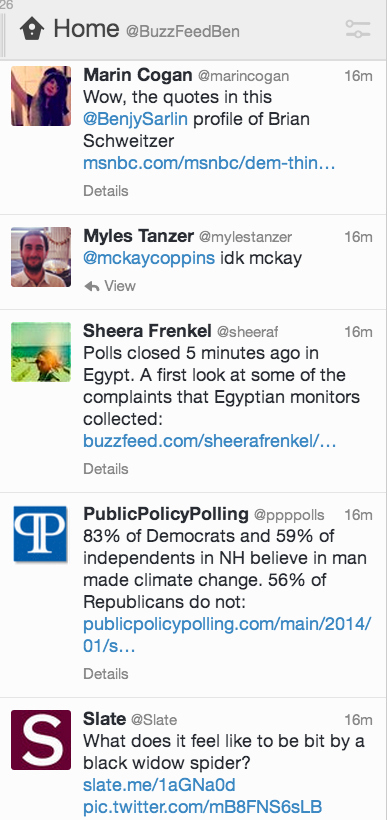 For the uninitiated, "Politics Twitter" is perhaps the most active, cliquey, and difficult to digest segment of the social network ("Tech Twitter" is a close second, if not tied for first place). Keeping up with D.C. humans on Twitter is a full-time job. It is not, however, my full-time job, and for that I breathe a sigh of relief.
While this feed is impressively diverse and useful, as it follows a bevy of quality, high-volume writers, policymakers, and thinkers from all walks of life, any feed heavily comprising Tech or Politics Twitter is an immediately troubling feed. It's also enormous: over 2,300 people, many of whom tweet a lot. Godspeed.
Grade: C
Katy Perry
Small sample: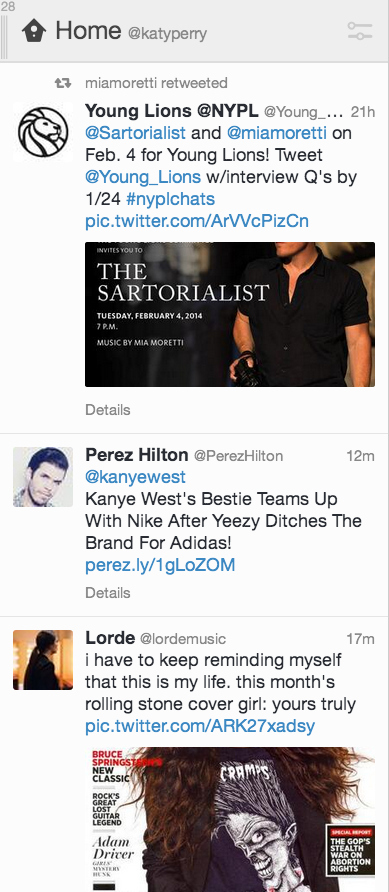 Right off the bat, it's hard not to respect Katy's follow strategy. One hundred twenty-nine accounts is just high enough to not be overly pretentious. She wants to listen, just not too much.
Spending some time in her feed is not immediately enjoyable for this 26-year-old male writer with no real interest in pop music, since the feed is mostly composed of celebrity accounts, celebrity gossip sites, and a few Katy Perry fan accounts. My first instinct was to write Katy off for these choices until I realized that those celebrities are actually her real friends, and those gossip blogs are usually talking about her. In that light, I'm impressed. It's the kind of feed I can see actually checking on a phone every once in a while without getting a headache. For a celebrity, she gets high marks.
Grade: A-
Justin Bieber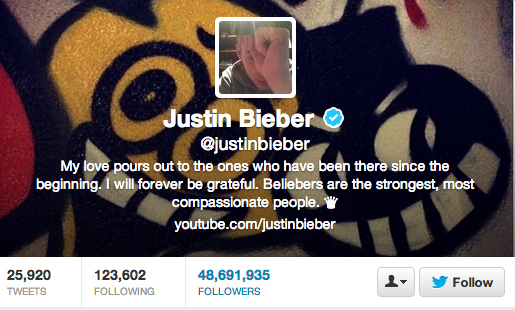 Before I begin with Bieber's feed, I should note that my sample set here is limited. Twitter has 300 million-plus active accounts, and I've climbed inside only a few. That said, I am truly, 100% confident that Justin Bieber, owner of the second-most followed Twitter account in the history of the service, has, unequivocally, the worst feed on the social network.
To start, he follows over 120,000 accounts, which is an untenable, cold sweat–inducing, blood pressure–raising nightmare of a number. His feed is the #FollowBack strategy gone horribly wrong — the furthest possible extension of a terrible idea that creates a cascading feed so fast that it renders Tweetdeck useless after mere seconds. If you can stop the feed for long enough to take a look, the composition is just as troublesome, consisting mostly of manic teen "Beliebers" musing about middle school and pleading frantically with Justin to follow them (and in many cases, he is!). It is a useless, festering whirlpool of worrying online behavior that's enough to make even the most fervent digital advocates think twice about this great information experiment that we call the internet. Step into this feed at your own peril.
Grade: F. Wait, no. F is too generous. Let's go with N/A. God help you, Justin.
Pentametron, Iambic Pentameter Twitter Bot
Small Sample:
If there is a better Twitter account out there than Pentametron, I have yet to see it. While Pentametron is a bot, it has constructed itself a near-perfect feed of two accounts plus itself. Of these two lucky accounts, @Sonnets posts one lovely Shakespearean sonnet per day to Pentametron's feed and @Wwm_Shakespeare tweets the random musings collected from the Bard's body of work. It may be slightly unfair, since the Pentametron's feed is mostly composed of its own glorious work, but to spend time in this bot's timeline is a true delight. Twitter's noise is silenced swiftly, and the signal quickly appears — a poetic beacon of truth. Brevity, on Twitter as much as anywhere else, is the soul of wit, and Pentametron gets it.
Grade: A+. The bot wins. The bot always wins.