What Google Will Look Like In 10 Years
Google wants to wipe away disease and fill the roads with self-driving cars. Here's the product that will allow them to do that.
The image above is arguably the most recognizable page on the internet. Take a nice long look at it. Commit it to memory. Because there's a good chance your kids will never see it.
By the year 2023, Google will most likely feel like a very different company. It's outward-facing projects will probably focus on finding solutions to intractable problems, like transportation and health care. From the outside, 2023 Google will be an aspiration enterprise with a utopian vision. But in all likelihood, one decade from now the true beating heart of Google will have very little to do with its high-profile moonshots.
None of that is to suggest that Google is going away anytime soon. The company, which essentially invented modern online advertising, is poised to take home $39 billion in ad revenue this year — roughly one-third of all online ad dollars — and is as powerful, profitable, and healthy as ever. Just last week, it announced Calico, its latest side project, which aims to eradicate disease and extend human life expectancy — not exactly the sort of project you'd propose if you weren't planning on hanging around for the next few decades.
Currently, Google is a large, complicated entity, with projects ranging from self-driving cars to the most basic email. The common thread? All of its programs, big or small, are subsidized in some way by search and keyword ads. Whatever the future holds, the next wildly ambitious iteration of Google — you could call it "moonshot" Google — will operate in the same way, only this time subsidized by its most valuable, virtually untapped asset: maps.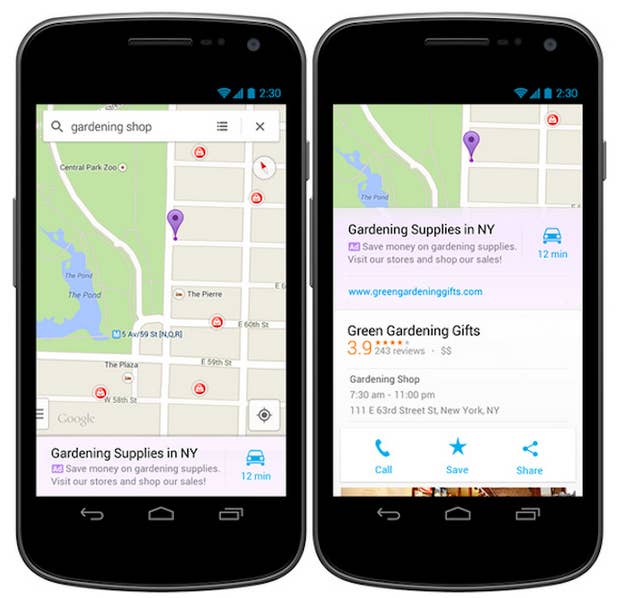 One of the earliest investors in the space, Google has thrown considerable money and unprecedented manpower into developing the most precise, detailed, and intelligent set of maps in human history. Powered by fleets of always-roving, camera-equipped Google vehicles, a wealth of census data and live traffic data, and its very own satellite imagery, Google has effectively — to borrow from The Atlantic's Alexis Madrigal — recreated a web crawler for the physical world.
That's really what Google Maps is: a reimagined, highly contextual, and personal version of Google that, instead of indexing the web, indexes your surrounding environment at a given time. Think of it this way: Every input into Google Maps' search bar is still a search, but instead of a website, the result is a physical destination. "What search is for the web, maps are for mobile," Waze CEO Noam Bardin told a conference last April, just months before his company was acquired by Google, for nearly $1 billion.
And, just as with web search, Google Maps is positioned to become a massive moneymaker, though the company has yet to really begin the maps monetization process. "We no longer live in the algorithmic, keyword-based world that Google rose to prominence in," Michael Boland, senior analyst at BIA/Kelsey, told BuzzFeed. "The new search battleground will be something that's more map-based, and there are clear commercial implications to Google's being able to tell where somebody is. It's the ultimate form of targeted marketing."
Think about it this way: With its scores of personal information, 15 years of search data, and the company's frighteningly thorough indexing of the real world, Google has built the most formidable local advertising machine in existence. And it hasn't fully switched it on yet.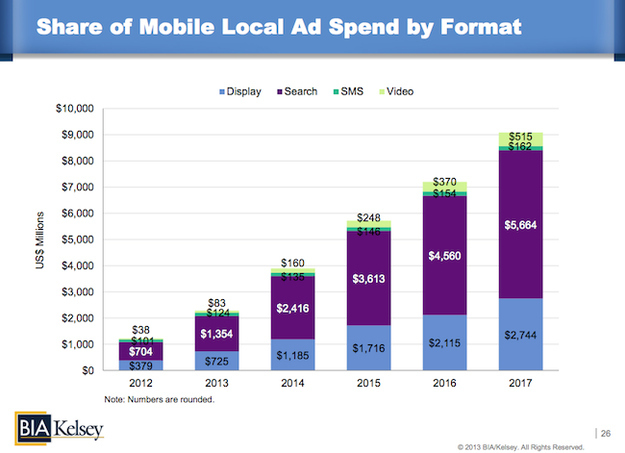 According to estimates from Analysts at BIA/Kelsey, projected total U.S. mobile ad spending is expected to grow from $3.23 billion in 2012 to $16.79 billion in 2017. Local advertising — where Maps is poised to grow — is expected to balloon from $1.3 billion in 2013 to over $5.6 billion in 2017. Other analysts are bullish as well. In a recent client note, RBC capital markets analyst Mark Mahaney described Google Maps' advertising potential:
We see the Google Maps product with its recent enhancements as a central part of the company's opportunity to tap those Local ad dollars. The combination of Google's reach, targeting capabilities, and collection of local business information positions the Company well to capture a portion of the $100B+ Local ad market as it migrates online.
Given the size of its audience — comScore estimates Google Maps saw 286 million unique visitors on desktop alone last April — Google already dwarves local competitors like Yelp (which had 108 million monthly unique visitors in Q2 2013). Couple that with the company's ability to index every nook in a given city or local area, and it's easy to see how some like Mahaney believe Google could clear as much as $240 million just in local, map-based ad revenue.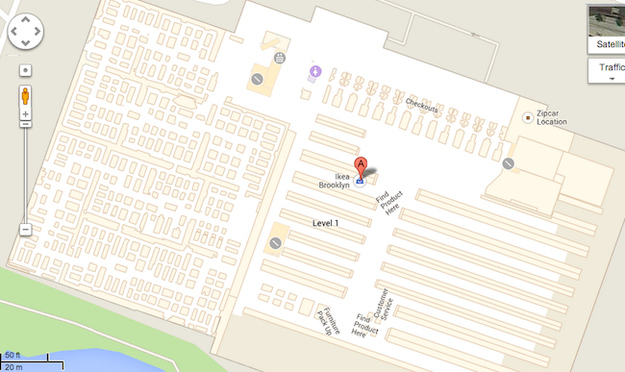 And it doesn't stop there. Recently, Google has worked to expand its indoor maps. A quick Maps search for my local Ikea reveals not only the physical location of the store, but a detailed floor plan of the warehouse. It's easy to imagine that even more detail will emerge, allowing me to zero in on the location of a specific lamp. And if that's the case, what's stopping Google from serving up a targeted ad or offer next time I'm inside the Ikea? We know you've been in the market for a new lamp. Why not swing by aisle 5, where lamps are half-price today?
While it sounds odd, maybe even invasive, it's a logical next step for Google, whose engineers, like Maps product manager Bernie Seefeld, see the future of Google as at least partially focused on promoting effortless discovery through a series of well-informed recommendations.
"I think the future of Maps is taking the information about a current question as well as the things about you that you've told us to bring you information much faster than ever before," Seefeld said. "Part of that might be telling you things you didn't know, like the fact that there might be an accident on the highway, and you might need to leave your house sooner to get to work on time. Extending that further means perhaps hinting at things and recommending things that you didn't necessarily search for." This, of course, is the premise behind Google's forward-looking, geo-aware personal assistant project, Google Now, and, while Google is wary to admit it, another promising avenue for monetization.
"We shouldn't serve the same map to tourists that we give to locals," Seefeld said of Google's effort to personalize the Maps experience. The map should be different if it's the morning or the evening, and if this is done right it has the ability to expand your horizons and actually impact you every day as you pass by and discover things on the street." It's a notion that, while possibly transformative, is most definitely in line with local businesses and advertisers, jockeying for your attention as you wander around a given area. As of now, Google has barely begun to scratch the surface of these opportunities. Those BuzzFeed spoke with at Google were quick to dismiss any claims that Maps is Google's secret weapon for the future — they wanted to frame it as a consumer product, not an ad product. But on the modern internet, the difference is increasingly semantic.
"Currently there are ads on Maps, though I will say personally that they're harder to find. But I think that there's a way to monetize this information in a way that's primarily useful to the user, and we kind of work through that every day," Seefeld told BuzzFeed.
While Google's superior Maps product puts it in prime position, not everyone's convinced of Maps' dominance. Howard Lerman, CEO of mobile ad startup Yext, believes that while Maps may provide the foundation for many of the next important location-based products, it'll be just one part of a more complicated puzzle.
"I think it's still anyone's game. Google is the incumbent and has those advantages, but the way tech goes, a lot of times you have upstarts that come out of nowhere," Lerman said. "When it comes to mobile discovery and search, I think it'll be a mash-up — a group of new services that is of a higher order, like Uber. Uber is a mash-up of Google Maps, FourSquare, and the company's own proprietary distribution network. And it's something like that — a conglomeration of tools — that feels most likely."
That said, it's hard to ignore Maps' potential. The size and unmatched detail of the product, combined with a growing reliance on maps and location data by an ever-increasing number of mobile users, feels too perfect to be a coincidence. If traditional search as we've come to know it is diminishing bit by bit, Google has found its replacement. It's still search, it just doesn't feel like it. But as we begin to exchange our time in front of a desktop or laptop for time with a smartphone, Google appears to be ready to play the same role in navigating our physical world as it did with the internet.
"I don't think anyone can compete right now. They're so far ahead and have so much momentum that any competitors that creep up, they'll buy and take them off the table," Bolland said. "But right now, there's a lot more search happening in maps and on mobile than advertising going into this space. There's no lack of inventory if you consider the supply and demand, which means that we haven't even seen what they can do yet."