Werner Herzog Wants To Remind You That The Internet Is Real Life
"So ugly on the inside that it's beautiful."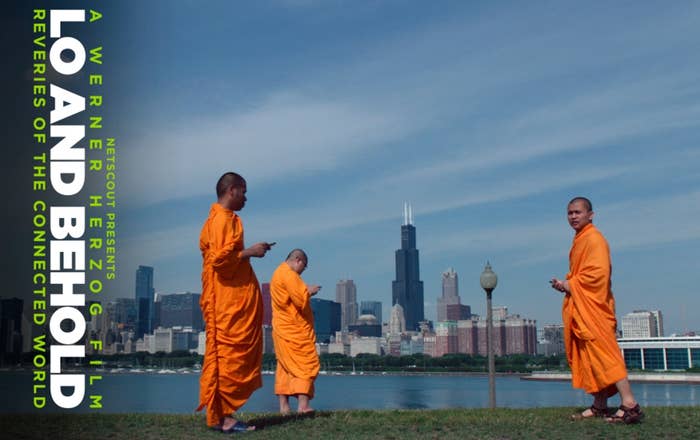 "The corridors look repulsive, but this one leads to a shrine."
Werner Herzog utters these words in his unmistakably austere German monotone during the opening moments of Lo and Behold, Reveries of the Connected World, the documentarian's attempt to paint a portrait of the vast, and amorphous web and its impact in our lives, while leading us down the fluorescent-lit hallways of UCLA's Boelter Hall.

Herzog's camera pauses at the doorway of Room 3420: the birthplace of the internet. It's a linoleum-floored, four-walled classroom with baby food-green walls. Inside, Leonard Kleinrock, an early internet pioneer, gestures to a tall, rectangular box standing unceremoniously in the corner of the room. Inside this machine, Kleinrock notes, is where the first online message was sent. It looks like a cross between a school locker and a control panel from the Apollo 11. But as the camera moves in closer, Kleinrock opens the machine, revealing a tangle of weathered metal, wires, and fans. "It's so ugly on the inside that it's beautiful," Kleinrock says grinning into the camera.
"So ugly on the inside that it's beautiful" is a pretty good way to sum up Herzog's latest documentary, which concerns the internet and has its official premiere tonight at Sundance. Lo and Behold is Herzog's attempt to paint a portrait of the vast, and amorphous web and its impact in our lives. And while the film doesn't always succeed in distilling the enormity and complexity of the internet into a coherent or gripping narrative, its portrayal of the internet's pioneers, victims, fringes, and wonders does something perhaps more important: it humanizes it.
This success may, in fact be accidental, brought on by the fact that Herzog, 73, freely admits that he rarely, if ever, uses the internet. Herzog's clean slate approach to his subject certainly shows in the film on occasion. The starkly displayed title cards that introduce each new segment non-ironically refer to his subject as 'the net' — "THE GLORY OF THE NET," "LIFE WITHOUT THE NET," "THE END OF THE NET" — and the filmmaker's curiosities are diverse enough that the film is cursory at times. Herzog, for example, marvels at well-hyped and covered pieces of technology like self-driving cars and fairly common computer hacker tricks with the wonder of someone encountering them for the first time. There's a nervous undertone at times, no doubt caused by Herzog's own relationship to technology (he owns a cell phone, but hasn't used it in the last year) and at times he reflects somberly on how quickly things change.
"Have the monks stopped meditating? Have they stopped praying? They all seem to be tweeting," he says during one brooding meditation on the future of the planet.
Some of the film's other movements go deeper though, tackling questions of solar flares and electromagnetic pulses that could topple modern society as we know it; the psychological fallout from crippling internet addiction and allergies to wireless radiation; and existential debates over whether or not 'the internet can dream of itself.' [Spoiler: Herzog suggests that if the internet can dream of itself, then that dream is surely a cold-sweat-soaked, hellscape nightmare.]
Herzog seems to enjoy pushing his carousel of experts, engineers, and scientists to look toward the future, especially as it relates to the fragility of our modern internet. The experts, for the most part, gamely indulge in theoretical speculation. It's fun — and mildly unsettling — to listen to Tesla/Space X founder, Elon Musk imagine a dystopia in which an artificial intelligence designed to maximize hedge fund profits by shorting consumer stocks, goes long on defense stocks and attempts to ignite a global conflict. Or to discover that someone with the right acumen and access could gradually adjust the orbital vectors of our communications satellite in the hopes of disabling them. "We could already be in a cyber war and not know it," one of the films experts says to Herzog with a smile that's just big enough to be concerning.
The most poignant parts of the film belong to the moments grounded in the here and now. Herzog visits the family of Nikki Catsouras, an 18 year old woman whose pictures were spread across the internet and sent to her family after she was decapitated in a grisly car accident. The family, dressed in black and seated around a kitchen table with an open chair for their deceased daughter, detail the horrors of being harassed with pictures of her accident and threatening messages. "I have always believed the internet is a manifestation of the Anti-Christ," Catsouras' mother says near the end of the segment. "The spirit of evil runs through everything on this earth, claiming victories on the internet with those who are evil."
It's a horrifying, deeply human moment and one that's rarely seen in larger discussions about the internet's underbelly and harassment culture. The same goes for Herzog's visit to Green Bank, West Virginia — a National Radio Quiet Zone in which residents are forbidden to use smartphones and other gadgets that might interfere with a massive radio telescope located there. The restrictions have made the town a sanctuary for those sensitive to electromagnetic waves from cell phones, computers, and household electronics. One resident, a woman who had been forced to live solitarily in a faraday cage for years, breaks down and pleads with Herzog to tell the story of those who can no longer live in a connected world. Tearfully, she makes it clear that her electro-sensitivity has left her isolated and fearful that the outside world doesn't believe in her disorder.
While the film's interviews with hackers and security researchers are rich with contentious questions — who will ultimately be responsible when the first self-driving car plows into a human being? — the sum of its parts add up to a greater reminder: no matter you turn, whether it's power-grid toppling viruses or Carnegie Mellon soccer robots designed to compete in the World Cup, humans are at the heart of all of this.
In this sense, Herzog's status as a sort of internet outsider feels almost essential to the film's success. For those of us reasonably well versed in the internet and all that orbits around it, Lo and Behold can feel sluggish, and occasionally cursory. But it does effectively communicate idea at its heart: there is no barrier separating the networked world of the internet from the physical world we live in.
The film continually reminds us of this, whether introducing us to a family torn apart by online harassment or to hacker Kevin Mitnick, who describe the modern computer hack as a series simple deceptions: "the weakest link in any security chain is a human being." Or when Sam Curry, a security analyst, explains how our usernames, passwords and pseudonyms can become vulnerable cornerstones of our real identities over time.
There are plenty of reasons to watch Lo and Behold if you're a Herzog fan. The director compares an element of internet addiction to "a malevolent druid dwarf," asks a young engineer with deadly seriousness if he feels true love for his robot (he does!), and freaks out Elon Musk by enthusiastically volunteering for a voyage to Mars. There's also plenty of cool future stuff! But there's something else here, too. Whether intentional or not, Herzog reminds us that in our daily interactions with the internet and our struggle to define the role it plays and will play, we so often forget that the internet is actually, simply a reflection of who we are — a reflection of real life that's so complicated and so ugly on the inside that it's kind of beautiful.