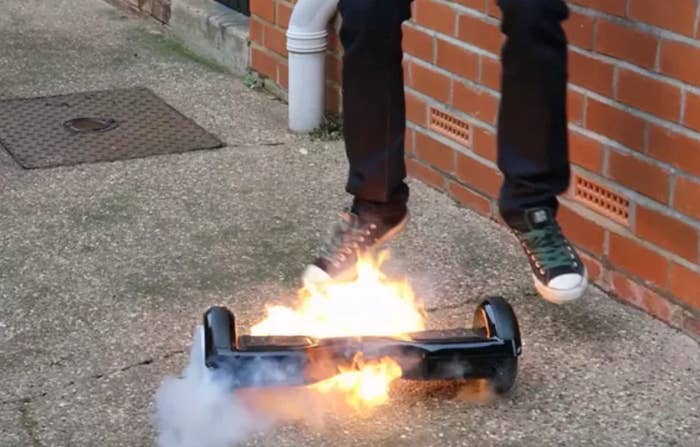 You can argue all you want that hoverboards don't "actually hover," but that isn't going to stop the United States government from effectively freezing nationwide sales of the popular two-wheeled transport device.
Today, the U.S. Consumer Product Safety Commission sent out an official letter to both retailers and manufacturers, issuing a new set of safety standards for the gliding gadgets, which have been prone to defects including (but not limited to) catching fire while in motion and burning down entire houses.
The CPSC's letter states that the agency "considers self-balancing scooters that do not meet the safety standards referenced above to be defective, and that they may present a substantial product hazard ... or could be determined to be an imminent hazard."
The letter continues, "Consumers risk serious injury or death if their self-balancing scooters ignite and burn. ... Should the staff encounter such products at import, we may seek detention and/or seizure. In addition, if we encounter such products domestically, we may seek a recall of these products."

The CPSC's warning letter doesn't necessarily outlaw hoverboards — at least not yet. However, the notice lays out new safety standards that could bring serious penalties (fines, civil and criminal legal action, and seizure of products) against retailers, manufacturers, and importers. As a result, the letter is likely to create a wide recall inside the hoverboard industry. The CPSC notes that the recall applies to hoverboards of all shapes, sizes, variations, and prices. In other words: According to the government, no hoverboard is safe.
According to Mashable, which first reported the news, the CPSC conducted a series of tests and inspections of hoverboards both old, new, and defective. While the agency was unable to re-create the dangerous open-flame explosions that have been captured by numerous owners and posted to YouTube, the agency told Mashable that "we were able to get the temperature hot enough that there was significant melting and other signs of overheating."