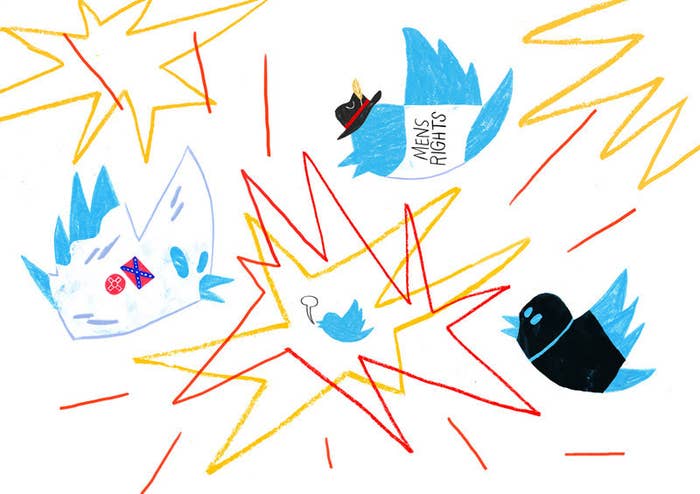 Today Twitter suspended and then reinstated the account of former imperial wizard of the Ku Klux Klan and senate candidate David Duke. For a period on Monday morning, Duke's account was inaccessible, displaying a message that the account has been taken offline. By 2:00 p.m. ET on Monday afternoon, the account was reinstated. Duke tweeted that he wasn't sure why the account was taken down.

As it turns out, the suspension was an accident. An agent mistakenly marked the account for suspension during a routine account review. Once news spread of the suspension, Twitter worked to re-instate Duke who, according to the company, did not violate Twitter's rules.
"We regularly review accounts and take action if they are found to have violated Twitter's rules. If an account is found to have been suspended in error, we immediately restore it and notify the owner of our mistake," a Twitter spokesperson told BuzzFeed News.

While it's currently not clear which specific tweets were flagged for review, Duke is well-known on Twitter for his white nationalist and political rhetoric. In the run-up to and after the 2016 election, Duke has been a vocal proponent of Donald Trump and a number of his domestic policies.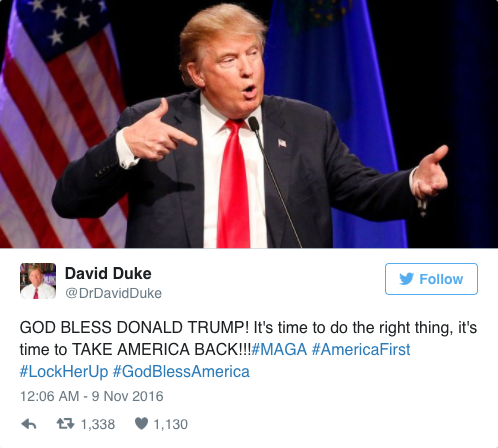 Duke also mixes it up, picking fights with politicians, liberals, and celebrities. Last month, Duke got in a prolonged Twitter fight with actor Chris Evans, who plays Captain America. "Why does Chris Evans, who plays the Jewish inspired super hero, Captain America, hate the women of his people so much? #WhiteGenocide," Duke tweeted at the actor.
Most recently, Duke was tweeting about this weekend's dueling Trump and anti-Trump protests in places like Berkeley, California, causing some to wonder on Twitter if Duke was inciting pro-Trump supporters toward violence.
Duke's brief suspension comes at a time when Twitter is making a concerted, public effort to crack down on its abuse problem. Since January, the company has rolled out better spam filters and algorithmic tools to de-prioritize egg accounts and comments from trolls. The company also started relying on algorithms last week to police accounts for violating rules. The suspension, according to the company, was not the result of any new algorithmic abuse prevention practices.

White nationalist Richard Spencer (who was banned from Twitter recently on a technicality and later reinstated) tweeted and suggested that those angered by Duke's suspension should join a crowdsourced lawsuit to sue Twitter for discrimination.

For Duke's part, he appears hopeful that the (potentially mistaken) suspension and reinstatement will help him get a verified Twitter account.
UPDATE
This story was updated to include comment from Twitter.