Twitter Promotes Mitt Romney's Campaign As A "Success Story"
The social network's case study touts Romney's Twitter presence as a model for future campaigns. There's just one minor problem.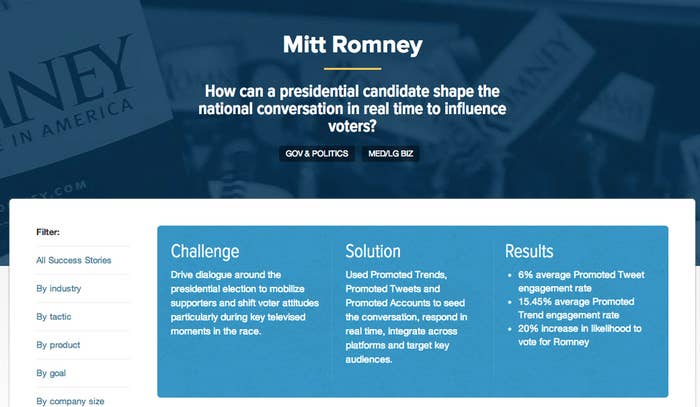 It's been a rocky few months for former presidential candidate Mitt Romney. Since losing the election, he's been spotted pumping his own gas, visiting fast food establishments and, more recently, wearing small party hats at his new job.
But it's not all bad news for Mitt! In fact, in Twitter's eyes, Romney's near-billion-dollar candidacy was a #SuccessStory worth sharing (listed right between campaigns from MTV and Microsoft's "Safer Online" initiative).
While it's a a savvy move for Twitter to play up the Romney campaign's reliance on Twitter (in August it was reported the governor was spending $120,000 a day on promoted tweets), the #SuccessStories lose a bit of their oomph when you put them into context. A few examples from the "Results" section of the analysis:

With great zeal and frequency right up until that last second when he lost the election,
The @MittRomney campaign used Twitter to monitor sentiment, gain insights into key election issues and create real-time responses that were timely and relevant.

"In the hardfought months before losing both the popular vote and the electoral college..."
the @MittRomney campaign was able to reach constituents across devices and create a truly "two-screen" campaign.

"For 18 painstaking and sleepless months and literally right up until the second he lost the election..."
@MittRomney used a combination of targeting options in individual Twitter Ad campaigns to deliver the right Tweets to the right audience at the right time and generate double-digit engagement.

"In the months leading up to the Governor's gut-wrenching concession call to President Obama..."
the @MittRomney campaign was able to create strong engagement on Twitter and drive earned media via Retweets.
To be fair to both Twitter and the Romney campaign, the candidate's social presence did move the dials a considerable amount.

For instance, this effort garnered 3,784 retweets. An admirable job indeed.
And this play by the former Massachusetts governor got 4,037 concerned citizens to call for a one-term Obama presidency.
But as we all know, in an election there's only one real way to measure #success...