Twitter Is Trying To Reverse Engineer The Perfect Social Media Editor
Using power users to create the perfect power user.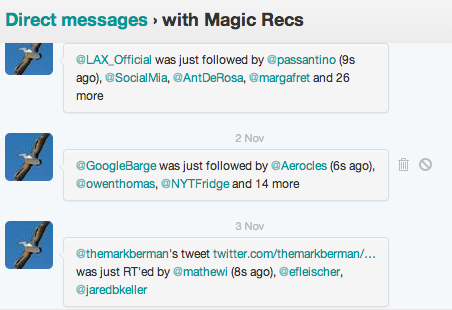 Magic Recs — Twitter's instant and personalized direct message recommendations product — started out as most of Twitter's experiments do, as a small, quiet test pushed out to the service's most devoted/powerful/obsessive users. It clearly struck a chord among news Twitter types, and weeks later it was incorporated into Twitter's mobile apps as a recommendation service.
In many respects, Magic Recs fills a number of roles specific to what's come to be known as the social media editor — the employee in a newsroom who runs the Twitter account, who promotes the organization's most interesting tweets, who combs social networks for information during breaking events. It, like them, spends all day buried in the cascade, hunting for patterns and aberrations. When it notices something interesting — in Magic Recs' case, now, that means a mass-follow or a widely favorited tweet — it pulls the trigger, notifying users that something, somewhere on Twitter, is going on.
And, for the most part, Magic Recs does a pretty good job. It's not perfect, but its recommendations are usually relevant. And while you may not retweet every link or follow every suggested user, you're willing to stick around in the event that it kicks something excellent your way. In essence, it's very similar to how you might feel following a devoted, high-volume-tweeting social media editor.
It's no accident the two experiences are so connected; Magic Recs recommendations are indirectly fueled by obsessive Twitter users and social media editors, who regularly follow and fav en mass. It's an engine to mimic power users, powered by power users. It's an attempt to reverse engineer the social media editor (RIP).

Now Twitter is now letting users interact with the account through direct messages. Like an imaginary social media guru, it can exchange pleasantries, offer itself up to help. Most importantly, it can gather input to hone its recommendations. As a machine project, it's disarming and interesting. If Magic Recs were a human, however, you might start to worry: What is this guy after? Am I training my replacement?
New York magazine social media editor Stefan Becket says the service is fascinating but usually redundant. "It usually alerts me to something or someone I'm already aware of," he told BuzzFeed, noting that it's only surprising when he's been offline for a while. "Then I have to go try and figure out why everyone is following this person," he said.
Becket is the first to admit he's not an average user. "I mean, I'm staring at Twitter all day," he said. Setting aside the fact that Twitter is a fully voluntary service (except, well, for social media editors), this could be characterized as somewhat exploitative: Under the auspices of a cool little experiment, the company is using its most active members as the foundation for a product that has the ultimate goal of helping Twitter retain its least active members.
It's just the latest reminder of the plight of the power user, where the work of a devoted few helps build the platform for many, resulting in little reward. This step might be the ultimate one: These power users are unwittingly helping Twitter create an omniscient, automatic version of themselves.