Yesterday, Robert McNees, a physics professor at Loyola University, was curiously scanning through the popular alt-right account @TheRickyVaughn when he came across a number of tweets apparently designed to spread misinformation about voting among African-American and Spanish-speaking citizens. The tweets told voters they could "avoid the line" and "vote from home" via text (which, to be clear, they can't). They were photoshopped to look as if they'd been created by the Clinton campaign, down to the small-print "Paid for by Hillary for President 2016" disclaimer at the bottom.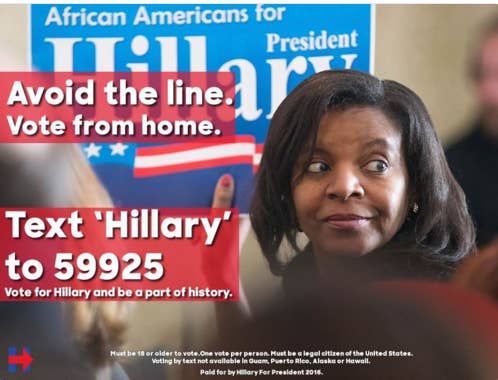 McNees told BuzzFeed News he reported the tweet — a clear attempt to impersonate a campaign and disenfranchise voters — to Twitter. This morning, the company told him that the tweets and the account were not in violation of Twitter's rules.
The photoshopped campaign ads may violate FEC laws. They also appear to be in direct violation of Twitter's policies, which state in part that "Twitter accounts portraying another person in a confusing or deceptive manner may be permanently suspended." The tweets could also be in violation of Twitter's spam rules.
These kinds of fake voter ads have appeared on Twitter from numerous Trump-supporting accounts during the campaign; just last month, the Democratic National Committee condemned a similar fake voter ad tweet sent out by Trump adviser Roger Stone.
The Clinton campaign, for its part, appears to be actively combating the disinformation. When BuzzFeed News texted the number in the tweets, we received the following response:
@TheRickyVaughn himself was suspended from Twitter earlier this month after posting and retweeting anti-Semitic and white nationalist content and images. The user has since created a new account — his bio now boasts he's a "known white supremacist" who "regularly uses profanity and racial epithets while propagating conspiracy theories" — and has over 11,000 followers.

UPDATE
After BuzzFeed News emailed Twitter for comment, @TheRickyVaughn's offending tweets appear to have been taken down. Later, Twitter CEO Jack Dorsey responded to BuzzFeed News via Twitter:
@TheRickyVaughn also appears to have been suspended.
The headline of this story has been updated to reflect Twitter's takedown of the offending tweets.