Twitter CEO Speaks Out To Defend Against Claims Of Sexism
Tensions continue to mount in Silicon Valley over sexism and diversity issues.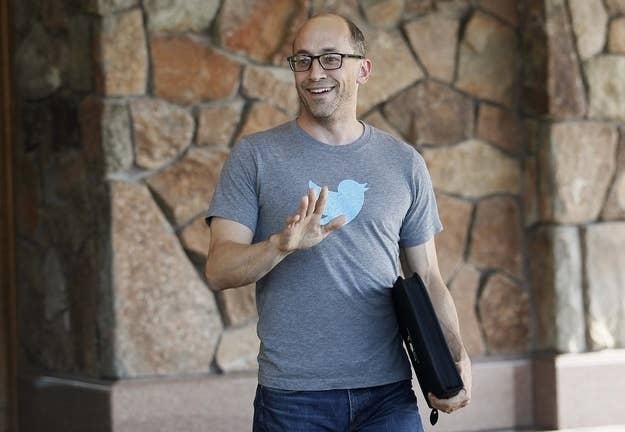 Twitter CEO Dick Costolo took to Twitter this evening to respond to backlash surrounding a recent New York Times article, which criticized the almost-public tech giant for a lack of gender diversity among its executive ranks.
The piece is just the latest to shine a light on the glaring issues of gender balance and diversity in Silicon Valley, a pressing concern that's quickly coming to a head, especially with regard to sexism.
In the piece, Vivek Wadhwa, a fellow at Stanford's Rock Center for Corporate Governance who is in the process of writing a book on women and tech said the following:
"This is the elite arrogance of the Silicon Valley mafia, the Twitter mafia. It's the same male chauvinistic thinking. The fact that they went to the I.P.O. without a single woman on the board, how dare they?"
The article has picked up steam online over the weekend, prompting a defensive response from Costolo:
The comment attracted the attention of numerous tech personalities on Twitter, including Anil Dash, who took issue with Costolo's seemingly flippant response
Costolo then defended his earlier statement
The back and forth continued between Dash and Costolo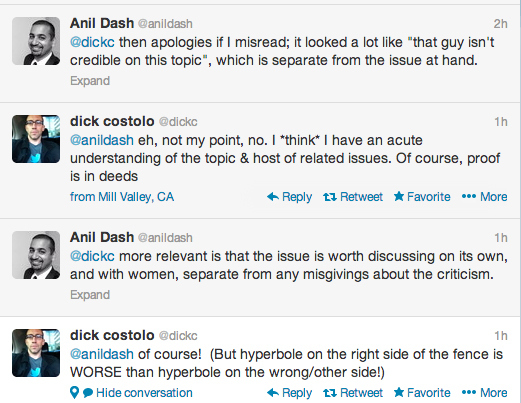 Eventually, Wadhwa jumped in to defend himself against Costolo with a series of his own tweets:
By the end of the bizarre exchange, Costolo seemed to acknowledge the gender problem was a subject worth discussing but also seemed reluctant to talk about the matter.
Some took Costolo's response as a tacit suggestion that there were no qualified women for Twitter's board.
While others rightly noted that the current Twitter conversation failed to include any female voices.
One Twitter employee came to Costolo's defense
It appears Wadhwa had the last word with Costolo, though the conversation continued throughout the night
So far, Costolo has yet to respond.
This isn't the first time Twitter has been criticized for its lack of diversity and female leadership in the company ranks. In a recent article in All Things D, Kara Swisher noted the lack of a female board member, quoting a widely-used Twitter employee joke that, "'Twitter's governing body has to expand beyond "three Peters and a Dick.'"
But, as many tweets noted in the conversation's aftermath, the problem is in no way exclusive to Twitter. The company is, however, still the only of the tech powerhouses without a female board member (Google, Apple, Microsoft, Amazon, Facebook, Zynga, LinkedIn, and eBay all have at least one female elected to their boards).
As with most Twitter confrontations little was solved, but it's a stark reminder of Silicon Valley's growing problems and the mounting tensions inside some of tech's most important companies.