Trump's Press Conference Was A Rallying Cry For The Pro-Trump Media
"We primetime now," pro-Trump Twitter personality Jack Posobiec tweeted during the press conference.
The pro-Trump media spent much of the weekend blasting the press for what it considered biased coverage of the tragedy in Charlottesville, while denouncing the actions of the anti-fascist protesters who clashed with neo-Nazis in the streets.
At a press conference at Trump Tower on Tuesday, the president echoed pro-Trump activists' talking points. They were, in a word, delighted.
For some in the pro-Trump media who've been critical of the president and his messaging throughout the health care debate, the press conference was a show of strength.
It came across like a parroting of the pro-Trump media's steady talking points in the days since Charlottesville, in which the movement has tried to draw a distinction between itself and the alt-right (which they define as a race-based ideological movement for white supremacy).
The pro-Trump media saw it as the kind of "high-energy," combative display that played so well with his online devotees during the campaign.
Most importantly, perhaps, it reignited Trump's war against the mainstream media, much to the delight of those in the "new media."
Members of the alt-right appear to be embracing Trump's comments. For the alt-right, Trump's denouncement of the anti-fascists is proof of their own victimization.
In many ways the press conference was a rallying cry for the pro-Trump media, giving credence to the movement's talking point that factions of the left (specifically antifa) are intolerant and to blame for political violence.
Early reactions from places like Gateway Pundit and Breitbart heaped praise on the speech.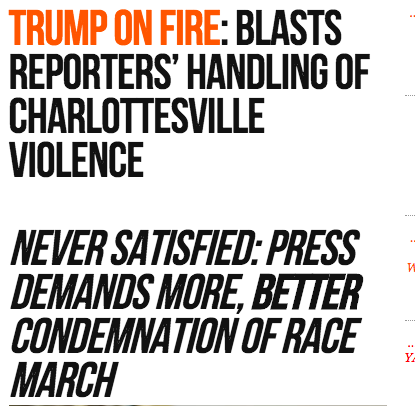 After a weekend that saw pro-Trump media figures on the defensive for the president's initial comments, some were exuberant after his Tuesday press conference.