As Election Day nears, pro-Trump trolls on Twitter continue to spread false voter information in an effort to keep Hillary Clinton supporters from the polls on Tuesday.
The tweets, many of which are disguised as campaign ads, suggest that voters can "avoid the line" and "vote from home" via text (they can't). Last week, in response to a BuzzFeed News report on similar voter-suppression scams, Twitter deleted a handful of tweets spreading the false information. "Not sure how this slipped past us, but now it's fixed," Twitter CEO Jack Dorsey told BuzzFeed News.
But despite Dorsey's public statement, trolls are still trying their best to dupe voters. On Sunday, BuzzFeed News found dozens of examples of "vote from home" tweets along with others falsely claiming voting deadlines have been extended until Nov. 9 for Hillary voters and that voters must provide seven forms of identification to cast their ballot. The tweets vary in sophistication and message — some are brazen attempts at voter suppression designed to appear like legitimate notifications, others appear to be racially charged, satiric commentary on the idea of voter suppression itself presented alongside misinformation.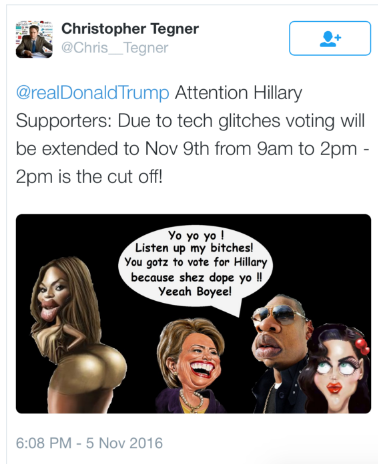 The tweets, which were still up on the social network Sunday afternoon, have all been reported to Twitter's support team by independent users. One woman who has been reporting voter suppression tweets since yesterday told BuzzFeed News that she has not yet heard back from Twitter support.
As BuzzFeed News reported last week, the tweets do appear to be in violation of Twitter's rules, which state in part that "Twitter accounts portraying another person in a confusing or deceptive manner may be permanently suspended." The tweets could also be in violation of Twitter's spam rules. Similarly, tweets claiming to be "paid for by Hillary For President" could be in violation of Federal Election Commission law.
Kristen Clarke, the president and executive director of the Lawyers' Committee for Civil Rights Under Law, roundly condemned the tweets and called on Twitter to be more vigilant with its takedowns. Clarke works with Election Protection, a nonpartisan voter protection agency.
"I flagged a number of tweets this morning and have not received a response."
"I flagged a number of tweets this morning and have not received a response. And many, if not all of those tweets are still up," she told BuzzFeed News. "There's urgency here. Time is short, the right to vote is sacred, and people can easily abuse to disrupt our elections. So Twitter and Facebook and all the social platforms have a real obligation not to overlook this."
In response to BuzzFeed News' request for comment as to why the tweets weren't taken down, despite the user abuse reports, Twitter provided the following statement: "Our goal is to increase engagement in the election process and encourage voter turnout. We are tweeting now, and through Election Day, informing people how and where they can vote. We've launched several features recently to support this cause including our DM tool that shares specific voting locations, candidate information, and other relevant info to inform voters as they head to the polls."
The company also tweeted this, from its Government account:
Still, there's plenty of misinformation out there — here are some examples of voter-suppression scam tweets to watch out for: