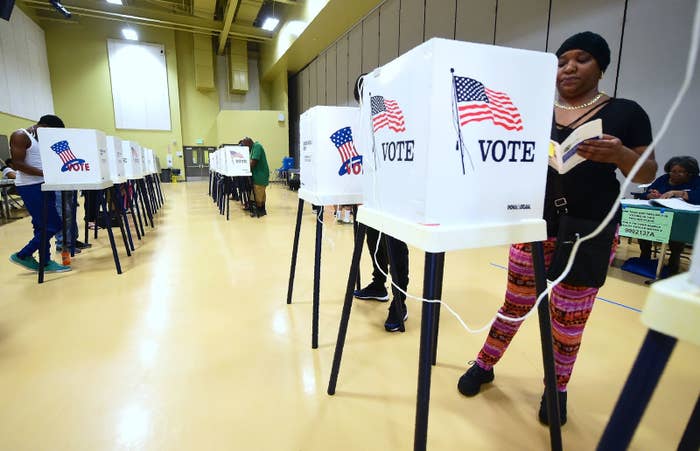 Since last Tuesday's midterm elections, Donald Trump has been tweeting bogus claims about voter fraud, saying that Democrats are "trying to STEAL two big elections in Florida!" and arguing that "an honest vote count is no longer possible." There is no evidence to support either of these claims; public officials have openly disputed them. Yet Trump continues to repeat them, lobbing them out into the world and the gray area that is Twitter's rules enforcement apparatus.

Despite Twitter's promises leading up to the election that it would "ensure that Twitter provides a healthy space for public conversation that voters can rely on for accurate election news and information," it hasn't done anything about Trump's tweets. Asked by BuzzFeed News if Twitter was considering updating its rules to address Trump's voter fraud claims, the company's vice president of trust and safety, Del Harvey, suggested that the company would wait until 2019 to address the issue, if at all.
"One of our goals for 2019 is to significantly increase transparency around those conversations as well as the principles we draw from when evaluating the impact of potential changes," Harvey tweeted at BuzzFeed News. Pressed for specifics, Harvey declined to provide any examples of what "increased transparency" might look like, noting vaguely that "we have ongoing conversations about these themes broadly."
Heads of state like Trump are seemingly protected from suspension by Twitter's "world leaders" rules. The company created the policy in January after months of discussion over whether the president had violated Twitter's rules with an inflammatory tweet that North Korean leaders called "a declaration of war." According to the company, "blocking a world leader from Twitter or removing their controversial Tweets would hide important information people should be able to see and debate. It would also not silence that leader, but it would certainly hamper necessary discussion around their words and actions."
But as Trump uses his feed to broadcast baseless conspiracies about election fraud, there's growing concern that Twitter's "world leaders" policy might be actively undermining its original goal and muddying the truth around electoral outcomes. Though Twitter currently has no rules that prohibit the spread of conspiracy theories or misinformation, the company has made recent public declarations committing itself "to improving the collective health, openness, and civility of the public conversation." Given that, Trump's bogus election fraud tweets raise a difficult question for Twitter: Is it obligated to mitigate the spread of misinformation on its platform by the president of the United States?
Given that it's highly unlikely Twitter would suspend a world leader's account, there are measures Twitter could take to provide context to tweets from a head of state without de-platforming them. As some on Twitter suggested, the platform could provide users with fact checks or follow-up links to any number of news reports. Similarly, the company could note that the tweet in question is in dispute. While this would be an impossible service to provide at scale, narrowing it to world leaders only could be feasible.
Predictably, Twitter has no concrete answers. Harvey's vague response is a hallmark of how Twitter leadership responds when queried about complex issues threatening discourse on the platform. While the company is quick to acknowledge that it needs to make fixes, it often struggles to offer a clear remedy. Instead, it spins up vague, aspirational concepts that seem more philosophical than practical.
Nowhere is this more apparent than in the company's "conversational health" initiatives, which are focused on finding ways to measure and support healthy conversations, steering Twitter discourse away from a rats' nest of trolls and abuse and toward something more civil. It's a massive undertaking, but despite the company's numerous explanatory blog posts and appeals to academia, the work remains highly, frustratingly theoretical.
Asked in an August interview what conversational health looks like in practice, Twitter's legal, policy, and trust and safety lead, Vijaya Gadde, and Harvey described it to BuzzFeed News as "a framework" and "a long-term durable way to measure the health of public conversation." If that sounds vague, it's because it is. Gadde says she understands the frustration, but that conversational health is about moderating Twitter by "not just taking things away but actually encouraging healthy conversation."
What might that look like? Twitter's responses are befuddling and cryptic. When asked last August if the company would increase its number of human content moderators, Gadde told BuzzFeed News it was "rethinking different product surface areas, and how we can focus on the health of all the different surface areas, or the incentives that we're creating within the product."
To its credit, Twitter has been publicly vocal about its flaws. It's purged millions of spammy and automated accounts from its servers and helped to prevent large-scale disinformation and troll attacks during the midterm elections. The company is working on getting better at spotting and enforcing behavior like "dehumanization" on the platform and incorporating tools to better take into account the off-platform behavior of its worst actors. But despite the messaging, many of Twitter's forward-thinking products are merely ideas that it's batting around.
It's unclear if Twitter will adapt its policies for its most visible user. As always, its executives say the platform is willing to adapt to new political realities, but there's little clue about what changes could look like in practice.
"It has to be done in the context of how we're actually seeing our global leaders," Dorsey told BuzzFeed News in August when asked if there was a line President Trump could cross that might get him banned from Twitter. "We do believe it's important that people see and can communicate around how they act, and how they think, and how they treat others."
The reply is classic Twitter, which is to say: a lot of well-intentioned words that say very little.
CORRECTION
Vijaya Gadde is Twitter's legal, policy, and trust and safety lead. An earlier version of this post misstated her title.