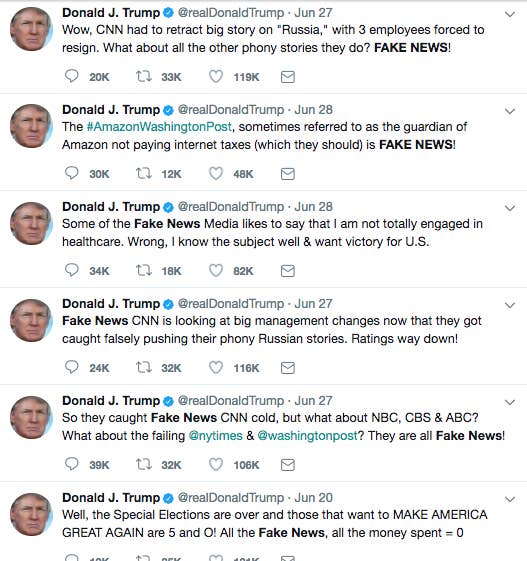 In a young administration beset by scandal and early morning tweets, reporters, pundits, and even those close to the president have struggled to divine a coherent vision coming from the White House.
Trump consistently undercuts messaging from his own staff — and sometimes he completely undoes it. Bombshell news stories routinely derail public relations efforts to frame and create momentum for Trump's accomplishments. The guiding ideology for the administration appears to be centered around little more than an amorphous pledge to Make America Great Again.
Throughout the chaos, Trump has been clear on one issue: the untrustworthy "fake news" purveyors of the media. As he's struggled to even put into motion the kind of sweeping legislation he promised on the campaign trail, Trump's relentless focus on the media has been the only constant amid the disorganization. Six months in, it seems clear that Trump's only real ideology — and the only true tenet of Trumpism — is to destroy what he believes is a deceitful mainstream media.
And, in a sense, it's working.
Trump has tweeted 23 times accusing the media of pushing "fake news." He's berated reporters during his infrequent live press conferences and after news stories drop from outlets like CNN, the New York Times, and the Washington Post. He criticizes the use of anonymous sources — which he contends are either completely fabricated or falsely planted to discredit him and his presidency. He regularly opines to his 30-plus million followers that the "FAKE NEWS media knowingly doesn't tell the truth" and that the institutions are "a great danger to our country."
As pressures mount on his administration — both to pass health care legislation and to shake off congressional and independent investigations — he has intensified the rhetoric. This week alone, Trump lambasted the press in eight separate tweets (not including Thursday's Twitter attacks on MSNBC host Mika Brzezinski). He's celebrated the firing of three CNN staffers, (wrongly) complained that the New York Times did not contact the White House for comment on a recent story, and retweeted a 16-year-old Grand Theft Auto YouTuber who photoshopped a meme of the CNN logo with the caption "Fake News Network." On Instagram, the official Donald Trump account posted clips of conservative activist James O'Keefe's undercover videos of two CNN producers and commentators who describe Trump's potential ties to Russia as a "nothing burger."
While Trump's attacks on the press have rallied the president's detractors to support — and subscribe in force to — major newspapers and magazines, among Trump's base there's a growing notion that the mainstream media is corrupt and reckless. Trust in the media has been steadily declining for years in public opinion polls, but Trump weaponized it in during his campaign and now uses it the full influence of the White House to promote the anti-media agenda.
Ironically, as Trump works to discredit CNN, the New York Times, the Washington Post, and the rest of the "fake news" media, he's rabidly consuming coverage about himself — and tries to flatter individual journalists whose coverage he likes.
As Brian Stelter wrote last summer, in a column titled "Donald Trump Actually Loves The Media," Trump heaped praise on Rupert Murdoch, who owns Fox News, calling him a "tremendous guy"; said CBS CEO Les Moonves is "the greatest"; that he knows CNN chief Jeff Zucker "very well"; and that he thinks NBC News chair Andy Lack is doing a "very good job."
In private and small settings, Trump seeks to flatter reporters, offering good-natured ribbing, and can even be charming. During the transition, the Trump team shocked reporters — including a reporter present from BuzzFeed News — at Mar-a-Lago by announcing an off-the-record cocktail meet-and-greet with high-ranking Trump officials. Surprise: Trump himself walked in with Melania Trump. The discussion may have been off the record, but photos trickled out, including one (which Trump insisted the group take) that drew the ire of the internet of Trump smiling with reporters around him.
That's not where we are now, and that's not how things work outside the White House, either.
Each day now, the pro-Trump media, a cohort of influential and widely followed Twitter and YouTube personalities, wage an information war in the hopes of destroying the credibility and influence of the mainstream media. Last month, in response to a widely criticized photo shoot with comedian Kathy Griffin in which she was depicted holding Trump's mock-severed head, pro-Trump media personalities including Mike Cernovich and Alex Jones started the #CNNisISIS hashtag. The hashtag has become a rallying cry on Twitter and at protests and gatherings. Last Sunday, at a rally in front of the White House, pro-Trump supporters wore Infowars-branded T-shirts with Griffin's picture and the phrase "CNN Terrorist" while carrying signs that read "CNN's Worst Enemy."
"Trump has waged a full-scale war on the media but this shouldn't come as a surprise because his biggest supporters have been calling on him to do it. And when he does, we feed off that," Mike Cernovich told BuzzFeed News. "But more than that, Trump's criticisms of the MSM and the way he deals with their fake news has really shown us in the 'new media' that there's so much power to just pushing through a news cycle. Instead of always responding to the topic and quote du jour you just say whatever and deal with the bullshit and you push through and keep hitting your talking point. And for us, we're letting people know that the mainstream media pushes fake news."
How influential that is or isn't in shaping American views beyond the bounds of Twitter remains an open question. Trump's attacks, too, will presumably have reverberations in US views toward the media, but how far they go, and how much they are only accentuating existing opinion, is hard to know conclusively. In March, Morning Consult published a study suggesting that "half of Americans think it is inappropriate for journalists to cite anonymous sources in their reporting, and many think reporters are simply making up those sources."
Similarly, those who get their news from Infowars, Gateway Pundit, Breitbart, and any number of pro-Trump media figures have been led to believe that the media isn't just reckless, but guilty of inciting violence, as many — including Trump's son, Don Jr. — suggested in the wake of the Alexandria shooting that targeted Republican members of Congress earlier this month. And while the more incendiary allegations of media violence aren't coming from the White House or Trump, they take their cues largely from the president's rhetoric.

After CNN admitted a major error and breakdown of its editing and publishing process, it moved swiftly to retract and apologize for a story about Russian connections with the Trump team. Three people were fired as a result, and the White House saw an opening — this time at the podium in the briefing room — to again criticize and cast a serious mistake as the continuation of a mainstream media vendetta against the Trump presidency. Sarah Huckabee Sanders took that baton and ran with it, calling the "constant barrage of fake news directed at this president" frustrating.
Huckabee Sanders pointed to the videos "circulating now" by provocateur James O'Keefe. "Whether it's accurate or not I don't know," Huckabee Sanders said with no sense of irony, "but I would encourage everybody in this room, and, frankly, everybody across the country to take a look at it. I think if it is accurate, I think it's a disgrace to all of media, to all of journalism."
The administration has willing partners, even in the briefing room. A reporter who works for LifeZette, which is owned by conservative radio host Laura Ingraham, asked if the administration would also accuse the New York Times of engaging in "fake news." Huckabee Sanders dutifully obliged.
The White House believes this works for them. After complaints that the administration wasn't answering questions that could be watched by millions of TV viewers, Huckabee Sanders came prepared with this message. In that sense, it feels increasingly that delegitimizing the press might be the one campaign promise Trump can reliably deliver — and it might be his lasting legacy. There may not be a wall or the deportation of 10 million undocumented immigrants, but the anger at the media won't fade.