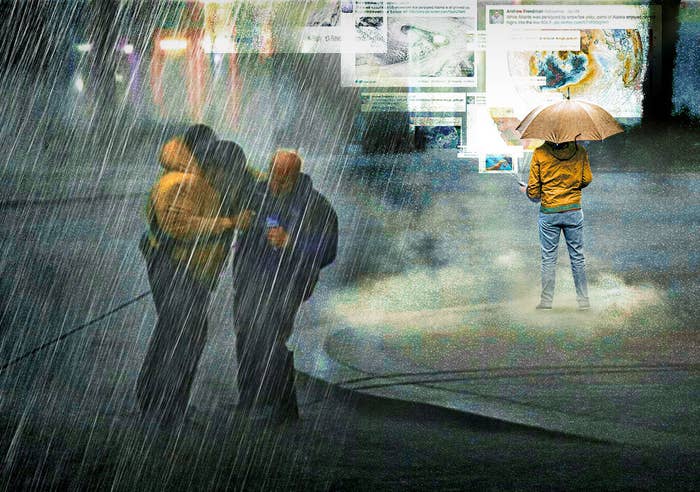 The local TV meteorologist is dying, but it's never been a better time to be a weatherperson.
One month into 2014, a year that's already seen severe and bizarre weather, a surprising pattern has emerged. Last month, Slate hired internet meteorologist and social media fanatic Eric Holthaus as its weather and climate writer. Days later, Mashable announced that it had poached Andrew Freedman, a senior writer at Climate Central, an independent collective of scientists, journalists, and researchers, as the first reporter for its climate desk. And just last week, Gawker editor-in-chief John Cook posted on Twitter that the site is looking to hire weather writers, who, BuzzFeed has learned, will be charged with starting a new weather site tentatively called The Vane.
This hiring spree coincides with a growing sense that climate change is no longer a debate or a policy issue, but the only context in which to understand increasingly bizarre weather patterns. These are only implicitly climate writers: By this time next year, don't be surprised if your favorite website has its own weatherman (one thing that hasn't changed, at least yet — the new meteorologists and broadcasters, like the old, skew largely male).
The rise of the internet weatherperson has been long in the making. As a platform, the internet is a perfect home for something as universal, media-rich, and consequential as weather. And the traffic metrics appear to agree. At Quartz, where Holthaus posted weather stories before his move to Slate, his weather content "was reliably two to three times more trafficked than the average post" on the site, he told BuzzFeed.
"Weather is a basic topic that everyone in every single culture talks about. You physically cannot escape the weather. You have to interact with it, and everyone, naturally, has an opinion," Holthaus said. Freedman describes the internet weather blogger's role as an "analyst/reporter/expert hybrid" and thinks that the media marketplace is ready to embrace the model of the hyper-tweeting internet weatherperson. "We basically have access to all the necessary data; if you have the meteorological background and understand the models, you are good to go," he said. "I can go read a climate forecast and take their word, but then I can also call different sources and vet that report on my own and give my readers a vetted opinion."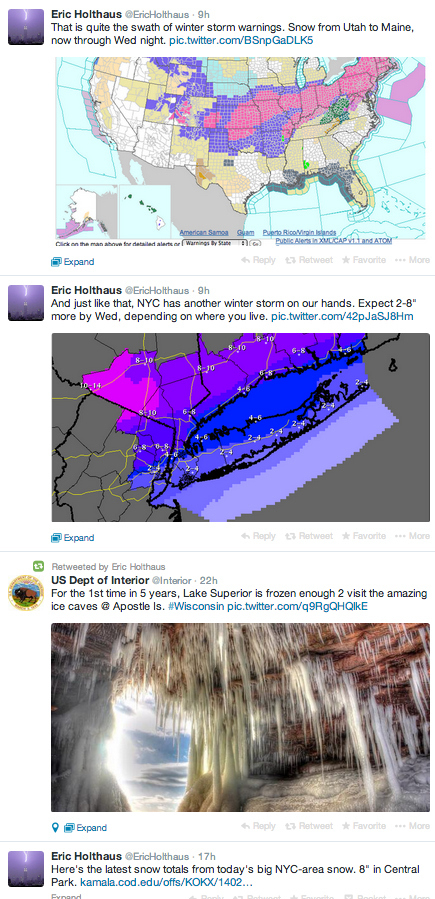 Holthaus and Freedman were able to carve out niches for themselves as relentless analysts, reporters, and aggregators by standing out during severe weather events. Holthaus started writing for the Wall Street Journal in 2011, but made a name for himself in 2012 with his coverage of Hurricane Sandy, tweeting out hundreds of climate maps, government warnings, forecasts, and vetted images and videos taken from Instagram and Twitter. "The entire time I just tried to highlight what a reasonable worst-case scenario might be," he said. "Sort of a 'this is how bad it could get but this is probably what's going to happen.' I feel that the National Weather Service or your average TV meteorologist is very stuck in the old routine, which can make things a little boring."
"I tried to focus on finding reliable sources and focused on things that actually matter to readers or viewers. When you explain weather in very normal language and break it down for people, giving them the bite-sized, digestible bits, saying, 'This is what's going to happen in Newark and on the South Shore of Long Island,' it makes it more newsy, and people are more willing to interact."
Freedman got his break as an early contributor to the Capital Weather Gang, a private, in-the-weeds weather blog that set the template for internet weather coverage and has since been incorporated as part of the Washington Post. "CWG was the first real signal the media ecosystem around weather and climate had significantly changed. They did things like graded forecasts with outside ombudsman. Things that just nobody was doing," Freedman said.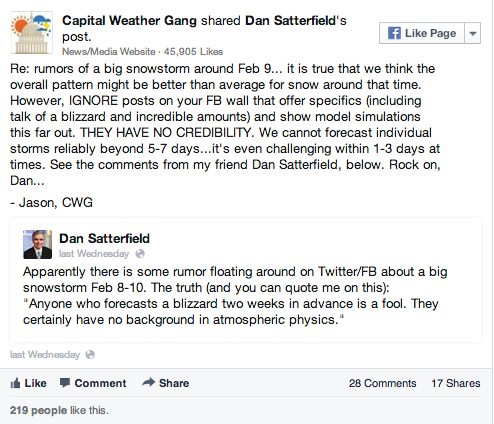 Freedman has also worked covering severe weather and climate change at Climate Central, where he used existing forecast models, data, and social tools exhaustively for a niche audience. He was named the second-most prolific climate change writer of 2013 (he won the award in 2012). Recently, though, some of Freedman's work has crossed over into mainstream coverage. He's credited as the first reporter to resurface the old meteorological term "polar vortex," which quickly took off during a cold snap this January. "That was an instance of a weather term that's been around since the '40s and '50s. It's a technical term but it's also fun. It took off via social media to the point that the White House was talking about it," Freedman said. "A lot of meteorologists were pissed, though, because the use online didn't quite fit with their dictionary definition of the term. But my point is that this ended up getting a whole bunch of people interested in the weather. And isn't that a good thing for the field?"
It's early, but the rise of the internet weatherperson should leave some of the bigger, legacy players feeling uneasy. It's also not hard to see how the rise of "one-man weather desks" could jeopardize the jobs of traditional local meteorologists. Reliable weather forecasts are now a swipe away on any smartphone, and, as Holthaus argues, the big players like The Weather Channel — which is currently in a massive contract dispute with DirecTV — have been far too slow to adapt to the internet's style of social reporting. "If I were them, I'd be putting more regular people on TV rather than buttoned-up suit-and-tie people," he said. "Everyone has a smartphone now, why not go live to people who live where the actual storm is, rather than throwing Jim Cantore in a puddle and splashing water on him and making it look crazy."
Holthaus' main criticism of The Weather Channel is that it lacks the humanity and personalization that the internet can, and should, provide. "I feel like people experience weather through emotions a lot more than scientists want to admit," he said. "So, a lot of times people don't want to have somebody saying, 'You guys are going to die.' They want to hear, 'Here's why you might die.' It makes the news more manageable. I fundamentally think this crowdsourced weather is more interesting than telling you how you're supposed to feel about the weather."
Freedman's criticisms of The Weather Channel are more measured, "At the core of it, they still do an amazing job," he said. But he believes the real threat is directed toward TV meteorologists who are reluctant to embrace the web. "For the most part right now, people still identify with them as the only scientists they see on TV every day, and trust them, but there's a definite need for them to expand their skills to reach a larger audience and grow their pool of sources online. There's a recognition among the smartest TV meteorologists that the industry is really changing and they need to keep up with the innovation in technology as much as they do the science."
In that realm, nobody has been more successful than James Spann, the longtime TV meteorologist from Birmingham, Ala. — the nation's 40th-biggest TV market. Spann is best known for his tireless and daring nonstop coverage of the deadly tornado outbreak in April 2011 that devastated the Birmingham-Tuscaloosa region, causing the National Weather Service in Huntsville, Ala., to issue 92 tornado warnings in just 24 hours. Spann has been, particularly in the wake of the 2011 tragedy, an evangelist for social, internet-based weather reporting. He's amassed an audience of over 118,000 Twitter followers and tweets incessantly, with nearly 77,000 tweets to date.
During severe weather and normal days, he interacts almost constantly with the 54,000 accounts he follows, answering questions about forecasts and squashing rumors of severe weather when necessary. When Spann came under fire last week for a botched forecast that didn't accurately predict the snow that devastated the southern region of the country, he took to his blog and to Twitter and apologized as well as explained in painstaking detail just how he'd failed his audience.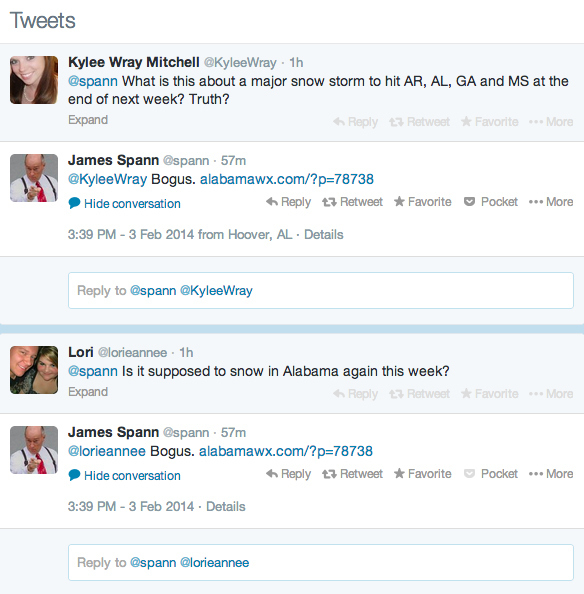 "The old broadcast model we've had is dead or it's in the process of dying, but something wonderful will come out of this," Spann told an audience at a TEDx event a few months after the 2011 tornado outbreak. "I'm on television three times a day for two minutes," he said, suggesting that traditional TV meteorology is not only inadequate but potentially deadly during severe situations. As a result, Spann supplements his coverage with a frequently updated blog, tweets, and Facebook posts. He also broadcasts everything straight to the web using UStream.
"Broadcasting is a conversation," he told the crowd. "I wish I could show you these emails from people huddled up in their basements watching, not on television, but on their iPads as well as people all over the world that had relatives in Tuscaloosa. I told our engineers that UStream is as important as both our [TV] transmitters. You cannot prioritize one over any others."

For local meteorologists facing dwindling local news viewerships, the internet is beginning to look like the only safe haven for weather professionals. "There's not a lot of hybrids out there who are reporters/weather climate analysts and there's not a lot of other media organizations who've gone that way yet — I honestly can't believe there hasn't been an attempt at the Times to replicate the Capital Weather Gang model at the metro desk for New York," Freedman said. "I think, though, that they're realizing the public really has an appetite for this coverage."
Similarly, Holthaus sees the rise of smartphones and social ushering in a new wave of internet weathermen. "Android has a lot of phones that have barometers built in, meaning they're basically a weather station. Within the next year or two we can have neighborhood-level forecasts that have real skill — not just data interpolations off regional airports and parks. The potential is crazy, you're looking at 100,000 people sending real-time weather data that gets crunched in real time," he noted.
While traditional meteorologists brace for change, those who've made the jump to the internet talk as though we're on the cusp of a "golden age" of weather reporting. And while the new model is still taking shape, there's an intuitive neatness to the idea that the need for easily accessible, context-heavy weather news will grow as the effects of climate change grow increasingly visible. Just as the financial crisis renewed interest in economics and finance and spawned explainer blogs and podcasts like NPR's Planet Money, a rising curiosity with regard to climate change and severe weather could ratchet up demand for accessible weather coverage.
"The internet keeps proving it can give a voice to everyone," Holthaus said. But more importantly, "it lets you set your own agenda and say, 'This is what i think news is now.' And I think we're seeing that if you do it and do it well, people will latch on to it."
This post's headline was edited. Body of post was edited to swap the gendered "weatherman" for "weatherperson."