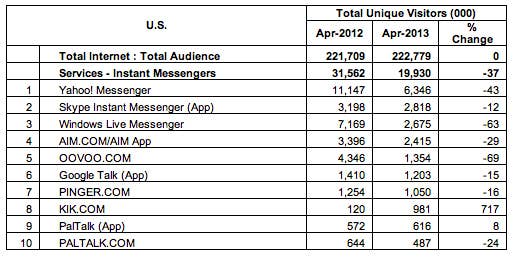 According to new data from comScore, desktop instant messaging is down almost uniformly among the services, with one-time titans like Yahoo Messenger and AIM down 43% and 29%, respectively from 2012. Even Skype, which actually grew 8% between 2011 and 2012, saw a substantial 12% loss in 2012.
The decline, which seems to start in earnest around 2008 when Yahoo Messenger dethroned AIM as the top instant messaging service, is pretty easily traced to the rise of social networks, like Facebook, which launched its chat functionality in April 2008, and mobile chat apps. As of June 2012, Gchat, which is use primarily in the browser, had 425 million active users.
For those that remember AIM's heydey, though, the numbers are remarkable proof of a swift and sudden change in how we talk to one another online. In a pre-Facebook and MySpace world, services like AIM were, effectively, the dominant social networks of their time. A good IM client, such as Adium or Trillian or Miranda, was one of the most important programs on your computer.
Today, these services are becoming ghost towns, left struggling to reinvent themselves in the face of yet another round of competition from over-the-top internet-based messagers such as WhatsApp. Mac's iChat client, which was in its prime mostly an AIM client, has been rebranded as Messages, and synced with Apple's mobile iMessage service.
AOL still isn't shuttering AIM outright, but the company did, however, lay off nearly all its development team in 2012. The sun has definitively set on desktop messaging: social networks injured it severely, and mobile apps may finish the job.