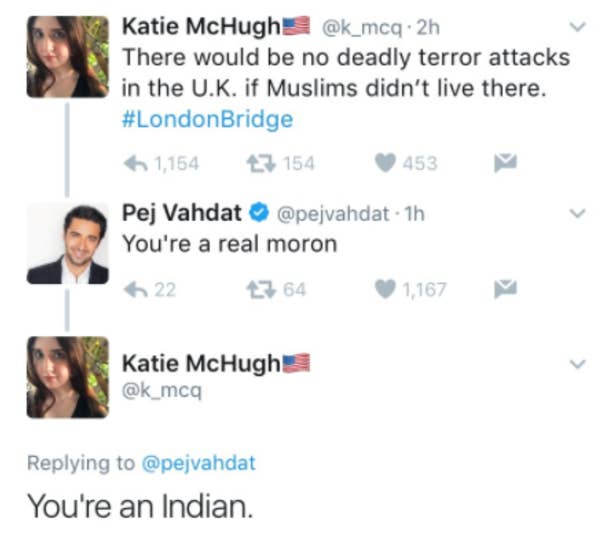 On Monday morning, Breitbart News fired staffer Katie McHugh, following a series of incendiary weekend tweets broadcast in the wake of the London Bridge terror attack. On Saturday evening, as word of the incidents spread across social media, McHugh tweeted that "there would be no deadly terror attacks in the U.K. if Muslims didn't live there." Her comments reportedly offended a number of Breitbart staffers, according to a story published by CNN.
After McHugh's firing, she took to Twitter again to condemn the publication for what she views as censorship. "Breitbart News fired me for telling the truth about Islam and Muslim immigration," she wrote.
Across the pro-Trump internet, McHugh's firing was widely decried as a sign of weakness by Breitbart and an attempt by the site — once led by now-Senior White House Adviser Stephen Bannon — to pivot toward a more moderate editorial strategy. McHugh, meanwhile, set up a donations page on the far-right crowdfunding site WeSearchr, run by Chuck Johnson.
And early Tuesday morning, Johnson — a former Daily Caller freelancer known for his trolling and informal advising of the Trump transition team — echoed McHugh's frustrations in a Facebook post. "I suspect we are seeing the end of Breitbart," Johnson wrote. "It's basically a shell of its former self. It's not that interesting anymore." Johnson called Breitbart a "click-baity property" and "a poor man's right-wing Huffington Post."
In a follow-up email to BuzzFeed News, Johnson responded unequivocally: "Breitbart is over."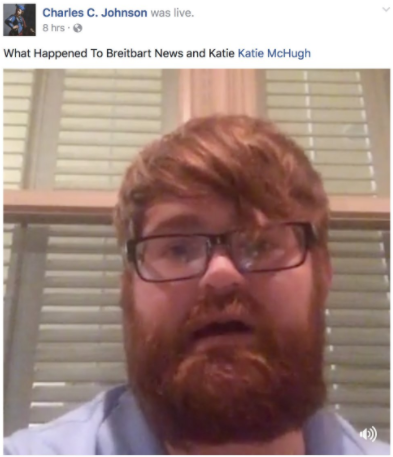 Another Trump supporter and member of the MAGAsphere on Twitter suggested that the site has lost its edge after Bannon left to run Trump's campaign. "We read (past-tense) [Breitbart] because their news cycle was stuff we were interested in reading, and it seems Bannon was the person driving that vehicle," this person, who wished to remain anonymous, said. "With him unable to do that in his job with POTUS, BB just doesn't have the stories that interest us anymore."

Jack Posobiec — a pro-Trump Twitter personality — echoed that sentiment. "People in MAGA world don't really look to [Breitbart] for breaking news as much as they used to. It's more like The Hill or Roll Call," he said.
In pro-Trump circles, that perceived pivot may prove to be enough to turn away devoted readers. "New right" blogger Mike Cernovich noted that "the media market has no need right now for another Hill," he said. "We need more sites like what Breitbart was and what the Daily Caller is doing. It's a massive mistake to try to pivot to the mainstream, especially if you're on the right."
Such testimonials from the pro-Trump internet are largely anecdotal. That said, there is some data to suggest Breitbart's momentum has slowed from the halcyon months leading up to the 2016 election. Today, Digiday reported that ad tracking platform MediaRadar found just "26 brands appearing on Breitbart in May, down from a high of 242 in March."
Multiple conversations with pro-Trump media personalities suggest the resignation of Breitbart Tech Editor Milo Yiannopoulos in February after the discovery of video of him allegedly endorsing pedophilia was a turning point for the site. According to reports Yiannopoulos's resignation was the result of internal pressure from Breitbart employees. For some in the pro-Trump media, it was a sign that the publication's management was caving to the pressure from the mainstream media.

Here are some of the reactions of the past 24 hours:
A number of pro-Trump personalities suggested the organization succumbed to the "political correctness" culture and "fake news" Breitbart used to crusade against.
Some even attempted to start a #BoycottBreitbart campaign.
Others suggested the outlet's influence is waning with diehard pro-Trumpers...
...and that some are heading toward sites like the Daily Caller.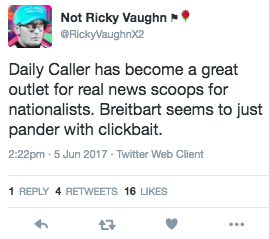 UPDATE
This story originally cited a Vanity Fair article that showed Alexa web traffic results that detailed "an unusually steep decline in Breitbart's traffic." Breitbart claims the decline in traffic was the result of a temporary decertification of its account, which has been corrected. The Vanity Fair link and citation have been removed from this story.