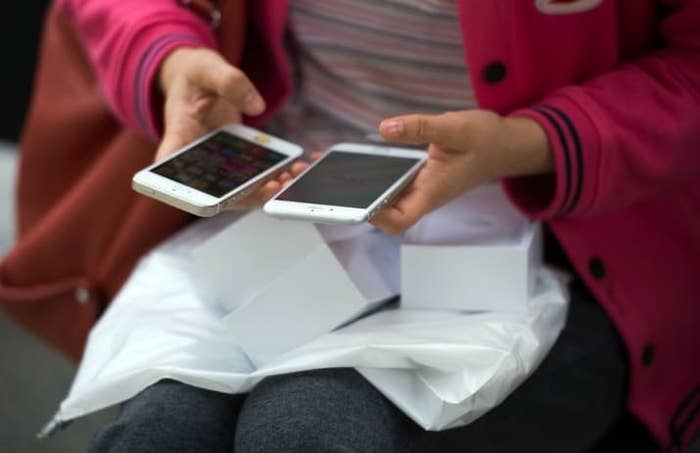 The US Department of Justice and the Securities and Exchange Commission are investigating Apple's decision to release software updates that slow down older iPhone models sources familiar with the matter said.
"We have received questions from some government agencies and we are responding to them," an Apple spokeswoman told BuzzFeed News. She did not specify the agencies.
News of the probes was first reported by Bloomberg.

Back in December, Apple admitted that it recently released a feature for the iPhone 6, 6S, SE, and 7 that slowed down the iPhone's processor when it sensed a decayed battery. In subsequent statements, the company suggested it did this to prevent iPhones from malfunctioning or shutting down.

Tuesday's report comes during a difficult month for the company. In response to harsh criticism from users and the media, Apple offered users a discount on replacement batteries, selling them for $29. But the company came under fire again after reporting that the replacement batteries were backlogged and wouldn't arrive for users until late March or early April. Similarly, a report in Axios this week suggests that Apple will be delaying iOS updates due to performance and reliability issues.
The news about the DOJ inquiry also comes just one day before Apple will report its earnings and, according to reports, is expected to announce curtailed production for the iPhone X due to lower-than-expected demand.

Here's Apple's statement in full:
"About a year ago, we delivered a software update that improves power management during peak workloads to avoid unexpected shutdowns on certain iPhones with older batteries. We know that iPhones have become an important part of the daily lives of our customers and our intention was to improve the customer experience.
We sought to further improve the customer experience in December by announcing a significant discount on replacement batteries for certain iPhones. We also announced that we began developing a new iOS feature to show battery health and which would recommend when the user should consider replacing their battery. These actions were taken to further assist our customers and help extend the life of their iPhones. In addition, users will be able to see if the power management feature is being used to prevent unexpected shutdowns, and turn it off if they so choose. These features will be included in a developer release next month and a user release this Spring.
As we told our customers in December, we have never — and would never — do anything to intentionally shorten the life of any Apple product, or degrade the user experience to drive customer upgrades. Our goal has always been to create products that our customers love. Making iPhones last as long as possible is an important part of that.
We have received questions from some government agencies and we are responding to them."