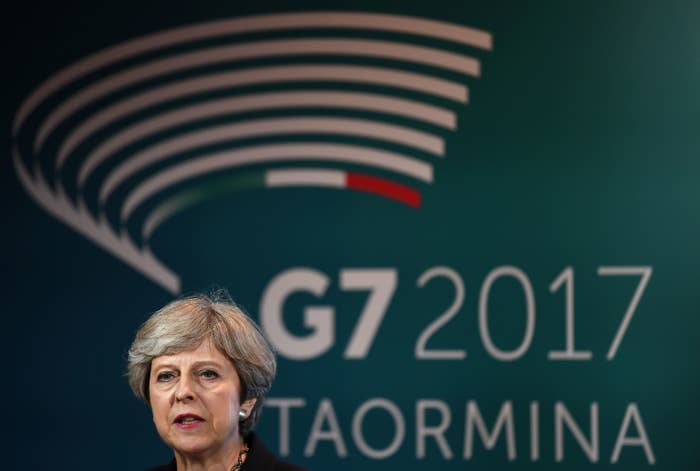 Today at the G7 summit of world leaders in Sicily, British Prime Minister Theresa May called on those in attendance — including President Trump — to pressure social networks to crack down on terroristic and extremist content.
May's decision to call for a session on digital policing comes just days after a deadly suicide attack in Manchester on Monday evening that killed 22 people and wounded dozens more. An official close to May told the Evening Standard that the threat of harm from terrorists and extremists has moved from "the battlefield to the internet." The official also noted that internet materials circulated by extremist organizations "has in the past been linked to acts of violence and the less of this material that is on the internet, that is clearly for the better."
May's call to action today during the Summit did not single out any tech companies specifically. Instead, she urged world leaders to put pressure on "communication service providers and social media companies to substantially increase their efforts to address terrorist content."
And this morning The Guardian reported that May "apparently had the backing of Trump" for the session.

When reached for comment on May's call to action, some of tech's biggest companies expressed their desire to partner with governments, while also highlighting the work they've been doing to try to combat extremism.
"We are committed to working in partnership with governments and NGOs to tackle these challenging and complex problems, and share the government's commitment to ensuring terrorists do not have a voice online," Peter Barron, Google's VP Communications for Europe, the Middle East, and Africa, told BuzzFeed News in a statement.
The rest of the statement is below:
"We are already working with industry colleagues on plans for an international forum to help accelerate and strengthen our existing work in this area. We employ thousands of people and invest hundreds of millions of pounds to fight abuse on our platforms, and will continue investing and adapting to ensure we are part of the solution to addressing these challenges"
Monika Bickert, the Head of Global Policy Management at Facebook, touted the company's own technology and human reviewers in its fight to police digital extremism on its platform and urged that the problem "can only be tackled with strong partnerships."
Here's Facebook's full statement:
"We want to provide a service where people feel safe. That means we do not allow groups or people that engage in terrorist activity, or posts that express support for terrorism. Using a combination of technology and human review, we work aggressively to remove terrorist content from our platform as soon as we become aware of it — and if there is an emergency involving imminent harm to someone's safety, we notify law enforcement. Online extremism can only be tackled with strong partnerships. We have long collaborated with policymakers, civil society, and others in the tech industry, and we are committed to continuing this important work together."
Twitter had no new comment based on May's statement but referred BuzzFeed News to its March transparency report. In the report, Twitter notes that it took action against 85% of the accounts reported for terroristic activity and 74% of its suspensions "consisted of accounts surfaced by internal, proprietary spam-fighting tools."
Others, like the Anti-Defamation League's CEO Jonathan Greenblatt, praised May's move:
"The Internet has made it easier for extremists to meet each other and for people to self-radicalize and become lone wolf offenders. On top of that, anti-Semitism and hatreds of all kinds have exploded online. That's why it is incumbent on tech companies to bring their incomparable know-how and resources to this fight. ADL has worked with a range of tech companies on this issue, and we look forward to continuing this work in our forthcoming center on online hate to be built Silicon Valley," Greenblatt told BuzzFeed News.

And while May's session at the G7 has been universally lauded, the task of ridding the internet of terroristic and extremist content remains a herculean problem that Silicon Valley has struggled to solve for years. In March, Twitter — which has vigorously policed its platform for terroristic content — announced it purged 376,890 accounts promoting terrorism between July and the end of December 2016. Since August 2015, Twitter says it has removed 636,248 accounts for terrorism alone.
And just a few months ago, Facebook, Microsoft, Twitter, and YouTube partnered to create a shared industry database to police terroristic content. The database contains "hashes" or unique digital fingerprints for images and videos that are produced or simply just used by terrorist organizations, including ISIS. The goal of the partnership is to help all four companies identify and slow the spread of terrorist content across the internet.

AT&T, and Comcast did not immediately respond to a request for comment.