The Babies Are Going Mobile
Or, how the smartphone may be quietly teaching the little ones to forget about PCs.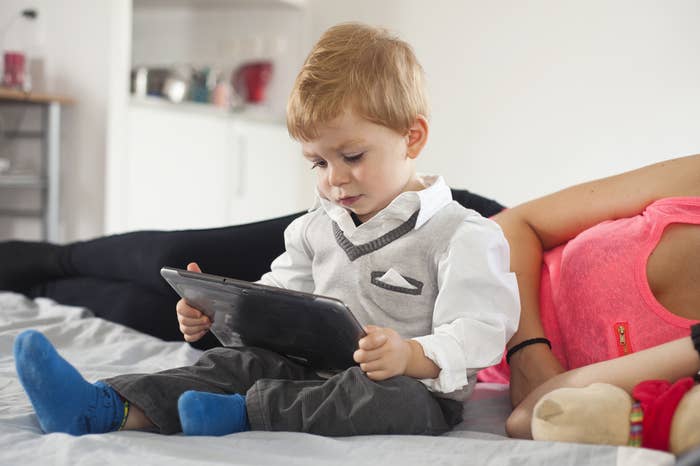 If you have a child in the next few years, there's a very reasonable chance they'll be ably swiping on your smartphone or tablet well-before they're old enough to read.
According to a national study by Common Sense Media that interviewed 1,463 parents with children from zero to eight, mobile devices have successfully infiltrated almost 50 percent of households and are increasingly changing the way children consume media.
Here are a few interesting bits from the study:
Nearly 40 percent of children (zero to eight) under two have used a mobile device.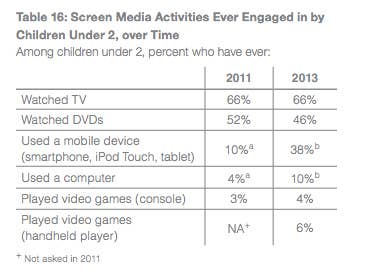 And six percent of children under two use them daily. Daily!
The reason for this is pretty simple: there are nearly 25 percent more smartphones in households than there were two years ago.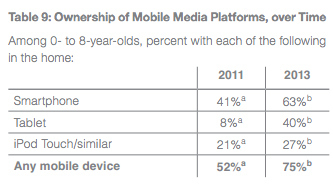 Perhaps the biggest revelation though is what could be the beginning of a slow phase out of the desktop or personal computer, among young children. Unlike older forms of technology, like televisions, which remain a fundamental part of media consumption, PCs are playing less and less of a role in the formative years. While PC usage is bound to be lower in the surveyed age range (zero through eight years old), there's still the possibility that children growing up with mobile devices at a younger age will render the desktop experience less important to the next generation of teens and young adults to come online.
Thanks to smartphones and tablets, only 3 percent of children had PCs in their rooms.
Computer use is down sharply, while mobile device use has tripled in the past two years.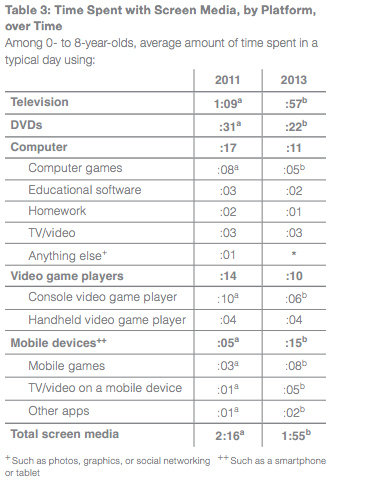 And in lower income households, mobile devices are acting as replacements for PCs.

In families earning less than $30k/year, smartphone adoption has almost doubled since 2011.

And there were some disturbing bits, too. According to surveyed parents, 8 percent of children have never read to their kids/seen them read.
Or that 12 percent of children under two years old watch "adult shows" like CSI..
But even though babies are reaching for tablets before they can walk, parents don't seem too concerned. And, depending on your outlook, that's either encouraging or quite depressing.