Here's How 7,000 High School Seniors Are Using Technology
Tech's attention war is real. Teen Tech Trends, Vol. 124,585.
In the tech industry's endless quest to find out what's next, few subjects have been as heavily scrutinized and deeply coveted as the teens.
And while the role of the teen as the tech oracle/tastemaker has lost some steam after months of anecdotal evidence that teens were leaving Facebook en masse proved to be at the very least exaggerated, the industry continues to poke and prod the nation's youth for insights.
The most recent survey, released today by the education review company Niche, polled more than 7,000 class of 2014 high school graduates regarding their technology and media usage. It largely corroborates what we know to be true: Tech's attention war is very real.
Out of the 50 website and apps Niche included in its survey, 13 apps are used by more than half of the 7,000 students. More interesting: Most of the users are coming back multiple times daily.
Unsurprisingly, YouTube and Facebook are the big winners, with 66% and 55% of users, respectively, coming in daily. Forty-five percent of respondents said they don't use Twitter, while a staggering 92% of teens say they don't use LinkedIn (to be fair, this is most likely to change when students enter college).
On the messaging front, the survey showed lower numbers than expected for the fastest-growing mobile messaging apps like WhatsApp, Link, Kim, and Viber, with 69% of respondents admitting they don't use the popular OTT messaging apps at all. The real winners among the surveyed seniors were traditional SMS texting (82% text multiple times per day) and Snapchat, with 39% of teens sending snaps multiple times per day. Gchat was also unpopular among respondents, no doubt a result of most teens being in school all day and on their phones and not tethered to computers like many in the working world.
Similarly, use of the much buzzed-about anonymous messaging apps was lower than expected. Ninety-seven percent of surveyed seniors had never used Yik Yak and 95% reported they'd never used the confession app, Whisper.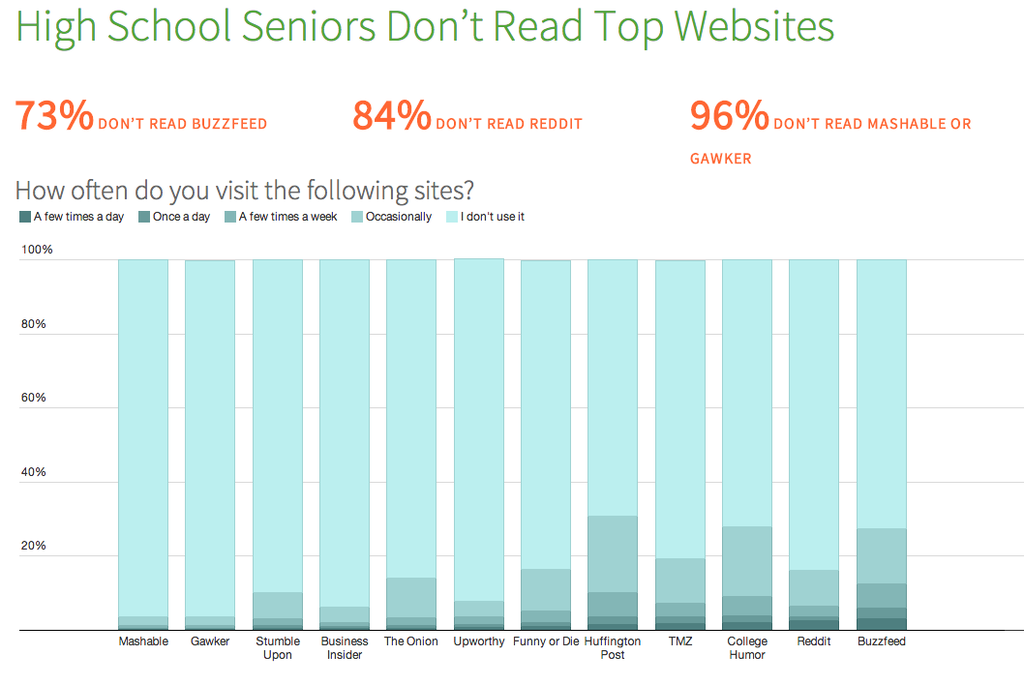 Perhaps the most puzzling chart, though, focuses on teen browsing behaviors. Responses seem to indicate that the surveyed teens rarely visit websites. While the survey is pretty black and white — students were asked to indicate how frequently they use 50 leading technology apps, services, and websites using five standard responses — it's unclear whether this survey takes into account visits to these news and entertainment sites via social networks. While the methodology of the survey doesn't indicate either way, the data may point to an interesting conclusion. The most likely possibility is that the surveyed teens don't consider social referrals as actual website visits, though they most certainly are. If that's true, it's the latest testament to the unyielding power of the news feed.
Like most of these surveys, the results should be taken with the requisite grain of salt or, perhaps better yet, as one of thousands of data points that leading to the inevitable conclusion that nobody really knows what's next.
That said, it's hard to ignore that first chart. While teens may be quicker to adopt new technology, the sheer volume in terms of the potential platforms for each user remains unchanged among most demographics. It's just another reminder that for publishers, tech giants, and app developers alike, there is no metric more important than time.