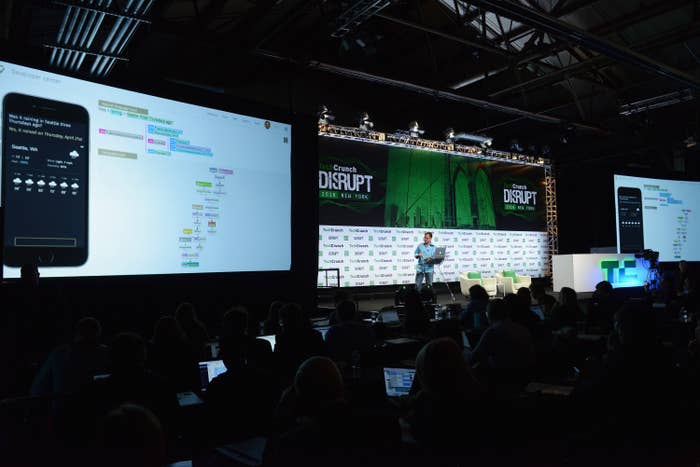 Dag Kittlaus, a 48-year-old engineer from Norway, built the AI personal assistant Siri and sold it to Apple for more than $200 million. Now he wants to eat the internet.
More specifically, he wants to build you a smart personal assistant that you can really, actually talk to, that understands you, that will become the connective tissue of your entire digital life. To do that, he'll have to beat, among others, Facebook, Amazon, Google, and Microsoft.
Perhaps it goes without saying that Kittlaus and his team at Viv are ambitious. And today, onstage at TechCrunch's New York startup conference, Disrupt, Kittlaus presented those ambitions to the public for the first time.
Kittlaus started his demo small, asking Viv for the current weather forecast, then slowly ratcheted up the specificity with "Was it raining in Seattle three weeks ago?" and finally, "Will it be warmer than 70 degrees near the Golden Gate Bridge after 5 p.m. the day after tomorrow?" In both cases, it took Viv a few painless seconds to retrieve a satisfying response, which was met with lots of audience murmuring and one round of enthusiastic applause. For anyone who's found themselves screaming at their smartphone for an answer to the most basic question, it felt like a tangible little leap forward.
The leap, according to Kittlaus, is thanks to a piece of fancy-sounding computer science he dubbed dynamic program generation. "Instead of having to write every code instructed, you're really just describing what you want it to do," Kittlaus told the keynote audience. "The whole idea of Viv is that developers can go in and build any experience that they want." All of this really means that Viv listens to your voice command and processes both the question and its intent. Then, it determines which programs it should call up to answer your question and writes a bespoke code for it in 10 milliseconds, rather than following a set of rigid, prewritten code scenarios that the user must follow, which is how most other AI assistants work.
Hyper-specific weather queries are all fine and good, but if Viv is to be really valuable, it needs to help people buy shit. While the presentation was ostensibly targeted at consumers, Viv's most impressive features appeared tailor-made to make developers and businesses drool. In a little over two minutes onstage, Kittlaus managed to spend something like $1100 — booking a $977 deluxe room at an upscale Palm Springs hotel, sending a friend $20 over Venmo, purchasing flowers, and calling (and then canceling) an UberXL, which ultimately cost Kittlaus $10. Each of Viv's search results for Kittlaus's vague searches — "find me a great room," "find me a car for six people to Madison Square Garden" — were dredged up thanks to "our friends at Hotels.com" and "our friends over at Uber." Based on the ease with which Kittlaus could tap a finger and made an effortless, frictionless, expensive purchase, it looked pretty good to be one of Viv's friends.
Indeed, Viv is a major computer science innovation whose most immediate value is helping other companies' services/apps/money-spending modules pop up precisely when somebody is looking to use them. If it does succeed in taking over your phone (and every other platform in your life), it'll do it not by wrapping itself around your apps, but by taking them over from the inside and becoming the connective tissue between all your meaningful digital interactions. The best way to compete — and maybe someday win — in an app-centric, mobile ecosystem is to build your own damn ecosystem on top of everything. "This is the next major marketplace," Kittlaus told the Disrupt audience.
Kittlaus didn't invent this idea. Last year, Facebook CEO Mark Zuckerberg outlined his own plan to try to actually become the internet via the company's instant messaging app, Messenger. It's really no wonder Zuckerberg has reportedly tried to gobble up Viv for his own.
Viv's holdout — it also reportedly turned down an offer from Google — isn't without risk. Messenger's near-1-billion active user base is a huge, glistening carrot dangling in front of developers, and a very meaningful head start. Viv's biggest struggle will ultimately be competing with the scale of the big tech giants who already have dominant apps and, in some cases, beloved devices inside people's homes.
But this outsider status is the company's second big bet. Despite that it comes from the brains behind Siri, Viv's demo today was clearly meant to position itself as a third-party alternative to big tech, a neutral ecosystem to layer over the mobile ecosystems that have worked for nearly the last decade to reel you in deeper and deeper. We know you're tired of giving up all your personal information and routing and organizing your lives through Facebook and Google and Amazon and Apple, so why not give us a chance to become your digital intermediary? It was a compelling argument to make on a day when arguably the biggest news story in tech revolved around human editors at Facebook suppressing news stories based on political bias.
And Kittlaus — who helped create Siri only to sell it to Apple for a small fortune and watch its potential turn into...whatever semi-useful experience Siri is today — is selling Viv as an AI redemption story of sorts. In a recent interview with the Washington Post, he dismissed acquisition talks this time around, suggesting that he wants the technology to be "ubiquitous" before once again entertaining the possibility of giving up control and vision.
Kittlaus and company are great at the vision part. Thanks to significant fundraising, acquisition interest, and that Siri pedigree, Viv has managed to generate deep interest and buzz. That's despite the fact that we're still a very long way away from seeing what its software is really capable of: Kittlaus told the audience before the presentation that he wasn't ready to demo Viv's actual voice yet, and really, there's no telling if the technology will be anywhere near as seamless in the wild as it was in this very controlled demo. Besides, Kittlaus and co. have left a lot of questions still unanswered: Where is all the one-touch-payment credit card information stored? How will Viv decide which businesses and apps get first priority when I search for a hotel room? How will Viv work to avoid being a gatekeeper and become a truly open developer ecosystem?
Still, Kittlaus spoke in serious tones about Viv as "a new paradigm that comes along and changes the way we interact with computers." As he began the demo, he asked the packed audience if they knew what the company's name meant. One man near the front indulged the rhetorical question. "That's right," Kittlaus said. "It means life. We are going to use this to breathe life into the inanimate objects of our lives."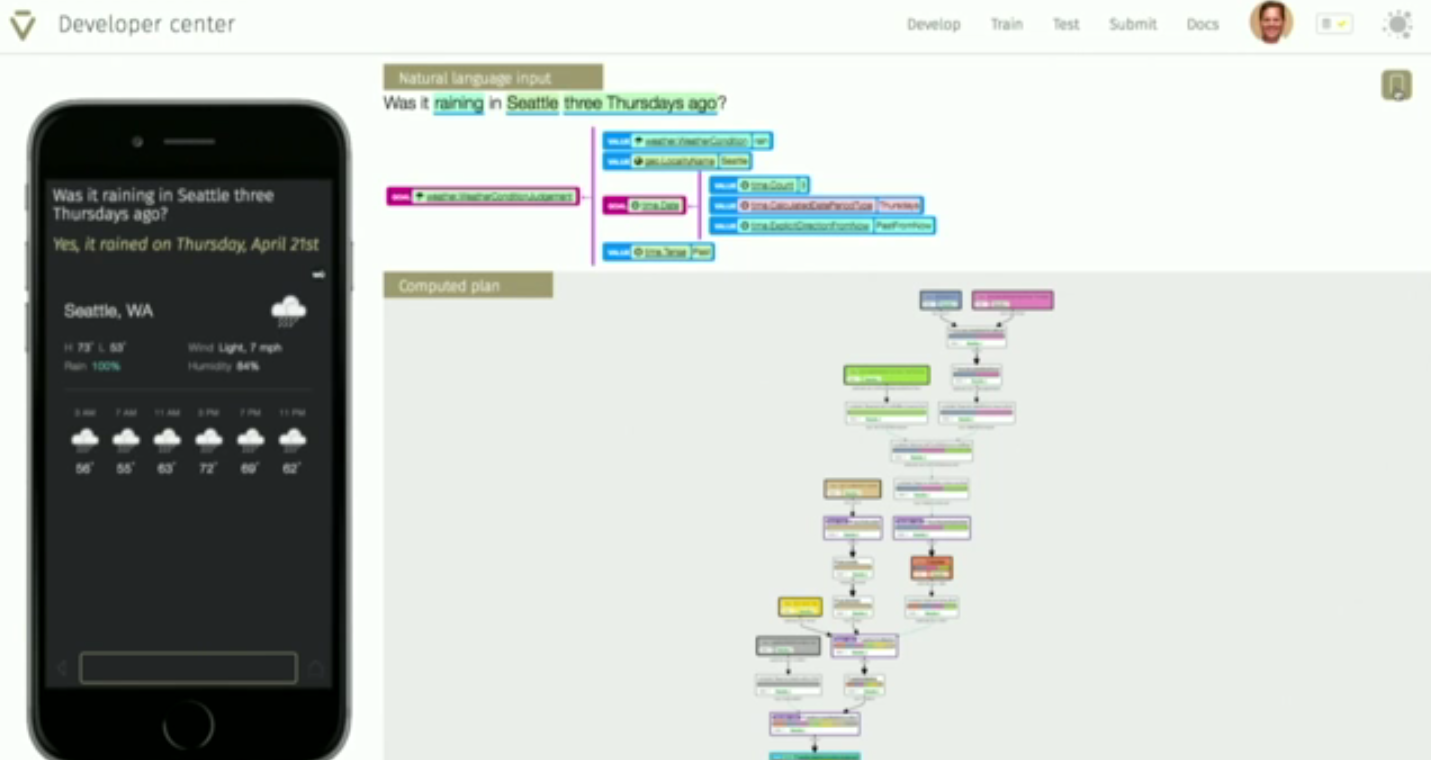 Kittlaus clearly understood the room and how to work it. No matter if the slides detailing Viv's "dynamic program generation" were indecipherable to non-developers, Kittlaus was here to tell us we were witnessing a "computer science breakthrough." I looked around at the rapt audience. People were excited, even if Kittlaus himself never strayed from his monotone delivery, and even if it's just a little bit disenchanting that an exciting "computer science breakthrough" is essentially just a means of making it so ludicrously easy to buy things that you can drop a grand in 140 seconds.
But for all its quick-generated weather searches and fancy hotel rooms, Viv's real appeal seemed to come from the idea that a company that's not Facebook, Google, Amazon, Apple, or Microsoft can try to beat big tech at becoming, as one of my colleagues recently put it, "the layer between you and the future."
At the end of his presentation, Kittlaus quietly popped up a slide sporting a number of recognizable tech symbols: the four curved lines that signal 'Wi-Fi is here,' the maps pin drop, the triangular Bluetooth glyph, and search's magnifying glass. "In the next five years, we believe there will be one more new icon that's universally recognizable," he told the crowd. The ubiquitous symbols parted to make way for Viv's glowing logo.