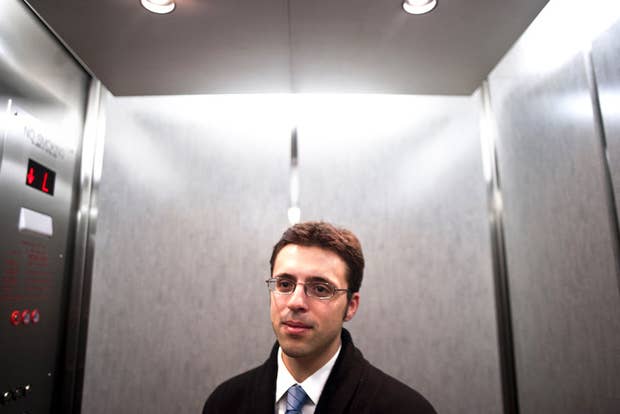 This evening, after weeks of speculation, Ezra Klein announced he'll be founding a new media publication at Vox Media, home to SB Nation, The Verge, Polygon, and the recently acquired Curbed Media network. BuzzFeed spoke with Klein about the split from the Post, his courtship with Vox, and his plans for the new venture, tentatively called "Project X." He wrote that his new site would focus on what he's long seen as an overlooked value in news: context.
You said in your post tonight on The Verge that you started thinking about a new venture "early last year." How long has this been in the works?
Informally, it's been in the works for years. Looking back from when I started to where we are now, there are pieces of what we're building in the new venture that I've been trying to figure out for years and years. Mostly with regard to the deficiencies in how we present information.
Formally, me, Melissa [Bell], and Matt [Yglesias] were trying to think about what would it mean to do something like this around the middle of last year, but then there was the Bezos sale of the Post, which put things on hold for a while. We got back into it in the fall and we had the talks with the Post. We decided — rather, they decided — it wasn't the right fit for them. We started talking to Vox and other backers around the very end of 2013.
When you were shopping around, did people seem to understand what you were going for? Vox seems like a good fit but did others — perhaps legacy publishers — seem like...they didn't understand the internet?
Sounds lame to say, but we were super excited by what a great response we got. We didn't talk to Vox first, and I'm not sure we would have been able to go forward if the preliminary conversations we had didn't come back so positively. This idea of the news site is deeper and has more dimensions than Wonkblog, and it will touch on more parts of our approach to news. It's not just explainers, and though we have an idea, it will take time to fully unveil itself. I don't think this was a terribly difficult sell and we've talked to a lot of organizations who at different times have tried to do something like this. The idea of changing and fixing the problem of how news is presented on the internet has been recognized for a long time. For us, we're going to try to do it with a mix of technological and workflow approaches. I believe in the ambition of what we're doing, but it's important to remember we're not reinventing the wheel here.
Were there any other reasons, other than the financials, that you couldn't do this at the Post? Were they on board with the ideas but not the money? Or was it a technology issue as well from the beginning?
Here's what I'll say: Honestly, I have the deepest respect and gratitude to the Post for my years there. They supported me to build Wonkblog, which was a big risk then. Our talks were super friendly and helpful, but beyond that, I don't think it's proper to speak for them.
The technology behind Vox's platform has received its share of accolades. In your open jobs posting for the new project, you note you'll use your reporting "to build and continuously update a comprehensive set of explainers of the topics we cover." Is this idea going to look sort of like the classic Vox storystreams? Has Vox's platform influenced how you plan to present content on the new site?
There's no doubt that the Storystreams stuff and the platform is and was super attractive to us. I was on one of those "how the media is changing" panels with Trei [Brundrett, Vox Media's head of product] and I remember being terrified by this guy. He was saying stuff that sounded just like the project I was dreaming up, and so I mostly kept my mouth shut since I didn't want to show my hand too much.
What we're doing is not strictly Storystreams but has some of its dimensions. What's appealed with Vox, and what was so important to us from the beginning, is we needed technology and design partners not just to help us make what we're thinking a reality, but a better reality than the ones we were dreaming up. I was intent on only partnering with somebody who could make the product better than I ever could. Otherwise we should just go the startup route. We ended up being so sure that teaming with with Vox would give us a far better site. More than anything, I trust them. I trust them more than I trust myself or any of my team to build awesome tech and design teams and exquisite platforms. They really make us better on those dimensions from the beginning. We're building this from scratch and this will be a substantial effort and take many months but they've been thinking about it already they're making us smarter.
Wonkblog has been popular but it's also a niche destination for politics and policy. Are there plans now to appeal to a broader audience?
We're not trying to build a "super Wonkblog." If we were doing that, we wouldn't go through all this trouble. We intend to be incredibly good at policy and politics but also sports and science. We are trying to build a full news site and in a better and more useful way for our readers. We will be in as many issue areas as our revenue model will openly support. This is not just Wonkblog or policy news. This is a much broader product. It's a completely different product.
KnowMore was a huge success and Dylan Matthews is coming with you to the new venture. Are there any big plans to really attack and optimize for the social web?
When I talk to people about KnowMore, it is as an experiment. The biggest thing I'll say there is that we've learned a lot from KnowMore. I don't think the next iteration will look exactly like KnowMore, but if the question is "Do we intend to do a good job optimizing for and creating highly social content?" the answer is "Hell yeah."
That part of this new venture will be a lot of fun, and it's one reason I'm so excited to have Dylan here. It's kind of like that line Bane has in The Dark Knight Rises: "You merely adopted the dark; I was born in it." Well, I merely adopted the internet; Dylan was born into it.
David Carr at the Times wrote that your move is just one of many that signify that "what we are witnessing now is not the formation of a bubble, it is the emergence of a lasting commercial market." What's your take on all this?
I think it is an insanely exciting time to be in media. We are really at the beginning of figuring out how to change how we present news and how to make it better for our audiences. This is a broad point that I think speaks to Vox, BuzzFeed, Vice, and all the others, and sometimes I think if you're on the cutting edge, you don't see this so clearly, but the technology we use shapes our culture and how it develops. One of the things I think is interesting about all this is that we're really trying to build a new culture atop these new technologies. And I think we can do that in this field by asking ourselves, "Who would we want to be if we came into this whole news and internet climate completely fresh?" It's about how we define and think and continue to think about journalism and how we can better serve our readers. And I think the technologies we're on now can and will give rise to new cultures and make a real change.
It's exciting because it's a time when we might have this totally wrong and we could totally flame out, but it's also a time where you can try some very big things. If you got into this to learn about the world and inform big audiences like I did, then that's an amazing and appealing prospect. And really, if you're in this game and you're not excited about that, then I don't know what you're here for.