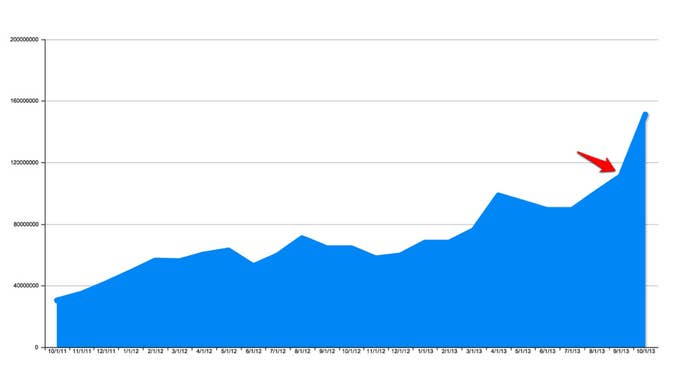 Facebook has sent unprecedented levels of traffic to publishers across the internet in recent months, a dramatic and unexpected increase affecting a large range of sites serving a wide variety of content.
According to data from the BuzzFeed Network — a collection of sites including more than 200 publishers such as The Huffington Post, TMZ, The Onion, and Slate, with more than 300 million users each month — traffic from Facebook referrals to partner network sites are up 69% from August to October of this year. The spike began in August, when the network received more than 100 million referrals for the first time. In October, the network received 151 million referrals for the month.
The increase comes as Facebook is competing with Twitter to be seen, and used, as a vital news source, and appears to be the result of changes to how news links perform in the News Feed. In short, Facebook appears to have broadly shifted its algorithms and to create formidable new traffic streams that simply weren't there just weeks earlier.
In August, Facebook announced changes to its News Feed algorithm, noting that, "Now organic stories that people did not scroll down far enough to see can reappear near the top of News Feed if the stories are still getting lots of likes and comments." Early Facebook tests indicated that the change "resulted in a 5 percent increase in the number of likes, comments and shares on the organic stories people saw from friends and an 8 percent increase in likes, comments and shares on the organic stories they saw from Pages." While resurfacing of older stories might explain a small bump in referral traffic, it's doubtful it accounts for the full surge.
Facebook has also made public its attempts to help publishers extend their reach and its campaign to persuade publishers — many of whose staffs are obsessed with Twitter — to work more closely with Facebook. In a recent post the company urged publishers to increase the frequency of posts to their own pages as a way to drive referral traffic and noted that "average referral traffic from Facebook to media sites has increased by over 170% throughout the past year."
Facebook did not immediately respond to a request for additional information about the traffic surge. But while the details of Facebook's algorithms are tightly guarded, the boost corresponds neatly with Facebook attempt to assert itself as the center of the real-time internet, a move that coincides with Twitter's recently completed IPO. And the easiest way for Facebook to remind, or convince, publishers that it is still a place where news happens may be to remind them of the network's unprecedented scale.