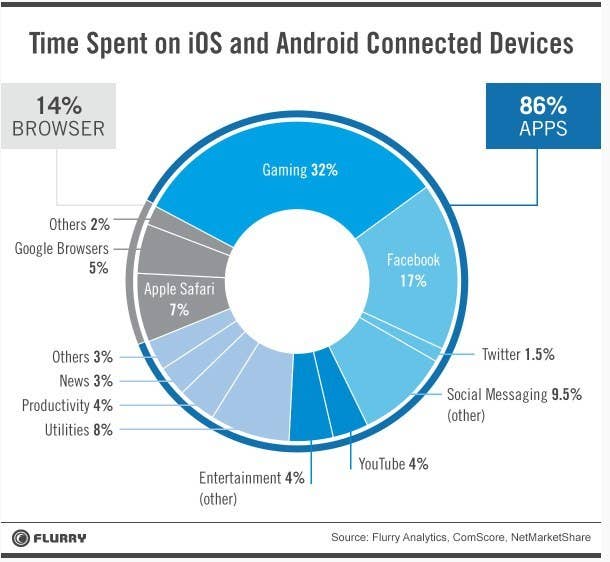 The mobile web is dying a slow, public death.
Of course, this isn't exactly new. In 2010, Chris Anderson and Michael Wolff theorized in Wired that the internet as we know it was dying out as a result of being cannibalized by a series of sleek new apps. Anderson described a typical day via smartphones and tablets where users tweet, Facebook, stream, and message, all in siloed applications. "You've spent the day on the Internet — but not on the Web," he wrote.
That theorized future is now our reality. We're spending more time on mobile than ever before and that will only increase. A new chart from Flurry, a mobile analytics company, shows that over 86% of the time spent in iOS and Android apps is taking place inside applications. That's up 6% from just last year.
The data is by no means conclusive, but there are a few interesting things to note here. First is Facebook's mobile dominance. The Flurry chart, which pulls in data from Flurry, ComScore, and NetMarketShare, shows that 17% of iOS and Android time is spent inside Facebook's app, compared to Twitter's 1.5%.
Then there's social messaging. After mobile gaming and Facebook's app, it's the next most popular category and, judging by the growth of platforms like WhatsApp, that percentage will only grow, no doubt cutting into the numbers for social platforms like Facebook and Twitter.
This chart helps put Facebook's massive $19 billion acquisition of WhatsApp into perspective. Messaging is not only low maintenance, but it competes with Facebook for the most coveted space available: your homescreen. As this chart neatly illustrates, Facebook didn't just buy a messaging app for $19 billion; it purchased a sizable and growing stake of our attention on the most important platform available.