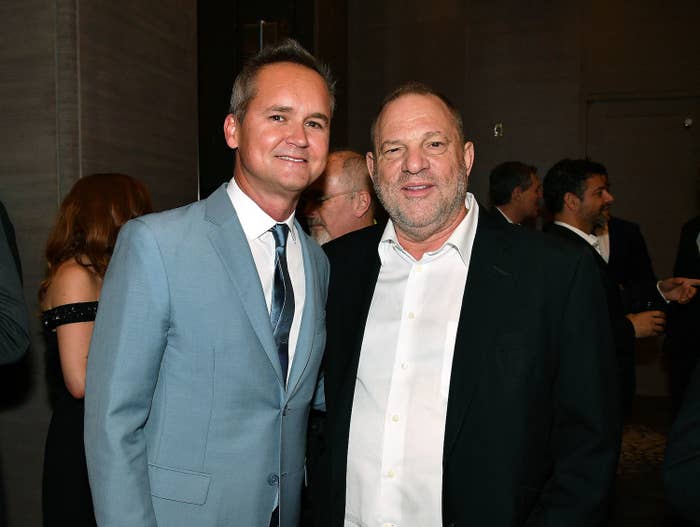 This morning, Amazon sent an email to its employees regarding the allegations of sexual harassment and assault surrounding film mogul Harvey Weinstein and ensuing allegations of sexual harassment and misconduct of Amazon Studios head Roy Price, who was suspended on Thursday.

The email, sent by the company's senior VP of Business Development Jeff Blackburn and obtained by BuzzFeed News, condemns Price's actions and casts doubt on the future of Amazon Studio's two projects in development with the Weinstein Company. According to the Associated Press, Amazon's two projects with The Weinstein Co. include a series with Mad Men creator Matthew Weiner and another with filmmaker David O. Russell.

"Amazon does not tolerate harassment or abuse of our employees or our business partners. If a concern is brought to our attention, we investigate it quickly and thoroughly," the memo reads. It also instructs employees to immediately report any sexual harassment to managers, HR business partners, Amazon's legal department, and an internal Amazon ethics hotline.
The memo comes after numerous allegations of misconduct inside Amazon Studios. Yesterday actress Rose McGowan tweeted accusations at CEO Jeff Bezos, and The Hollywood Reporter published allegations of Price's sexual harassment and misconduct.

Blackburn notes that the company "cannot discuss the specifics of investigations that we conduct regarding the behavior of individual employees," but that Amazon expects to make decisions on both Price's situation as well as Amazon Studio's relationship with Weinstein's production company. "We are also reviewing our options with the two projects we have with The Weinstein Co," Blackburn writes.
Here's the full memo:

Team,



The news coming out of Hollywood over the past week has been shocking and disturbing — and unfortunately we are a part of it. It's sad and very disappointing to me.



Amazon does not tolerate harassment or abuse of our employees or our business partners. If a concern is brought to our attention, we investigate it quickly and thoroughly. Sometimes we will hire an outside investigator to ensure impartiality. I'd like to emphasize, that at any time, if you have any concerns related to harassment or abuse at Amazon, please immediately report the incident to your manager, your HR business partner, the legal department, or the Amazon Ethics Hotline (in the U.S., [redacted]).



I recognize that you may have questions as a result of the recent media reporting, but please understand that we cannot discuss the specifics of investigations that we conduct regarding the behavior of individual employees. As you know, Roy Price is on leave of absence for an indefinite period of time. I want to thank Albert for stepping up in the interim to lead the org. We are also reviewing our options with the two projects we have with The Weinstein Co. The team is moving as quickly as possible to close on a resolution.



I remain incredibly optimistic about the future of Amazon Studios and what we have planned in FY-18 and beyond. We need to ensure that our focus remains on our customers, and that we are executing on their behalf. Thank you for your dedication and commitment to our creators and talent, who are making some of the very best content available on TV and in theaters all over the world.


As always, please feel free to contact me with any questions or concerns.



Jeff